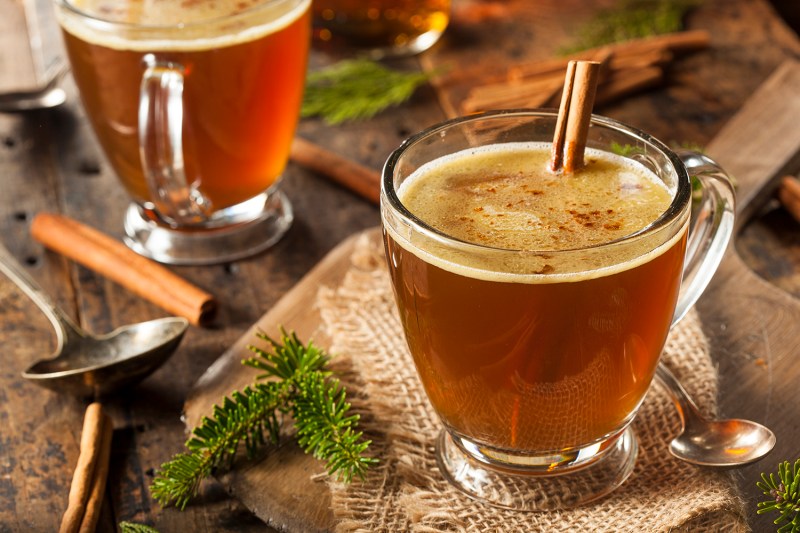 Is there anything more satisfying during the doldrums of winter than a Hot Buttered Rum? It's the perfect drink — buttery, rum-ridden, and served warm. It's basically the cocktail equivalent of a warm, flickering fireplace.
It's also not the simplest cocktail to whip up. With dairy, heat, and spices involved, there's the lurking potential for things to go south. The recipe needs some balance and, if possible, some house-made dairy. You'll love the from-scratch feel of the resulting batch as it thaws you to the bone.
Liam Odien is the bar manager at Playa Provisions in Southern California. The beachfront Playa del Rey restaurant is where Top Chef winner Brooke Williamson cooks up some mean cuisines, from lobster rolls to fish tacos. It's also home to an outstanding cocktail program that changes with the seasons, even if the weather outside is anything but frightful.
"I've been running hot buttered rum on winter menus for a few years now, and I've found that the thing that makes the biggest difference is to make the butter," Odien says. "For our Hot Buttered Rum, we make a house-churned honey-molasses butter, and use both the butter and the resulting buttermilk in the drink. It ends up being incredibly rich and flavorful."
It provides the perfect backdrop for some warm rum. "Hot liquor can be a little bit aggressive even in the best of times," Odien adds. "So providing a really heavy-duty foundation helps a lot with that."
Below, we've included three takes on the Hot Buttered Rum, including Odien's go-to from Playa Provisions.
Hot Buttered Rum Recipe
(By Jacob Carey, Bartender, Never Never, Nashville)
Banking on the smoothness of a good aged rum, this recipe hits all the necessary marks and is gratifying to the last drop.
Ingredients:
2 ounces aged rum
1 ounce honey syrup (2:1 honey to water)
Hot water
1 teaspoon combined cinnamon, clove, all-spice
1 pad (approx. 1 tablespoon) unsalted butter
Method:
Fold cinnamon, clove, and all-spice mixture into warmed butter (a few seconds in the microwave or stovetop to convert it into a liquid is enough).
From a just-boiled tea kettle of water, fill a 12-ounce mug to pre-heat for 30 seconds. Discard.
Pour melted butter mixture into the mug, adding in honey syrup and aged rum.
Add hot water to top off, stir, and enjoy.
Playa Provisions Hot Buttered Rum Recipe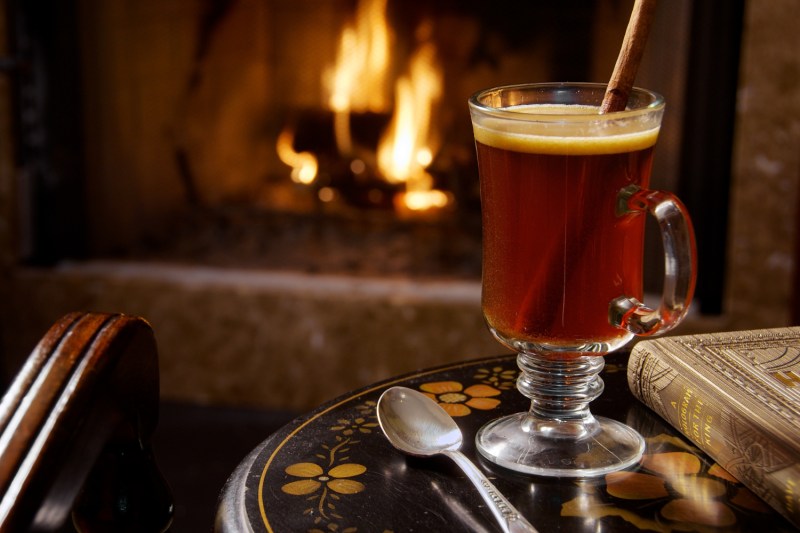 (By Liam Odien, Playa Provisions, Los Angeles)
Anchored to a great butter adaptation, this take on the cocktail is super-flavorful and a little deeper and richer than most thanks to the addition of molasses and spiced rum.
Ingredients:
1.5 ounces Chairman's Reserve spiced rum (Bacardi 8 also works)
1 ounce honey-molasses buttermilk*
1 heaping tablespoon honey-molasses butter*
2 ounces very hot water
1 marshmallow
Method:
Combine the buttermilk, butter, and hot water, and whisk until the butter melts and the mix is frothy.
Add the rum, garnish with a marshmallow, and go to town. You can also batch out multiple servings and keep it on low heat or in a double boiler — just add the rum last so that the alcohol doesn't burn off.
*Buttermilk and Butter:
Add 2 cups cream, 1/2 cup honey, and 1/2 cup molasses to a stand mixer.
Mix with a whisk attachment and slowly increase the speed as the cream stiffens. The butter and buttermilk will eventually break from one another.
Strain the buttermilk from the butter, and knead remaining buttermilk out using cheesecloth. Refrigerate until ready to use.
Gosling's Hot Buttered Rum Recipe
This recipe from the classic rum label Goslings is simple and fulfilling. Keep in mind that this big batch makes 12 servings.
Ingredients:
1 750-milliliter bottle Goslings Black Seal Rum
1 stick unsalted butter, softened
2 cups light brown sugar
1 teaspoon ground cinnamon
1 teaspoon grated nutmeg
Pinch of ground cloves
Pinch of salt
Boiling water
Method:
In a mixer, cream together the butter, sugar, cinnamon, nutmeg, cloves, and salt. Refrigerate until almost firm.
Spoon about 2 tablespoons of butter mixture into 12 mugs. Pour 2 ounces of Black Seal Rum into each mug (filling about halfway).
Top with boiling water (to fill the remaining half), stir well, and serve.
Editors' Recommendations