Grills are perhaps the best (or at least, our favorite) tools when it comes to cooking. They were some of the first ways we as humans had to cook — long before pots and pans came long, distributing heat like it's their job — and they've evolved over time into the wonderful devices that we all have on our porches or in our backyards today.
Not just the domain of steaks, burgers, and dogs, you can cook practically anything on a grill with a little know-how. Need some sides for that steak? Get yourself a grill pan and get to work!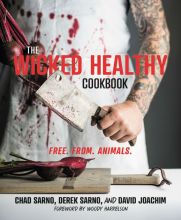 We want to provide you with a delicious dish that can work as a side or as an entrée, depending on how much you scarf down. This recipe for grilled sweet potatoes with Sriracha caramel and kale toasts comes to us from The Wicked Healthy Cookbook (Grand Central Life & Style, 2018), a new book by plant-based cooking authorities Chad Sarno, Derek Sarno, and David Joachim. The book features 128 more badassm meat-free recipes, ranging from main dishes like Sloppy BBQ Jackfruit Sliders with Slaw to pastas like Porcini Ravioli with Garlic Butter and Sorrel to desserts like Grilled Peaches with Vanilla Spiced Gelato and Mango Sriracha Caramel. You may not partake in a plant-based or meat-free diet normally, but these drool-worthy recipes might make you re-think that.
Need a bonus? The foreword to the book was written by Woody Harrelson.
Grilled Sweet Potato, Sriracha Caramel, and Kale Toasts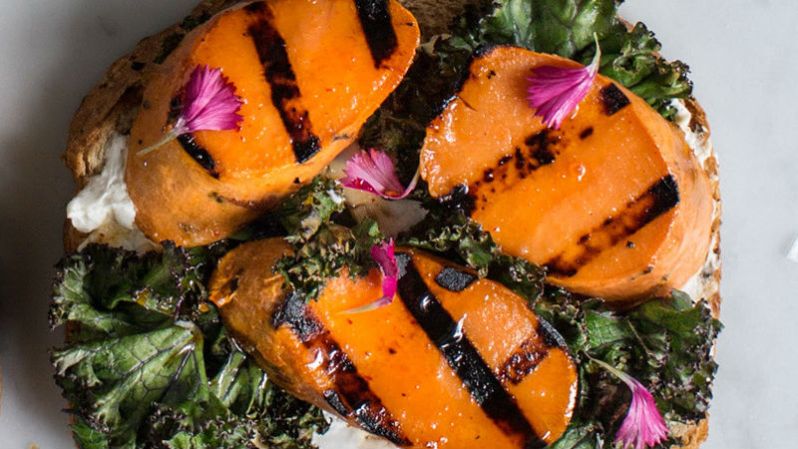 "There are no rules when it comes to toast. It's bread, toasted, for Pete's sake! The sky's the limit. It can be breakfast, lunch, or a wicked-filling snack. Make it extra ninja-like with your own freshly baked sourdough bread, and it becomes an event! If you keep some Mango Sriracha Caramel [sic] and roasted sweet potatoes in the fridge, this toast comes together fast. I love the smokiness you get from grilling everything here, but if you're short on time, you can sear it all in a hot cast-iron pan instead of grilling." — Derek Sarno
(Serves 2)
Ingredients:
2 sweet potatoes (about 1 pounds total), preferably the Jewel variety
4 kale leaves, ribs removed, torn into bite-size pieces
4 slices good crusty bread (recipe for Rustic Walnut Bread included in the book)
1 minced red Thai chile (optional)
.5 cup plant-based cream cheese, such as from Kite Hill
2 tsp everyday olive oil
2 tsp Mango Sriracha Caramel (recipe included below)
Pinch of coarse sea salt
Freshly ground black pepper
Method:
Preheat the oven to 350 degrees Fahrenheit.
Roast the whole sweet potatoes (skin on) on a baking sheet on the oven rack until a skewer slides in and out easily, about 45 minutes. Let cool, then chill until cold, at least 4 hours. Or go ahead and keep in the fridge for 2 to 3 days.
Heat a grill or grill pan to medium-high.
Remove the skins from the potatoes and slice into coins about, inch thick (8 to 9 coins per potato). Coat a large baking sheet with the oil and add the coins, flipping and rubbing to coat evenly. Push the potatoes to the side of the pan, and add the kale to the empty side. Rub the oil into the kale with your hands. Massage it in real good.
Transfer the potato coins to the grill and grill just until grill-marked a deep brown, 2 to 3 minutes per side. Grill the bread until toasty and grill-marked, 30 to 60 seconds per side. Watch closely so you don't burn the bread! Grill the kale just until it brightens and begins to wilt, 15 to 30 seconds.
Smear cream cheese on the toasted bread. Top with kale and sweet potato coins and season with a pinch of salt and a grinding of pepper. Add the Thai chile, if using.
Finish off with a little sizzle-drizzle of sriracha caramel and serve.
Mango Sriracha Caramel
"Ever since I developed Ninja Squirrel sriracha for Whole Foods Market, I've been finding new ways to inject it into my cooking and into my system. A friend of ours, Erin Wysocarski, writes the Olives for Dinner blog. When I saw her recipe for Whiskey Sriracha Caramel using Ninja Squirrel sriracha, I got totally inspired and started experimenting with different sriracha caramels. They're all freakin' amazing and I've been putting them on everything. You can use any clear fruit juice, tea, or other clear liquid." — Derek Sarno
(Makes about 2 cups)
Ingredients:
64 oz (2 qt) mango (or mango apricot) juice
2 cups organic cane sugar
.25 cup Ninja Squirrel sriracha or Homemade Badass Sriracha (recipe included in book)
Method:
Stir together all the ingredients in a medium saucepot. Bring to a simmer over medium heat, stirring now and then with a wooden spoon.
Cook until reduced in volume to about 2 cups, 2 to 3 hours. Have patience, Daniel-san. Who gets this movie reference? You'll have to eyeball it in the pan. It should have the consistency of thin syrup.
Remove from the heat and let cool a bit. Pour into Mason jars and let cool completely. It will firm up some but should still be pourable, like a thick maple syrup.
Seal and refrigerate for up to 1 month. Bring to room temperature or slightly warm the caramel before serving.
Excerpted from The Wicked Health Cookbook by Chad Sarno, Derek Sarno, and David Joachim. Copyright © 2018 by Chad Sarno and Derek Sarno. Reprinted with permission of Grand Central Life & Style. All rights reserved.
Editors' Recommendations