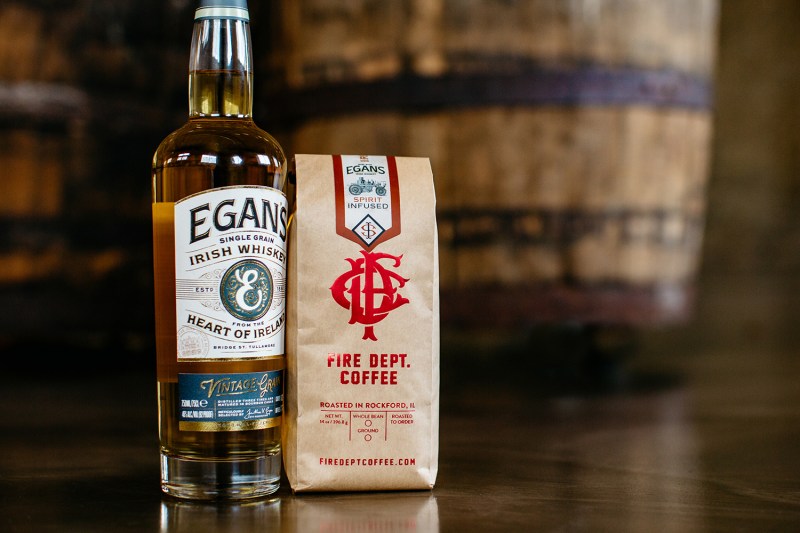 Fans of whiskey and coffee have something to be happy about this winter. Egan's Irish Whiskey has announced that it will be partnering with Rockford, Illinois-based Fire Dept. Coffee on a new blend that has been infused with whiskey. The whiskey in question is Egan's Vintage Grain, a single grain Irish whiskey that is sourced from an undisclosed distillery. The coffee beans are infused using a "proprietary method that infuses all the flavor of the spirit, leaving no trace of alcohol behind," according to a press release. It's unclear exactly what this method entails, but there's more to it than just dumping a bunch of coffee beans into a used whiskey barrel and letting them age. The Fire Dept. Coffee website explains that green beans are infused with spirit and then roasted, which removes the alcohol but leaves the flavor.
Fire Dept. Coffee is a company run by ex-firefighters and military veterans who decided to launch a second career in the caffeine business, with 10% of all proceeds helping to support sick or injured firefighters and first responders. This is not the brand's first foray into boozy coffee, however – there are bourbon, rum, and tequila varieties as well. The Egan's collaboration can be drunk on its own, but Fire Dept. and Egan's recommend using it in an Irish coffee, and they've provided a recipe:
Vintage Irish Coffee
3 parts cold brew (or hot) coffee made from Fire Dept. Coffee Egan's Irish Whiskey-infused beans
2 parts Egan's Vintage Grain
1 part Demerara syrup
Heavy cream and nutmeg
Method: Mix first three ingredients in glass. Vigorously shake heavy cream in a tin with spherical whisk (such as is used in a protein shaker). Pour whipped cream over coffee mix and top with freshly grated nutmeg.
Egan's Irish Whiskey-Infused Fire Dept. Coffee is available to order online in 14-oz bags (ground or whole bean) for $20.
Editors' Recommendations