There's no denying that the most popular style of craft beer is the India pale ale or IPA for short. In the heady early days of craft brewing, IPAs gained traction simply for providing a bitter hop-forward drink that gave extra bite to a beer. But as the IPA market has exploded, current varieties now include everything from creamy milkshake IPAs to low-alcohol session IPAs, even a niche group of black IPAs. Instead of merely providing astringency, the hops used in IPAs can enhance citrus, resin, and pine flavors. The palate-priming aromas of an IPA can also conjure memories of flowers, spices, and/or fruits, depending on the variety.
The creativity in the commercial brewing scene owes a huge debt to the homebrewing community. After all, many professional brewers were home brewers first. Without the constraints of appealing to the general public, homebrewers can focus on their personal tastes and follow passions to extremes. At the same time, amateur brewers can also be intimidated by such a diverse landscape of hop-forward beers. That's where the new book Brewing Eclectic IPA: Pushing the Boundaries of India Pale Ale comes in.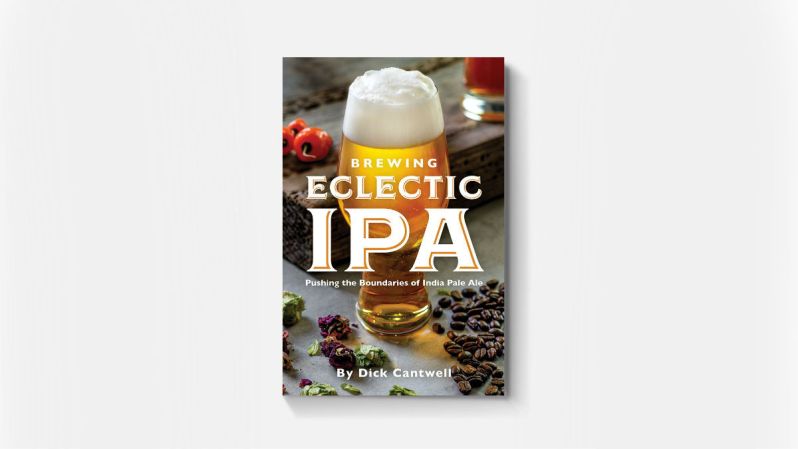 Author Dick Cantwell is no stranger to the world of beer. As a homebrewer, then co-founder and head brewer of Elysian Brewing Company until its sale to Anheuser-Busch, Cantwell was influential in changing the beer-drinking public's expectations of IPAs. In Brewing Eclectic IPA, he provides 24 recipes that allow home brewers to jump in and flex their brewing skills. In addition to listings of ingredients and processes, the underlying science is also addressed so the avid home brewer can confidently craft his or her own recipes based off the principles.
The one word that would sum up these recipes is unique. The Thai Iced Tea IPA, for example, was inspired by Pasteur Street Brewing in Vietnam and includes additions of oolong tea alongside Fuggle and East Kent Goldings hops. A single-hopped Sour IPA recipe was crafted with assistance from Jolly Pumpkin Artisan Ales. But with every shock of the new, there is a background that establishes why these recipes work, from herbal reactions to wood aging techniques.
Brewing Eclectic IPA: Pushing the Boundaries of India Pale Ale is a fun, quick, and informative read. The recipes are not ideal for true beginner home brewers, as a knowledge of all-grain practices is required, but brewers and beer enthusiasts of all levels can learn more about what makes their favorite beer style, the IPA, truly exceptional.
Editors' Recommendations