If you've had Early Times, it's probably because it was the whiskey that you could steal from your parents' liquor cabinet as a teen and not get caught. The brand, compared to some of the other whiskey reviews we've done here, isn't considered top shelf (or, to be honest, middle shelf). The perception of the brand, though, might be changing, however, with a new release, Early Times Bottled-in-Bond.
This bourbon (already different than the Kentucky whisky that is Early Times), is made from 79% corn (with 11% rye and 10% malted barley as well) and, as you might guess from the name, conforms to all the standards of being Bottled-in-Bond.
But what, you may be asking, is Bottled-in-Bond, exactly? We thought you'd never ask.
Bottled-in-Bond (created in 1897 in the Bottled-in-Bond Act) signifies that the bourbon contained within the bottle be from one distillation season, one distiller, and one distillery. That product then needs to age at least four years in a federal warehouse then bottled at 100-proof (50% ABV, which is what this release is).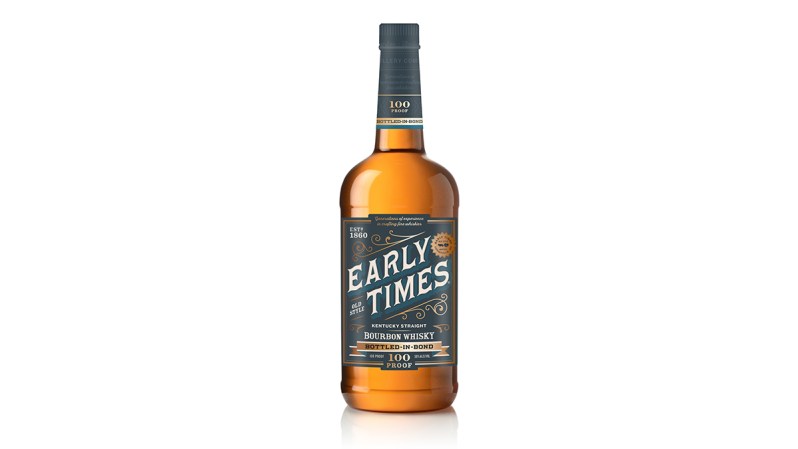 Appearance: Early Times Bottled in Bond Kentucky Straight Bourbon Whisky is amber in color.
Nose: A mix of sweet corn and honey are underpinned by dry oak notes and vanilla.
Palate: The primary flavor in this is caramel corn. This works with the oaks notes and a little bit of baking spice on the end.
Finish: The dry oak and spice that you get towards the end of the palate turns into dark chocolate, and a little bit of menthol.
Final Thoughts: It's hard, sometimes, to get past the assumptions you have about a specific brand, bourbon, et cetera. This Bottled-In-Bond is a limited release that was pleasantly surprising. What makes this worth it, though, truly, is the price tag. Despite being a limited release, Early Times Bottled-in-Bond retails for less than thirty bucks for a liter. Yes, a whole liter. Even if you don't like drinking it straight, it's a great buy to have on your shelf for when you want to mix up some cocktails for you and your friends.
Editors' Recommendations