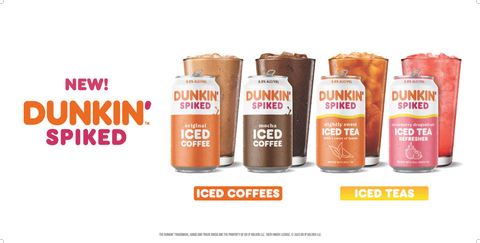 Joining in on a trend that just doesn't appear to be going anywhere, Dunkin' Donuts is the newest competitor to throw its hat into the boozy beverages ring. Jumping on the increasingly crowded bandwagon, Dunkin' will be riding alongside Bud Light, White Claw, and Twisted Tea in its endeavor to give the people what they want — an easily drinkable, tasty beverage with a boozy adult upgrade.
Brian Gilbert, Vice President of Retail Business Development at Dunkin' said in a recent press release, "We knew we had the opportunity to create something special when we saw the positive response to our previous seasonal collaborations for Dunkin'-inspired beers. The growing appetite for adult beverages inspired us to put a twist on our customers' favorite Dunkin' Iced Coffee, Iced Tea, and Refresher flavors. Dunkin' Spiked is perfect for day or night enjoyment and comes in eight distinct flavors, available in grocery and package stores later this month. This new line of ready-to-drink adult beverages elevates Dunkin's offerings, and we know our 21+ fans will love every sip."
All about Dunkin' Donuts' spiked beverages
The new iced coffee flavors will include Spiked Original, Spiked Caramel, Spiked Mocha, and Spiked Vanilla. And if you're more of a tea drinker, there are some refreshing options for you, too. Spiked Slightly Sweet Iced Tea, Spiked Half & Half Iced Tea, Dunkin' Spiked Strawberry Dragonfruit Iced Tea Refresher, and Dunkin' Spiked Mango Pineapple Iced Tea Refresher are also hitting the shelves soon.
While customers may be a bit startled at seeing an otherwise "wholesome" brand trying its hand in the alcohol game, the timing does seem to be suspiciously perfect. After all of the absurd drama in the world of canned booze this year, perhaps customers are looking to change gears. Poor Bud Light seems to be trying everything to keep its head above water after drowning in a sea of homophobic protestation and boycotts. Bud Light sales have plummeted, including those of its otherwise popular Bud Light seltzer, which was terribly hard hit this summer.
While less controversial than Bud Light, the shiny new excitement of White Claw's revolution is quickly being run over by better-tasting alternatives. Brands like Spritz Society and Simply Spiked are doing the same thing, but better. Now seems to be the perfect time for Dunkin' to enter the race. And hey — the combination of coffee and alcohol is always a win in our book, so we're all for it.
While you may fear that Dunkin' might be lonely there in the liquor aisle, the blackest of sheep in a place it has no business being, we suspect other uncomfortable oddities like Hard Mountain Dew and Spiked Sunny D will befriend it in no time, so worry not.
Those eager to buy these new Dunkin' Donuts beverages can do at grocery stores in 12 states for the time being – Connecticut, Delaware, Florida, Maine, Massachusetts, New Hampshire, New Jersey, New York, Pennsylvania, Rhode Island, Texas, and Vermont. Spiked Iced Tea flavors will be available at the end of this month, while Spiked Iced Coffees will be in stores in early September.
Editors' Recommendations