Answer the door in your best Daenerys Targaryen braids (or Jon Snow wig) because British food delivery service, Deliveroo — similar to Uber Eats and GrubHub — is offering Dragon Eggs in time for the final season of Game Of Thrones. The promotion is a clever play on HBO's premiere of Game of Thrones on April 14 and its proximity to Easter on April 21, because these eggs will be made of chocolate.
Deliveroo Dragon Eggs are each two pounds of Fair Trade white chocolate and come in three hand-painted colors to replicate the eggs gifted to Daenerys in the first season. They will be available for order on April 14 to coincide with the season premiere.
If you're not a Thronee and have never seen the show, all you need to know is the three eggs are rust-red, green, and gold-ish, coordinating with the color of the dragons inside. Drogon is black and red, Rhaegal is green and bronze, and Viserion is white and gold, but crack open Deliveroo's eggs and they're all white chocolate.
A bit of a bummer if you're a milk or dark chocolate dude. Then again, there are plenty of treats to be had at Easter, so don't fret too much — especially since these Dragon Eggs are only available in London, Manchester, and Leeds. Unfortunately, you can't get them in the U.S.
Deliveroo is expecting the promotion to breathe fire since they "see huge spikes of orders around season premieres and finales," says Joe Groves, a public relations expert for the company. "We thought what better way to celebrate hardcore fans than with these amazing scaly creations."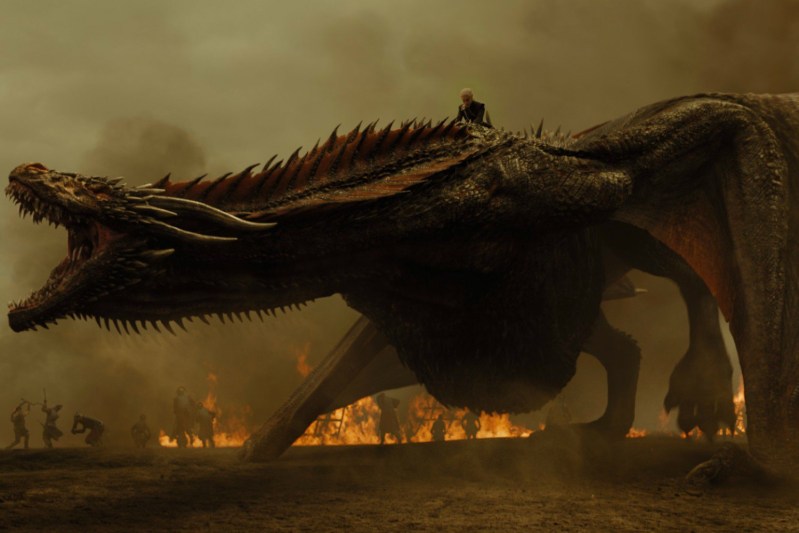 In 2017, Deliveroo set up a Game of Thrones-themed pop-up bakery called "You Know Nothing Jon Dough" and sold out of Direwolf loaves before the store even opened. Considering this success and that the season seven premiere set a record with 10.1 million live viewers, Deliveroo shouldn't have an issue selling the chocolate eggs.
The price should help them fly as well, costing only £0.80 British pounds ($1.05 USD) per egg … which sounds insanely cheap considering Palmers Big Blinks two-pound chocolate rabbits run about $20 per cottontail.
Since these giant rabbits are our only American frame of reference to comprehend the sugary madness of Dragon Eggs, it's notable that a Big Blink has 20 servings of chocolate at 27 grams per serving (540g for the whole bunny), and that white chocolate is notorious for having more calories and added sugar. That's because white chocolate doesn't contain any cocoa powder, just cocoa butter. Then again, if you eat all three, it's a great excuse to order a pair of Adidas' Game of Thrones running sneakers.
Set the mood for your Game of Thrones viewing party by grabbing dragon egg-scented candles, White Walker whisky, or a Jon Snow-style leather jacket.
Editors' Recommendations