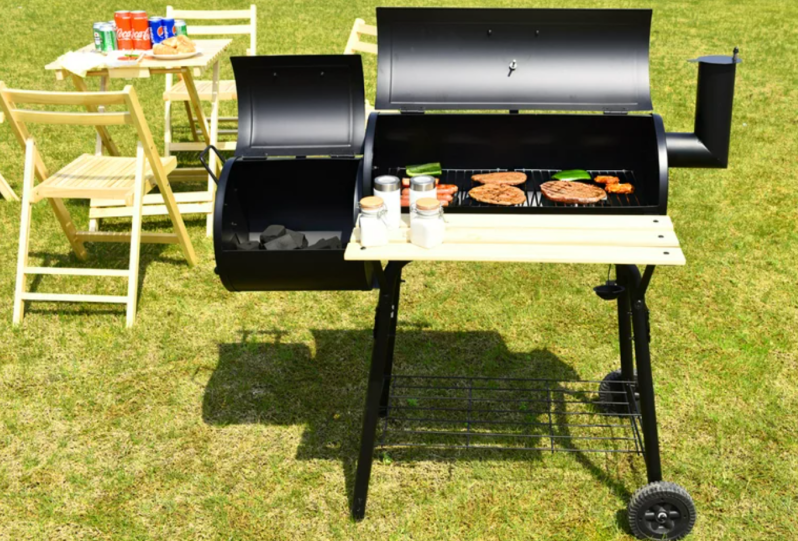 This warm weather is the perfect time to be outdoors, taking in the fresh air and grilling some delicious food. It's also a great time to get a huge discount on a suitable grill and smoker, thanks to all the Prime-inspired deals. If you're ready to rack up some meats, listen up because this next deal is just for you. Walmart is offering the Costway Outdoor BBQ Grill & Pit Smoker for just $100, normally $231. That deal saves you over $130 on a durable, heavy-duty steel grill with an attached firebox for smoking and delivering offset heat. We honestly haven't seen a deal on a grill this good for quite a while — let alone a backyard smoker deal. Hurry, though. It won't last long.
Why you should buy the Costway Outdoor BBQ Grill & Pit Smoker
This backyard smoker and grill serves two purposes, or several really, as you can prepare your meats and foods just the way you like. Want some burnt ends? Go for it! Have a hankering to smoke meat like a pro? Yep, you can do that too.
The separate and side-mounted firebox can be used to smoke meats without applying direct heat. This gives them all the delicious scents and flavors of a smoky treatment without overcooking. But if you don't have the time to smoke or just don't want to, you can use it as a traditional charcoal grill.
It's made of heavy-duty steel and designed not to rust, although it's always a good idea to seek out a grill cover for something like this if you don't already have one. A convenient side shelf allows you to stow plates, utensils, spices, and more while you're getting ready to cook. Moreover, the top lid has a built-in thermometer so you can keep an eye on temps even while it's closed up.
You don't have to worry about it being too heavy to maneuver or move around your property because two rolling wheels on the bottom allow you to move it freely when it's not in use. You could stow it under a covered area, for example, and wheel it out when you're ready to rack up some meats or veggies.
It does come disassembled, so you'll have to put it together, but that makes sense since it's such a bulky item, and don't worry, it's easy to do with intuitive instructions. With the current deal, however, this grill is selling fast and may not be available for long. Normally $231, you're saving over $130 and can bring it home for just $100. That is fantastic — time to get smokin' chef.
Editors' Recommendations