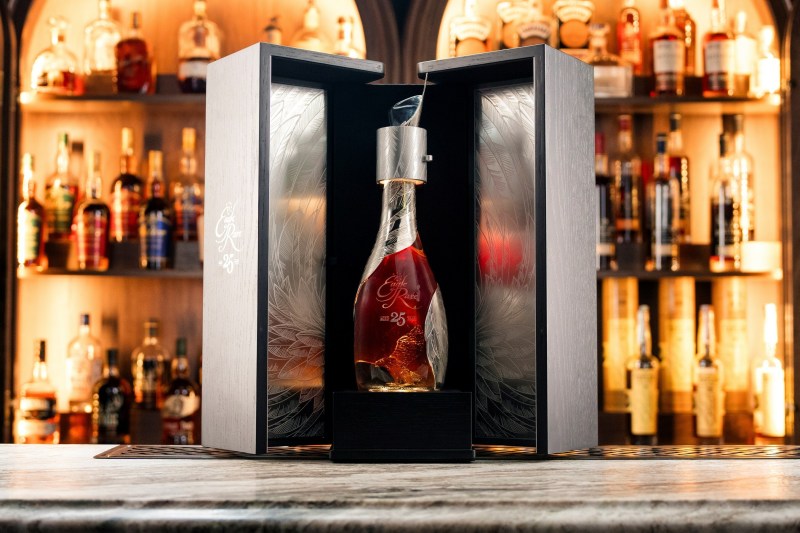 If you're a fan of whiskey (specifically bourbon), you're likely well aware of the prowess of the Buffalo Trace Distillery. Makers of Pappy Van Winkle, Weller, and other iconic brands, you'd have a hard time finding a bad expression from this award-winning distillery. One of its most popular brands is Eagle Rare. Eagle Rare is aptly named because many of its expressions, including its 17-year-old expression, aren't easy to find in the wild for retail prices. This bourbon is highly sought-after and sells for large amounts of money on the secondary market.
And while this whiskey is rare, get ready for a new obsession-worthy expression as Buffalo Trace just announced the launch of Eagle Rare 25, the oldest expression to be released from the Eagle Rare range. But since it took twenty years before it was ready, its release is the end of decades of patience from Buffalo Trace's $20 million-plus experimental program.
The brand has spent years experimenting with barrel charring levels, temperature, airflow, light impact, and various other things that affect aging. Eagle Rare 25 is the first release from Warehouse P, one of the two experimental warehouses.
"Eagle Rare 25 defies the conventional limits of typical bourbon aging," Buffalo Trace Master Distiller Harlen Wheatley said in a press release about the whiskey. "When crafting whiskey in conditions like those we experience in Kentucky, two reactions happen over time: more liquid is lost due to evaporation – also known as angel's share – and extraction of flavors from the barrel becomes more intense, often leading older whiskeys to taste over-oaked, astringent, and dry. The unique set of aging conditions in Warehouse P has allowed us to create a 25-year-old bourbon that smooths out the extractions and highlights the desirable flavors found in ultra-aged American whiskey products."
The distillers believe that not only is Eagle Rare 25 great because it was made with high-quality ingredients and matured for more than twenty years, but they also think that the experimental aging process makes for a one-of-a-kind aroma and flavor experience.
According to the distillery, the 101-proof whiskey carries a nose of charred oak, bitter chocolate, dried cherries, and vanilla cream and a palate of dried fruits, butterscotch, and toasted vanilla beans. The finish is lingering, warm, and ends with a ton of spices, including cracked black pepper. Sipping it is truly an intense, sublime experience.
Not only is the juice inside remarkable, but the bottle itself is spectacular. It features a custom-made sterling silver wing that's hand-hammered around every hand-blown crystal decanter.
Even if you have a lot of extra cash lying around, you won't have an easy time getting your hands on a bottle of Eagle Rare 25. That's because only around 200 bottles will be released to select retailers and restaurants. The suggested retail price is a staggering $10,000 per 750ml bottle. But that's nothing if you have limitless cash and a penchant for high-quality bourbon. If only this was the case for all of us (or even some of us).
Editors' Recommendations