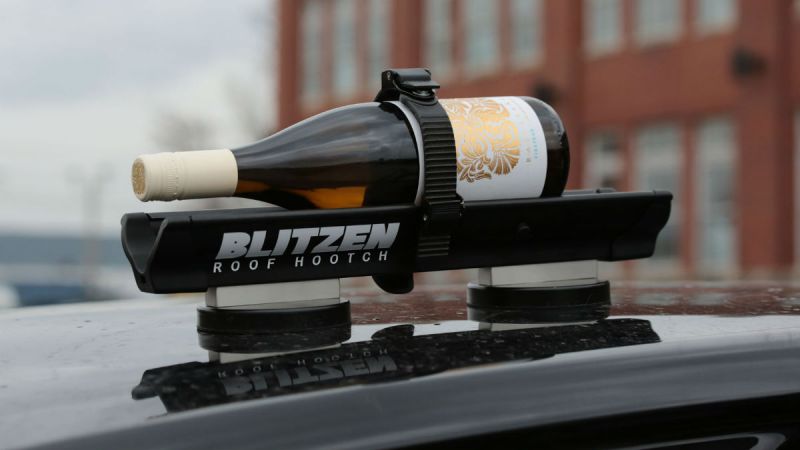 No one likes warm beer or warm wine. More than that, no one likes showing up to a party with a bottle that warmed up on the way over. You, frankly, look like a jerk—here is this six-pack of craft beer, now wait a half hour while it chills so you can actually drink it. No one wants to be that guy (wars have been started over less, we're pretty sure). Thankfully, engineers at the Pittsburgh-based innovation company Deeplocal have been hard at work on a solution: Blitzen, the roof hooch chiller.
The Blitzen was originally conceived of by Matthew Pegula after a trip to the liquor store. He was picking up some Prosecco for his wife, but, unfortunately, the only bottles they had were warm.
"I thought, 'Man, if I could just hang this out the window somehow, I'd have it cool by the time I got home."
The next day, he brought the idea to the other engineers at Deeplocal, describing it as a Thule with the capability to hold your booze. He even brought in his own roof rack for the engineers to look at and base a design off of.
They ran with it "in the most ridiculous, over the top way possible," and Blitzen was born.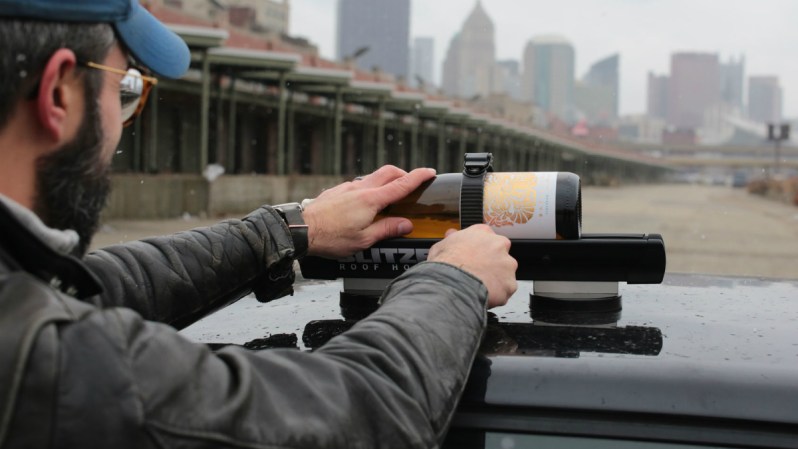 After a series of tests, they came up with the current design. The rail-like holder is attached to the top of the car through a magnet system and can hold up to a sixty-four-ounce growler. After rigorous testing, Pegula says, they found a design that is safe at all legal speeds.
Speaking of speed, Pegula says this — along with the temperature outside and the temperature of the bottle — all contribute to just how fast your bottle will chill. With that in mind, Pegula says they're already working on a plugin that could work with Google Maps to create optimal driving routes for cooling your beverages.
"It might take you three miles longer to get somewhere, but it'll ensure your wine is chilled when you arrive," Pegula said.
The Blitzen is not currently available on the market, but Deeplocal is exploring ways to open source the design so that it can be on shelves across the country soon. (If you don't want to wait, you can always check out this backpack cooler or spend your time learning about how brands send coolers to be mauled by bears.)
Editors' Recommendations