Chocolate and flowers is the pairing that they want you to think of when it comes to Valentine's Day. But you're not a creativity-lacking cog in the old machine, are you?
Didn't think so. In that case, let's talk about sweets that can be just as compelling as chocolate and that work with an even broader array of complementary wines. Pairings that will give you innovation points and perhaps even a new respect for a pigeonholed wine or two.
Want to step outside the box (of Russel Stover)? Give these pairings a try.
Biscotti and Vin Santo
This old Italian pair is incredibly symbiotic. Vin Santo, a Tuscan-born dessert wine, is a fiercely flavored sipper, known for its rich and nutty tones. It's made via one of the cooler processes in all of wine, by way of hanging fruit clusters in the rafters of old buildings to concentrate flavors. Try it with some biscotti that has some bits of pistachio or macadamia nut in the mix, or even dried fruit. Careful, this may become your new breakfast ritual.
Stilton and Port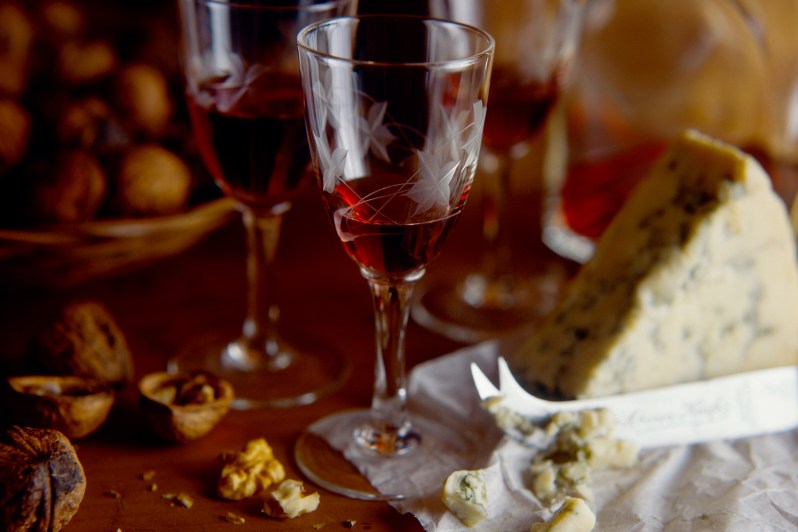 This match you've probably heard of as it's a seasoned duo. The funkiness of the cheese is wonderfully cut into by the fruity richness of the port. A real porto from Portugal is the way to go, but a sweeter Madeira is a close second. If you can't get your paws on a good Stilton, a good local blue cheese is fine (the U.S. is home to the world's best blue, after all). Not a stinky cheese person? Try a sweet port with gingerbread or a coconut-heavy and extra-buttery macaroon.
Poached Pears and Late Harvest Wine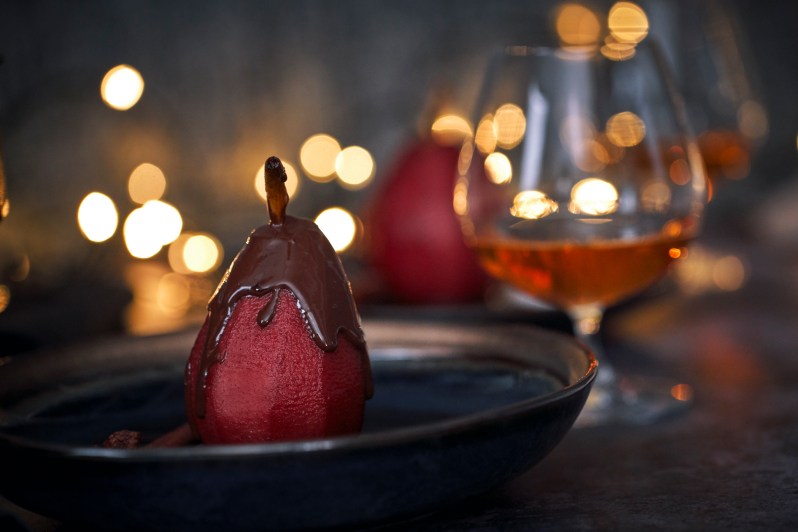 A good poached pear embodies all that's good during the second half of winter. The baking spices involved are cozy while the flickers or brightness of the fruit itself are enough to get you excited about the coming of spring. Better still, you get to enjoy a good late harvest wine both while you're preparing the dish and with it once it's ready (including some in the pan with the fruit is highly recommended). A Hungarian Tokaji will do the trick and so too will a Sauternes. Domestically, look for ice wine or a late harvest take on Riesling or Pinot Blanc.
Angel Food Cake and Riesling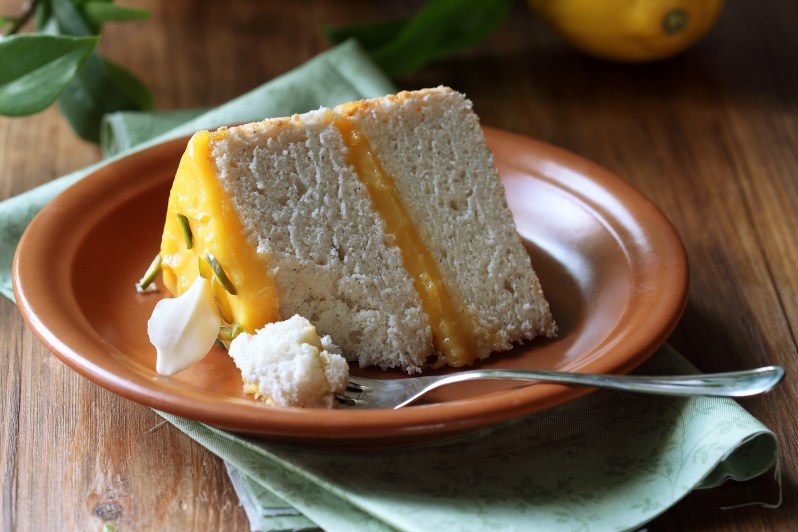 Who says white wine isn't up to the task? This match is less expected and deceptively satisfying. There's a lot of flexibility here, which is part of the fun. Angel food cake is essentially a pillowy blank canvas, atop of which you can throw things like berries, jam, or gelato. Riesling, too, can be tweaked to your liking as its dry-to-sweet spectrum is one of the lengthiest in all of wine. Stay on the dry end if you want keep the cake simple. With a dessert made heavier with frosting or syrupy fruit, go for a sweeter Riesling than can match the candied nature of things.
Baklava and Amarone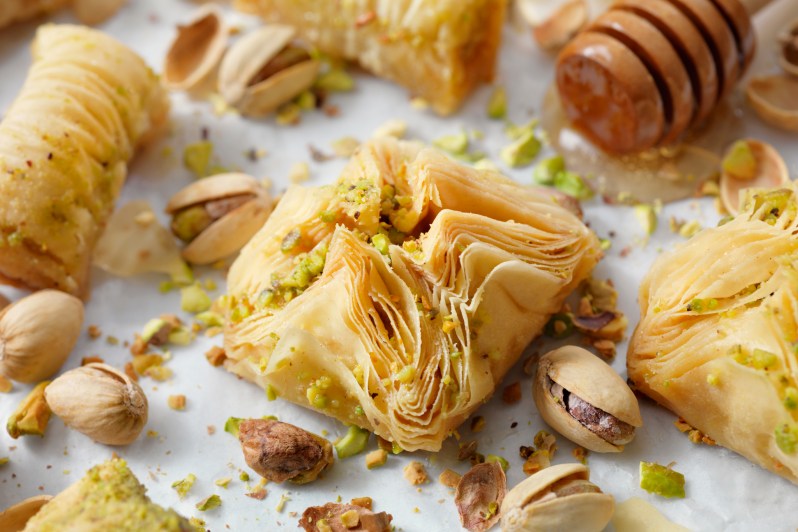 The delicious and worldly dessert pastry otherwise known as Baklava is so widespread you can often find a good batch beneath a plastic case at your local bodega. Try it with amarone, the bold and heady red from the Valpolicella region of Italy. The filo and nuts fare very well alongside the wine's fig-y, spicy, stone fruit-driven flavors. These wines tend to age quite well so if you're looking to really celebrate, sniff around for something a couple of decades old. Otherwise, a fresher vintage is fine and certainly won't break the bank. It's a fun wine to throw in the mix as it tends to be quite dry, yet so full that it begs for bigger fare in terms of pairings.
Editors' Recommendations