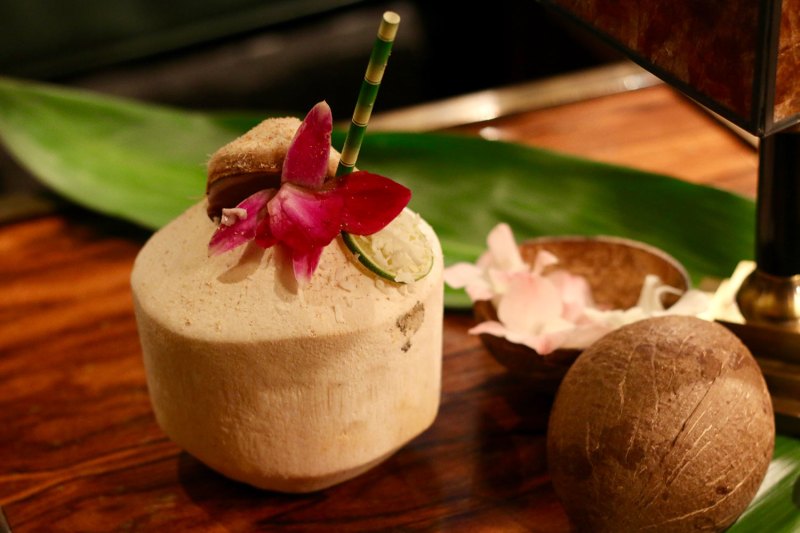 There's nothing quite like a good tiki bar. Combining vibrant décor, complex cocktails, and a breezy ambience, these places aren't just watering holes — they're temples. No matter what's going on outside, you can count on excellent atmosphere and refreshing tiki cocktails inside, plus enough kitsch to keep your mind busy.
Not only are these bars prime spots for drinks like the Mai Tai, Zombie Punch, and Singapore Sling, but they're also sanctuaries for escapists. For the cost of a couple of drinks and a handsome tip, visitors get to travel to a faraway place covered in palm trees, even if only in their minds. That's a kind of therapy we could get used to.
Here are the best tiki bars in the U.S., the places where it's always summer.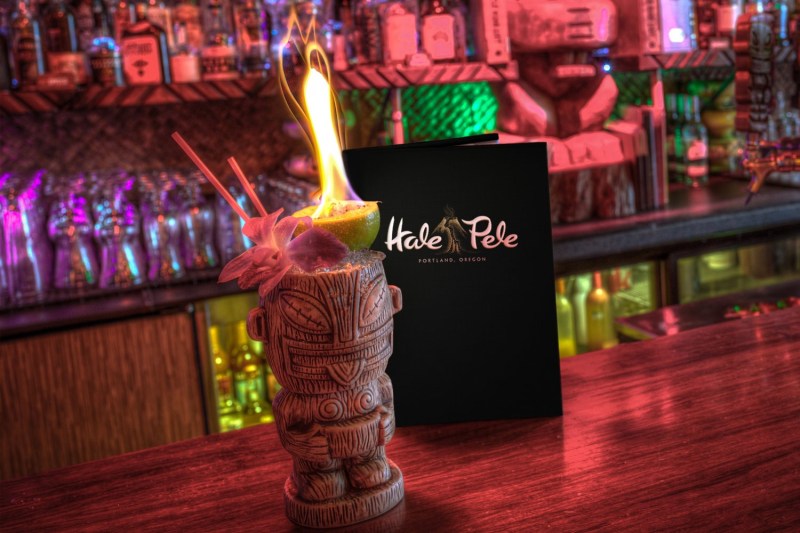 Hale Pele
Portland's best tiki bar plays recordings of thunderstorms and requires you to cross a small creek on the way in. Perhaps best of all, the bar is inspired by the tropical hotel bars of old, set considerably lower so that bartenders and bar-goers literally see eye-to-eye. The food is surprisingly good, the décor is detailed and on point, and the drinks are authentic and extremely well made. Hale Pele is all the better given that for more than half the year, the city is under gray clouds and is anything but tropical.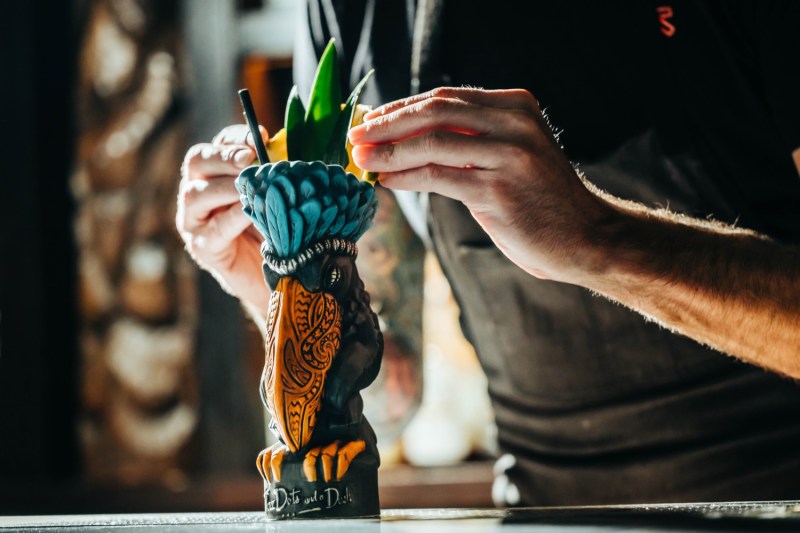 Three Dots and a Dash
Three Dots and a Dash turned 10 years old this year, but you'd think this place has been around since the tiki heyday of the 1930s. A Chicago staple, the bar honors the legacy drinks and the modern classics, and it makes up its own along the way. There's even a rum bar inside called The Bamboo Room. The beverage team has amassed more than 300 bottles of rum and rhum agricole, meaning there are countless possibilities when it comes to what shows up in your tiki mug.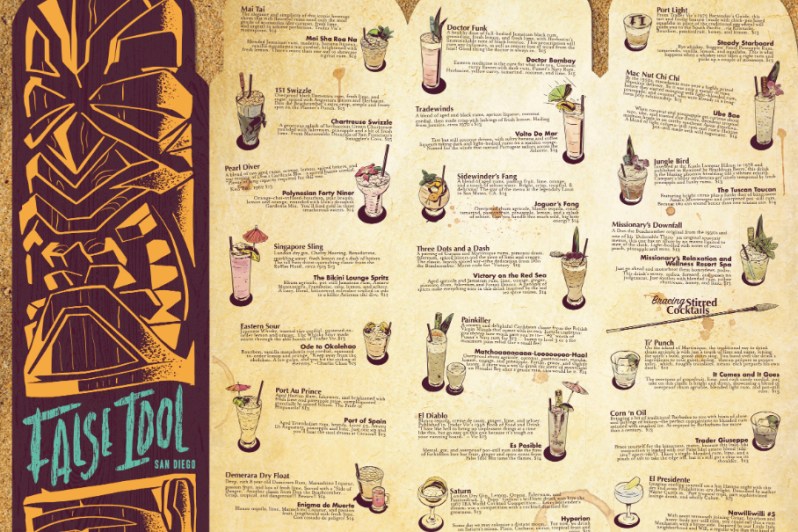 False Idol
Southern California is home to several standout tiki bars, but False Idol in San Diego is hard to top. The shared drinks are stellar, like the Luau Scorpion (aged rum, gin, brandy, orgeat, demerara cordial, citrus) and the Lomi Lomi Parlor Punch (rum, gin, honeydew, passionfruit, lemon, sparkling wine).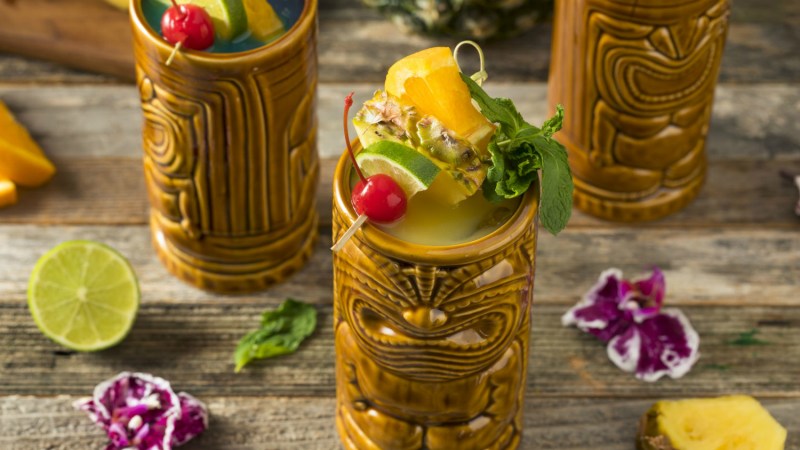 La Mariana Sailing Club
One could spend years meandering from tiki bar to tiki bar in Hawaii. La Mariana Sailing Club stands out in that it was part of the Hawaii Five-O set, placed right near the water in Honolulu. This bar doesn't have to try too hard — it's set in actual paradise after all. Just the right level of dive-y, La Mariana touts incredible sunsets, a breezy open-air atmosphere, and some quality tiki drinks.
Smuggler's Cove
Set in San Francisco, Smuggler's Cove is the dream turned reality of tiki expert Martin Cate (who also happens to pen some excellent cocktail books). The bar touts arguably the best atmosphere of any tiki establishment with the perfect balance of nautical knick-knacks and beachy treasures. Finding itself on "best of" lists all the time, the outfit always lives up to the hype. In addition to deftly-made classics, Smuggler's Cove also specializes in more than a dozen excellent original tiki cocktails.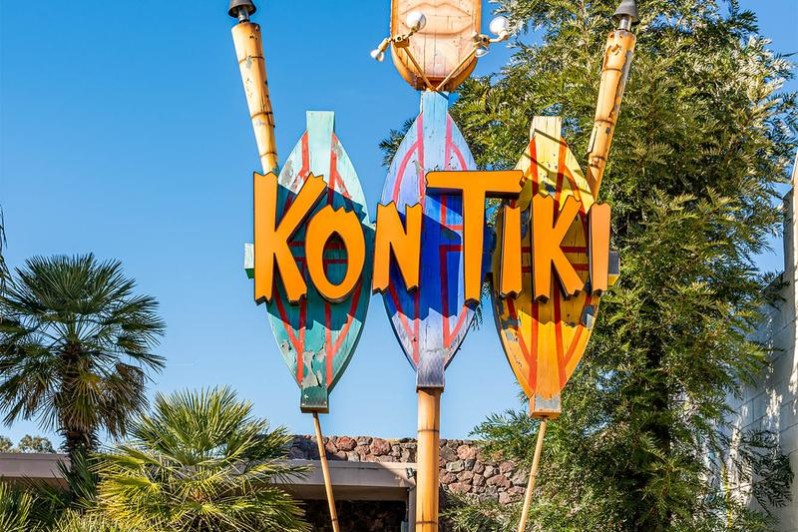 Kon Tiki
Based in the foodie city of Tucson, Kon Tiki is paradise in the desert. All the boxes are checked, from the bamboo accents and fish tanks to the bar food and extra-strong drinks. Dig into some crab puffs or poke and wash it down with a Far Eastern Sour (scotch, rum, juice) or a Dragon Fruit Daiquiri.
Saigon Blonde
It's easy to spend an entire day in Saigon Blonde, the eye-catching tiki bar in St. Petersburg. Informed by the '60s era of tiki culture, the place feels wonderfully retro, with ideal lighting and the perfect amount of tropical flair. Per tiki tradition, the drinking vessels here are fantastic, filled with tremendous drinks and all the right garnishes.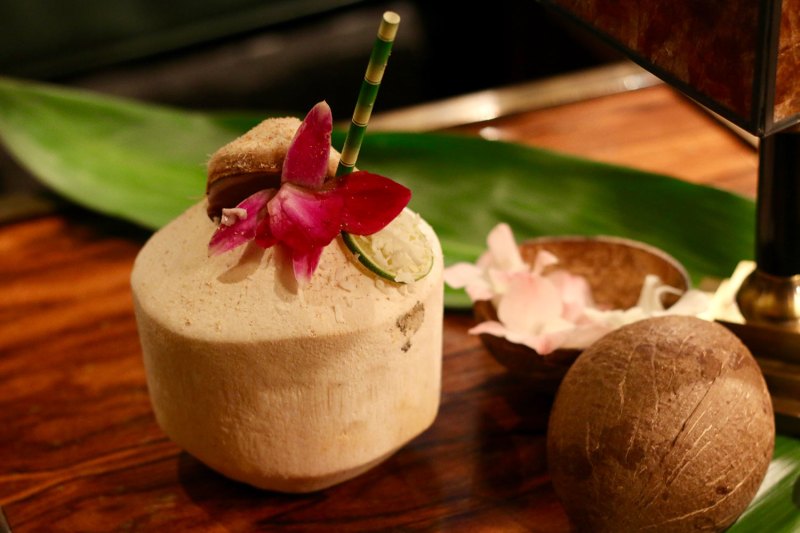 Tiki Chick
While there's nothing colossal about Tiki Chick, this petite bar in Manhattan feels just right. From the mermaid skeleton to the decorative punch bowls, there's so much to love. Duck in and you'll feel instantly removed from the beehive that is NYC. Tiki Chick is the kind of place where time slows down and you can think about nothing (or a sunny beach) for a spell. Look out for the POG Punch, Pickle Painkiller (yes, it's made with a hot sour brine), and an excellent Jungle Bird cocktail.
Tonga Hut
An elder statesman in the L.A. tiki circuit, Tonga Hut first opened in 1958. The Hollywood joint boasts great fountains, an outdoor lanai, and some of the coolest booths in all of tiki fame. Look out for a slew of tasty daiquiris, top-notch classics like the Blue Hawaiian and Cobra's Fang, and banging originals that incorporate things like hibiscus syrup, tangerine shrub, and macadamia nut.
Psycho Suzi's
Easily one of the best-named bars around, Psycho Suzi's is an oasis in the heart of the Midwest. The Minneapolis establishment is set on the Mississippi River, but it feels pulled straight from an island near the equator. The cocktails focus on specific rums and rum blends, most of which are inspired by the classic recipes from the mid-20th century. At this welcoming tropical bar, you'd never know you were in a landlocked state.
Editors' Recommendations