Tea is a stimulating and relaxing beverage that requires no occasion — simply steep your tea and take it whenever you want. Available in different options, including black, green, herbal, and white tea, this aromatic drink is a favorite for many. In fact, tea is the most widely consumed drink after water.
Your tea is perfect when you serve it from a teapot — a must-have vessel for steeping your tea leaves or herbal mix. Plus, it's an excellent option for serving tea to your friends or settling down to read a novel during the weekend with your favorite tea beverage right by your side.
Teapots are both functional and decorative, and for some people, they're quite intimate. Whatever the kind of person you're, there's a perfect teapot for you. This post rounds up some of the best teapots to help you get that one pot you'll cherish!
Related Guides
Best Premium: Teabloom Celebration Tea Set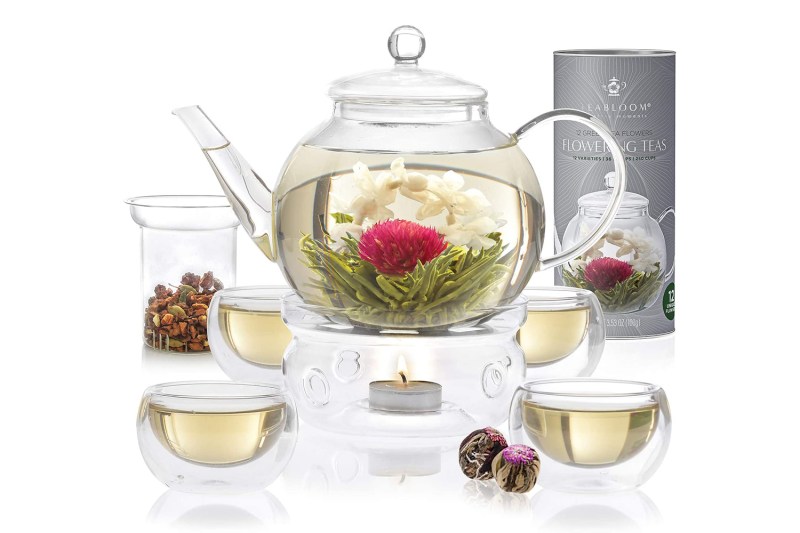 Teabloom has a great selection of unique and award-winning teapots. Just as its name suggest his celebration teapot is perfect for your next gathering. It's stovetop safe and comes with four glass teacups. This teapot will become a valued family heirloom.
Best Glass: Hiware Glass Teapot with Removable Infuser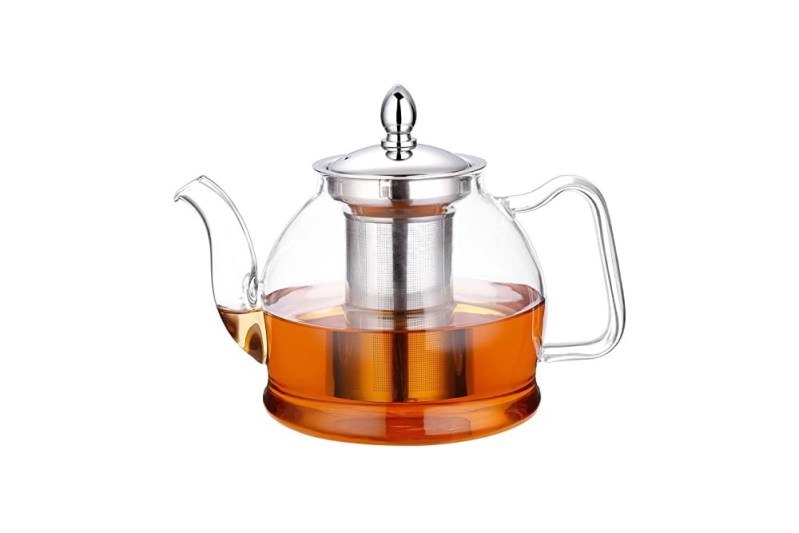 If you're looking for the best teapots with infusers, Hiware 1000ml Glass Teapot will definitely delight you. This glass teapot is handcrafted from heat-resistant borosilicate glass to deliver a top-quality product. It features a removable 18/10 stainless-steel mesh infuser filter for blooming teas and loose teas, while its non-dripping spout ensures precise control while serving tea.
Best Portable: Adagio Teas ingenuiTEA Bottom-Dispensing Teapot
Ideal for traveling or office use, this Adagio Teas ingenuiTEA Bottom-Dispensing Teapot is a portable option for a tea lover. Interestingly, it doesn't have a spout for serving your tea — simply place the pot over your cup, and the tea will drain into the cup from the bottom. This pot is dishwasher safe for easy cleaning, and its easy-grip handle ensures optimal control. It also has a mesh filter that retains all the tea leaves.
Best Porcelain: Everyday White by Fitz and Floyd Teapot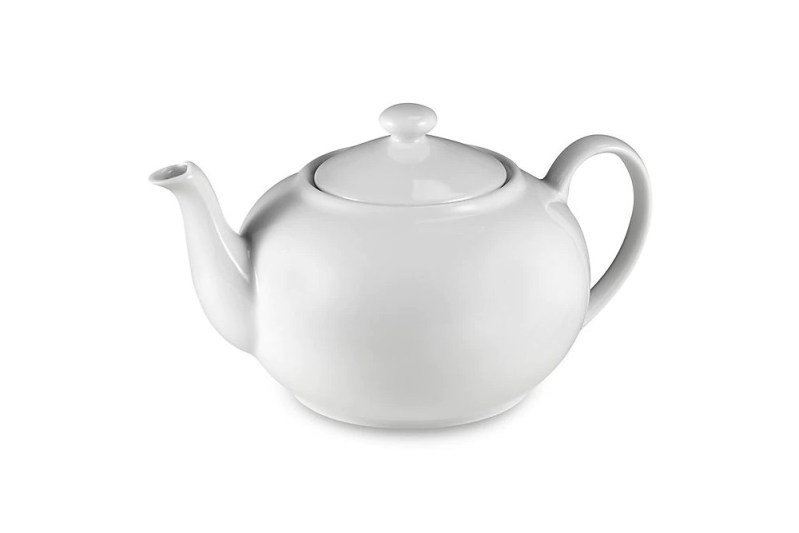 Porcelain is beautiful, durable, and simple to clean, and that's what you'll get when you opt for this Everyday White by Fitz and Floyd Teapot. Perfect for formal occasions and everyday dining, the pot is functional, and it has a capacity of 48 oz. for about 3 to 5 serves. It has a lid for protecting your beverage from dust and keeping it warm. This pot is oven-safe up to 250 degrees F.
Best Cast Iron: Breakwater Bay Waterfall Newburg Cast Iron Teapot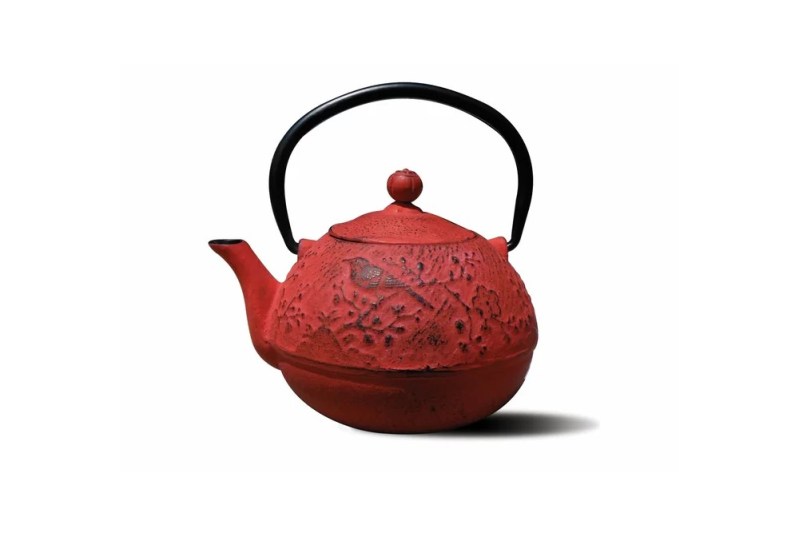 As an intimately prized Japanese antique, this Breakwater Bay Waterfall Newburg Cast Iron Teapot is a stunning cast-iron Tetsubin pot, which is perfect for brewing and serving tea. It has an enamel-lined interior to prevent rusting. Bear in mind that it's not designed for stovetop use, and it's also not dishwasher-safe. This cast-iron pot comes with a stainless steel tea basket for brewing your loose tea.
Best Set: Pukka Home Hualisi Porcelain Sets British Royal Series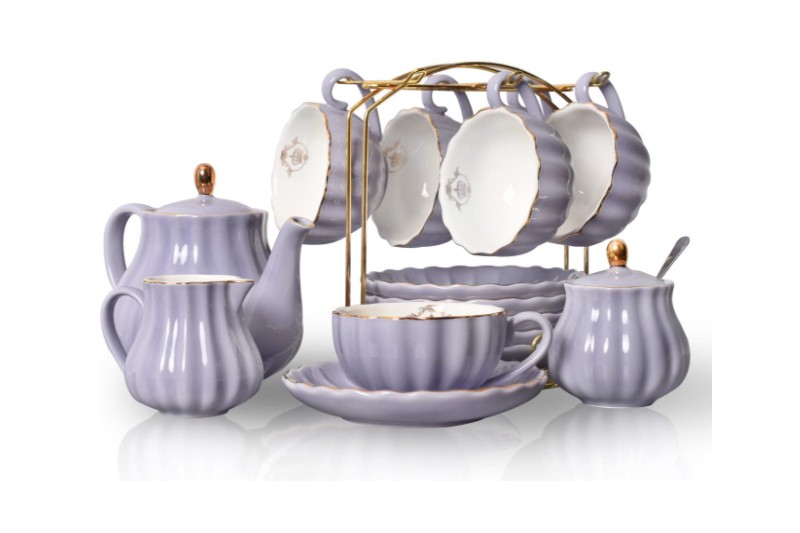 Make enough tea for you and your loved one with this British Royal-designed teapot set from Pukka Home. This set comes with 6 teacups, 6 saucers, 6 teaspoons, a teapot, a sugar bowl, a cream pitcher, and a stainless steel filter. It also comes in three different colors to match your specific tableware.
How Do I Choose a Teapot?
Appearance isn't the only factor to consider when shopping for the ideal teapot — that's where most people get it wrong. Teapots come in various sizes and styles, so it's worth considering different factors, such as material, steeping options, your preferred tea, and your brewing method.
For example, some pots are suitable for tea bags, while others, like glass pots, are best for green tea. In most cases, teapots are ideal for people who like loose tea and are precise with their tea's steeping time. Cast iron and stainless steel pots are durable and hard to break, while glass, porcelain, and ceramic counterparts can break when they fall.
If you love exploring culture, art, and history, you can find the best English teapot or other Chinese and Japanese varieties to add to your collection. Some premium teaware comes with a rich history and make perfect options for drinking tea during a special occasion. You'll also look at features such as built-in infusers for brewing loose tea effortlessly. Paying attention to all these factors should help you find the ideal pot!
Editors' Recommendations