We love all things cooking, so it's natural to talk about the best stand mixers available and how they stack up against each other. If you are as serious about being in the kitchen as we are, then you will want to know about some of the best kitchen tools and appliances out there. Having the skill and the right set of tools will make your baking, meal prep, and general cooking so much easier.
You'll recognize most of these stand mixers because they have been on the list before, and for good reason. They are high-quality, durable, and reliable. If you're going to drop some serious dough (see what we did there?) on kitchen appliances, then you need to make sure what you buy is going to last and keep up with your demands.
1. KitchenAid Artisan Series Tilt Head, 5-Quart
Best Overall Stand Mixer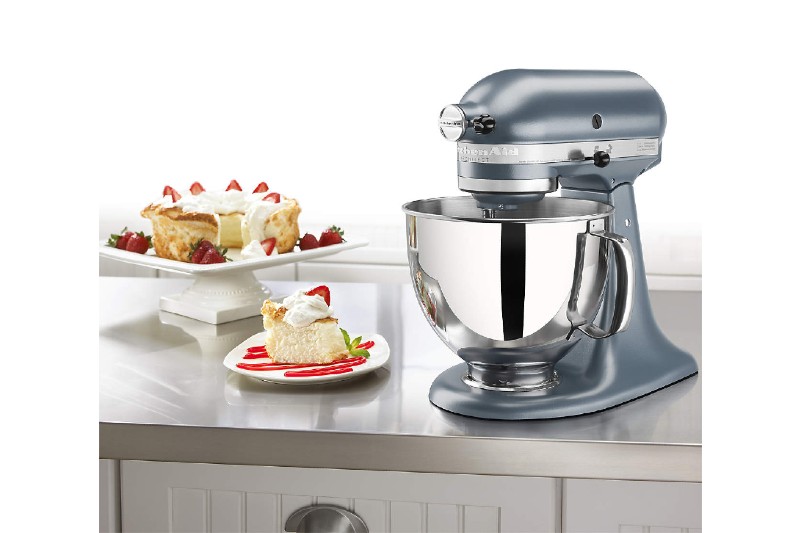 KitchenAid mixers come from a tried-and-true brand that never disappoints, which is no wonder this one makes the best-of list. There are plenty of options in the realm of KitchenAid stand mixers, such as the KitchenAid Classic Plus or their KitchenAid Pro series, but the Artisan Series is the perfect blend of both worlds, even offering a KitchenAid Artisan Mini Mixer. The KitchenAid Artisan Series comes with a heavy-duty transmission, 10 speeds, and a 325-watt motor. It also comes with a pouring shield for the stainless steel bowl, plus flat beaters, a wire whisk, and a dough hook.
2. Costway 6-Speed Tilt Head Food Stand Mixer, 6.3 Quart
Best Affordable Stand Mixer
This electric stand mixer may be a high-performance machine, but it also has a great price that really gives you the best bang for your buck. The six speed settings work perfectly with the 660-watt motor, and the integrated overheating protection setting allows the machine to stop automatically when it begins to heat up too much. in case you are worried about making a mess, never fear — with the splash guard in place, you won't have to worry about splatters on the counter or the walls! It comes with three attachments and a 6.3-quart, stainless steel handled bowl.
3. Dash Stand Mixer 6-Speed Stand Mixer, 3-Quart
Best Budget Stand Mixer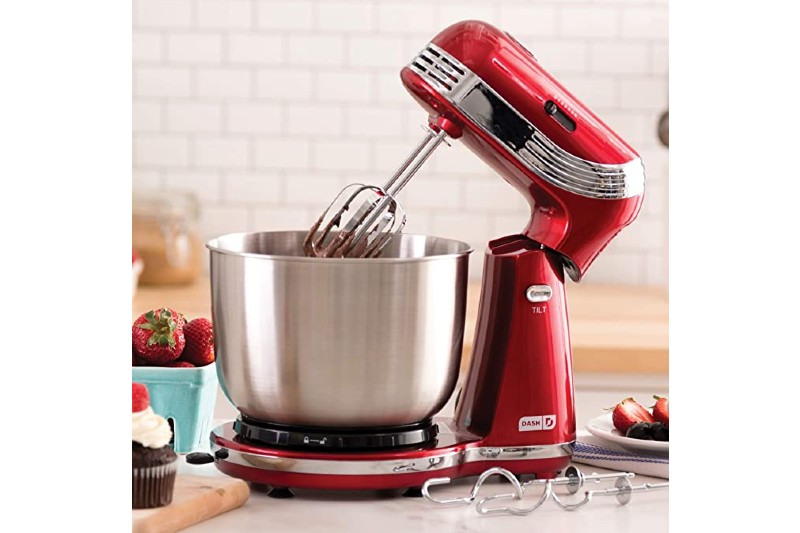 Believe it or not, this electric mixer weighs less than 5 pounds! It's a very budget-friendly mixer that comes in several colors and can really be put through the paces. It has a full tilting head that makes removing the mixing bowl or attachments a snap. The Dash stand mixer has a 250-watt motor and operates at six different speeds so you can make sure your ingredients are uniform. If you don't have enough recipes to work from, it comes with a recipe book, and you will have access to some of the best recipes in their database.
4. Delish by Dash Compact Stand Mixer, 3.5 Quart
Best Compact Stand Mixer
If you're looking for that compact-sized small kitchen appliance that will fit underneath your kitchen cabinets, then look no further. Clocking in at less than 5 pounds and standing only 10.5 inches tall, this small but mighty stand mixer will knock out some great buttercream frosting or perhaps some cinnamon roll dough. There's no need to stop and start the machine when it's time to add ingredients, either. All you have to do is use the adjustable slide to move the bowl back and forth to incorporate your ingredients. It features a 350-watt motor and five speeds so you can whip things up in a quickie. It comes with a 3.5-quart stainless steel mixing bowl, two dough hooks, and two beaters.
5. Cooklee 6-in-1 Stand Mixer, 8.5 Quart
Best All-in-One Stand Mixer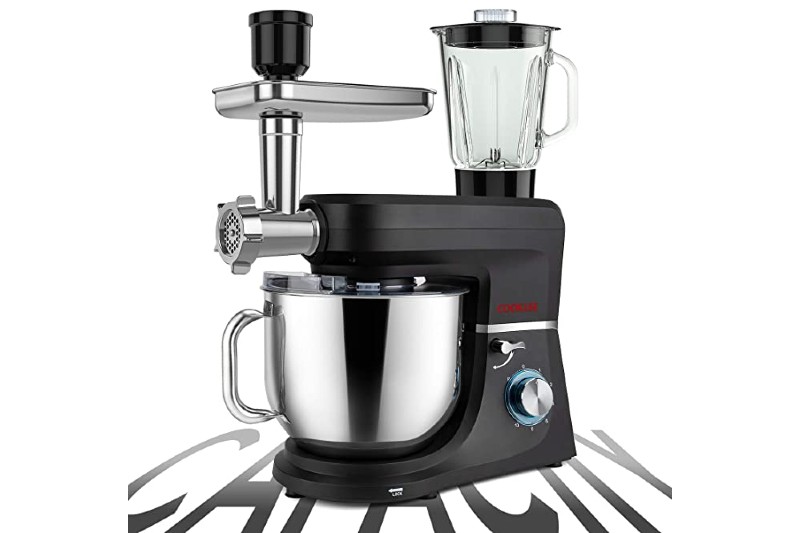 When it comes to large and in charge, the Cooklee stand mixer comes with a large capacity bowl at 8.5 quarts — that's a lot of cookie dough! This is one of the best mixers if you are going to be making large quantities. This is an all-in-one machine that helps you mix, beat, whip, and knead. If that's not enough, it also includes a pasta roller, meat grinder, sausage stuffer, cookie presses, a slicer and shredder, and even a 1.5-liter juicer. All of these attachments are powered by the amazing 660-watt motor and 10-speed setting.
6. Hamilton Beach Classic Stand and Hand Mixer
Best Conversion Stand Mixer
We may have talked about the all-in-one, but sometimes you need a stand mixer, and other times you just need to mix something up by hand real fast. That's where this 290-watt combo mixer comes in. It is a two-in-one stand mixer that will detach from the base and can be used as a hand mixer. Adjust the settings with the six speed controls, and adjust the bowl so you can incorporate every part of your ingredients.
7. Cusimax Dough Mixer, 5-Quart
Best Stand Mixer for Bread Dough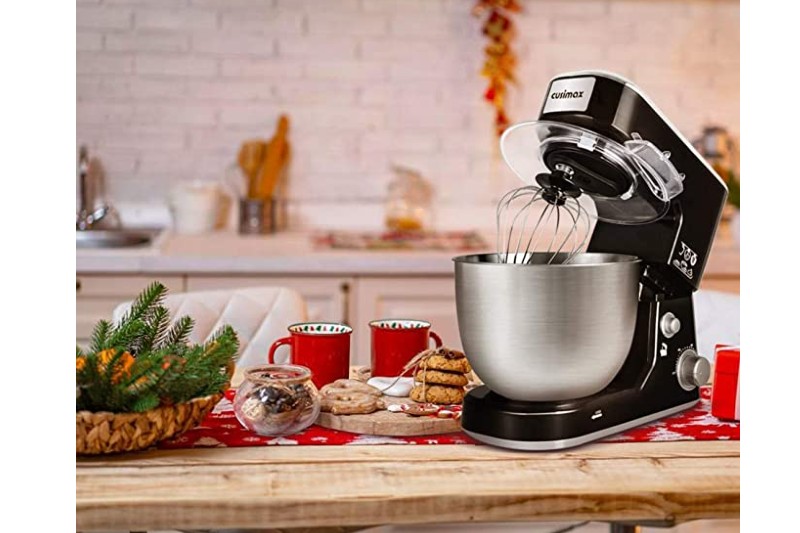 The Cusimax dough mixer is the perfect tilt-head stand mixer that will churn out some of the best bread dough. The powerful 400-watt motor and three speed settings will make help you prepare some delicious homemade bread, cookies, or even pizza dough. The 5-quart stainless steel bowl and splash guard will make sure the ingredients stay in the bowl and not on the counter. The standing mixer includes a whisk, dough hook, and mixing beater.
8. Aucma Stand Mixer, 6.5-Quart
Best Workhorse Stand Mixer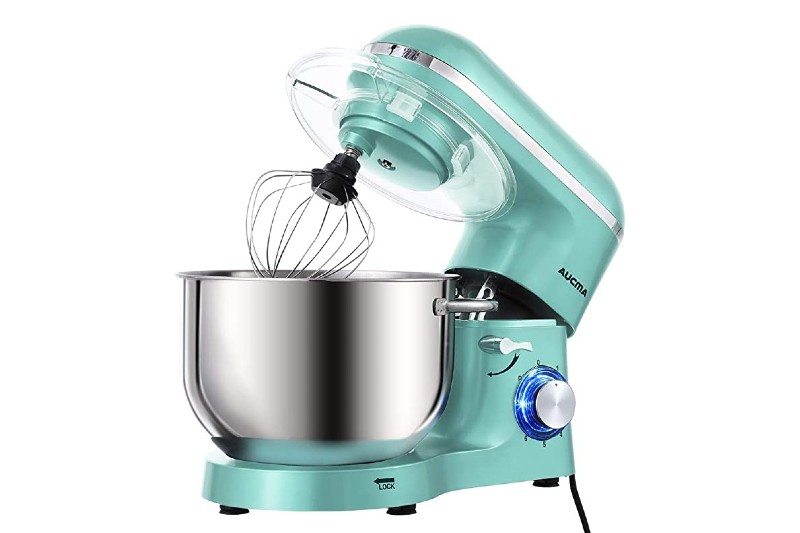 If you ever needed a workhorse food mixer, this would be it. It has a variable six-speed dial with a pulse option and a pure copper motor operating on 660 watts of power. The 6.5-quart stainless steel handled bowl fits snuggly and locks into place. The splash guard protects your counters and clothes by securing to the lip of the bowl. Included accessories are a wire whisk, dough hook, and mixing beater.
9. Hamilton Beach 6-Speed Stand Mixer, 3.5 Quart
Best Stand Mixers for Beginners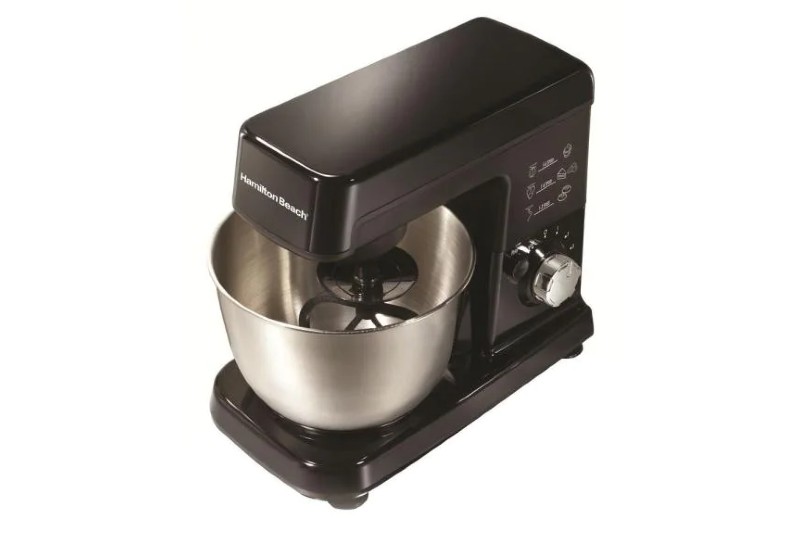 Hamilton Beach is just as well-known as the KitchenAid and Cuisinart brands. It just so happens that this particular model is perfect for those just getting into baking or cooking. It's the perfect beginner's mixer, with a 300-watt motor and a planetary mixing motion similar to the KitchenAid, all designed for hands-free mixing. You can control the speed of the mixer with the six-speed control dial, and it features a fold setting so you can add ingredients without over-mixing.
10. Cuisinart Precision Master, 5.5 Quart
Best Speed Options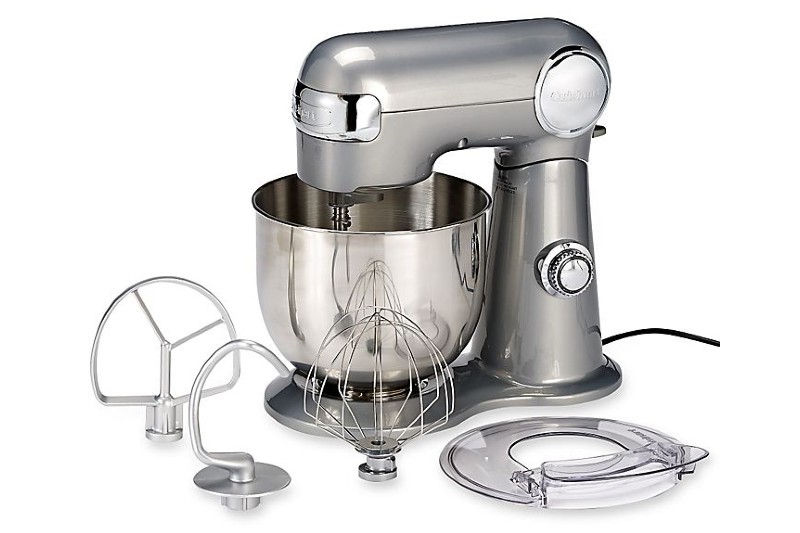 Large quantities are no match for the 5.5-quart mixing bowl with splash guard and pour spout. Even when the mixing seems to be a bit taxing, the 500-watt powerful motor presses on. The precision master model has one of the highest speed dials with 12 different settings. The attachments include a chef's whisk, flat mixing paddle, dough hook, and recipe booklet. It has a built-in power outlet that can be used with the optional attachments that are available.
11. Smeg Stand Mixer
Best Retro Stand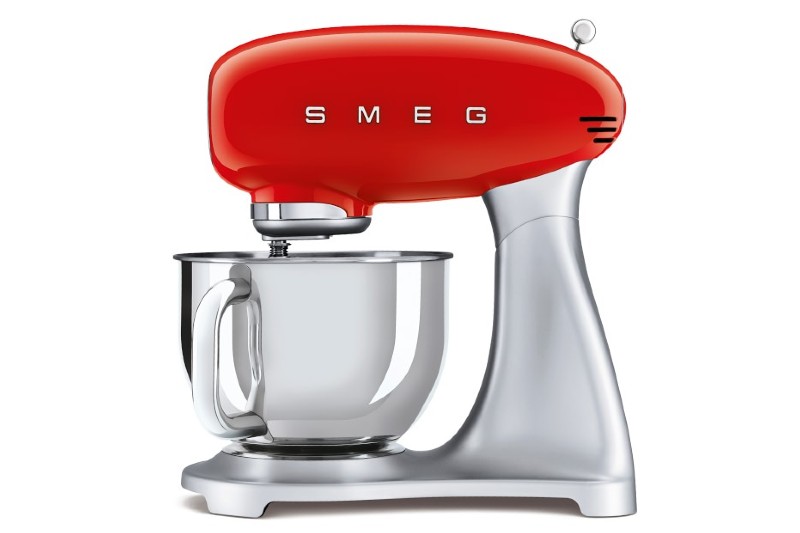 There is no denying that this is one of the sexiest stand mixers out there. More than good looks, the retro and mid-century modern mixer sports a 600-watt motor and a 10-speed control function with a planetary mixing motion. The 5-quart bowl is made of stainless steel and is compatible with a glass mixing bowl (sold separately). The latest iteration of the Smeg mixer is an elongated whisk attachment and a dishwasher-safe beater and dough hook. You won't be disappointed by the speed and power this mixer is capable of.
What Kind of Stand Mixer Do I Need?
Before you can go out and just pick up any ol' stand mixer, you need to take a few things into consideration.
Stand Mixer Size and Weight
How much space do you have available to store your stand mixer when it's not in use?
How much are you going to use the stand mixer?
What Will You Use The Stand Mixer For?
What are you going to use your stand mixer for?
Are you going to use the stand mixer for heavy food prep?
How Much Power Will You Need?
The size and the amount of use of the stand mixer will determine the wattage that you will need. If you get too little power, you will save some money, but you can burn out the motor quickly. If you opt for a larger wattage motor but don't use the stand mixer on a regular basis, it's not a practical purchase.
How Much Do You Want To Spend?
Do you have a budget?
How much do you want to spend?
The price is going to depend on the brand, the model, the size of the motor, and what attachments are included.
What Attachments Are Included or Available?
When we talk about use, it is more about frequency.
There is no denying that a good-quality stand mixer will be worth the money, but what about the attachments?
Will you want it to also double as an ice cream maker?
Will you want it only for kneading bread dough?
How about if you want your stand mixer to be a meat grinder and sausage stuffer?
What Size of a Stand Mixer Do I Need?
After you contemplate the kind of stand mixer you need, you'll now need to determine the size. Stand mixers come in just about any size you could imagine, but the typical sizes are anywhere from 3.5 quarts to 9.5 quarts. The average home cook enthusiast can get away with a 5- to 6-quart mixer, but if you are planning on larger batches, you could lean more toward the 6-quart.
What is the Best Wattage for a Stand Mixer?
The higher wattage on your stand mixer indicates there is a more powerful motor. Just about every good- to high-quality stand mixer will be in the 250- to 1000-watt range. The more powerful the motor, the more heavy-duty work you can do. When using a higher-wattage appliance, it is better to run it at half capacity than it is to run a lower-watt appliance at full capacity. You will have a tendency to burn out the motor much faster with lower-wattage units.
Editors' Recommendations