Goodbye summer, hello fall. AKA, farewell pilsners, Sauvignon Blanc, and Margaritas, what's up Scotch, Cabernet Sauvignon, and spiced rum cocktails.
That's right, it's time to transition to darker, heftier sippers to get us through the offseason. For rum drinkers, that means something aged longer and often hit with a complimentary batch of spices. You see, spiced rum can be a beautiful, complex, soothing drink, when it with just the right ratio of additives. Like a great gin, it can take on (or be infused with) a number of great aroma and flavor-building ingredients.
Creative types should make some spiced rum at home. It's rather easy and basically just involved hitting your favorite bottle of dark rum with corresponding ingredients like ginger, citrus, and baking spices. Let it set for a couple of week, strain, and there you have it. For those who just want a reliable pre-made batch, well, there are plenty. And when you have your spiced concoction at the ready, look to these great cocktails to get you excited about fall and winter.
Spiced Palmer
Here, the classic Arnold Palmer is given the spiced rum treatment. The peach and lemon work wonderfully with the cinnamon and nutmeg in the rum.
Ingredients
1 1/2 ounces Bacardi Spiced Rum
1 1/2 ounces lemonade
1 1/2 ounces peach tea
Method
Fill a highball glass with cubed ice.
Pour in the rum, followed by the lemonade and peach tea.
Give it all a gentle stir. Garnish with a lemon wedge and a mint sprig.
Hot Buttered Rum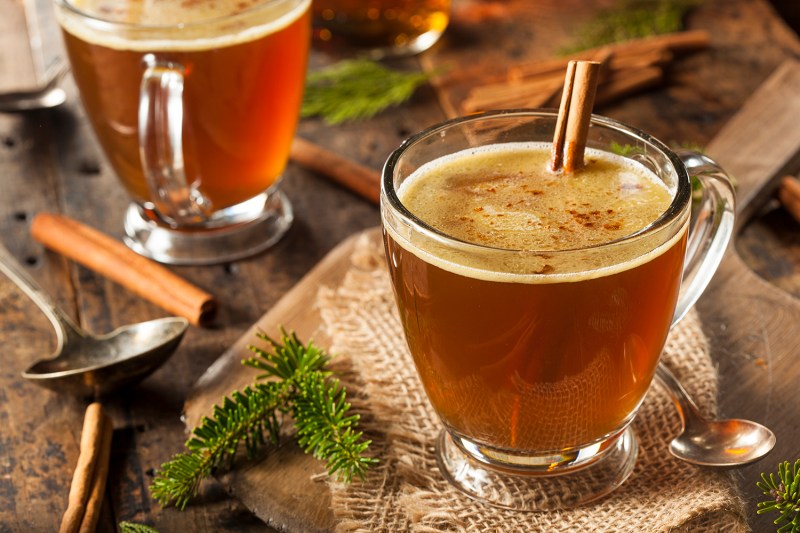 If a cocktail could be a roaring fireplace, it would be the hot buttered rum. Here, the rum is given the dessert treatment and warmed to perfection for the ultimate nightcap.
Ingredients
3/4 cup spiced rum
3 cups boiling water
4 tablespoons unsalted butter
1/3 cup brown sugar
3 tablespoons maple syrup
1/4 teaspoon vanilla extract
pinch of nutmeg
pinch of salt
Method
Mix butter, sugar, and syrup, and spices until combined.
Place the butter in the bottom of a pitcher.
Add rum, followed by the boiling water. Whisk until combined.
Garnish with a pinch of nutmeg or cinnamon stick.
Lava Roasted Manhattan
Technically, the spice here comes courtesy of the vermouth, but the function is much the same. The end result is a soothing cocktail, inspired somewhat by s'mores.
Ingredients
1 1/2 ounces Ron Zacapa No.23
3/4 ounce spiced cacao vermouth*
1/4 ounce mezcal
1 dash mole bitters
Marshmallow for garnish
*Spiced Cacao Vermouth: In a quart container add 375 ml of vermouth (Carpano Antica is suggested) and 2 oz cacao nibs. Let sit overnight at room temperature. Fine strain, label, and date.
Method
Stir all of the ingredients in a mixing glass.
Double strain into a coupe glass.
Roast marshmallow, garnish, and serve.
Walk of Fame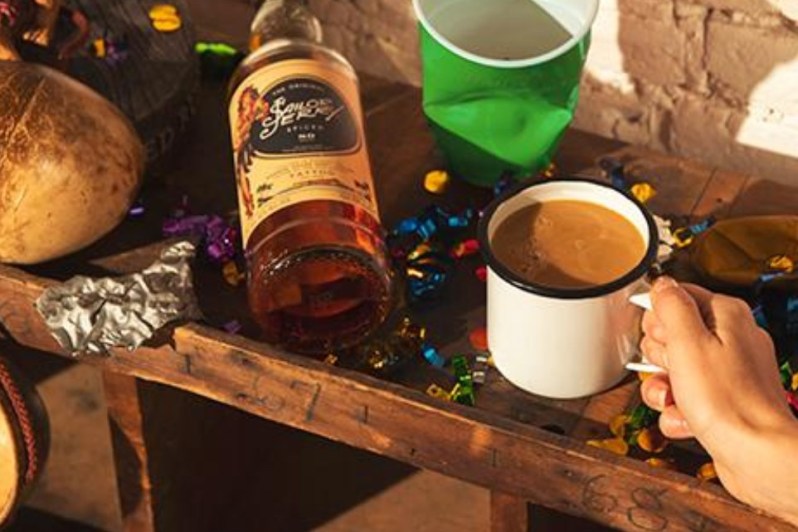 Sometimes, you need a classy drink that will knock out the headache lingering from last night.
Ingredients
1 and 1/2 parts Sailor Jerry Spiced Rum
1 part chai tea syrup
3/4 part half-and-half
1 cup of hot coffee
Method
Build ingredients in a mug, top with hot coffee.
Garnish with grated cinnamon.
Pineapple Mojito
Pineapple and spiced rum create the ultimate duet in this pleasing drink. It tastes as good as it looks, and that's saying something. This one is thanks to Anthony Bohlinger.
Ingredients
1 1/2 parts Sailor Jerry Spiced Rum
1/2 part lime juice
4 cubes sugar
4 pieces pineapple
10 mint leaves
Method
Muddle pineapple, mint and sugar in the bottom of a shaker.
Add ice, lime, Sailor Jerry and shake well.
Pour into glass and top with ice, lime and mint.
Spiced Hurricane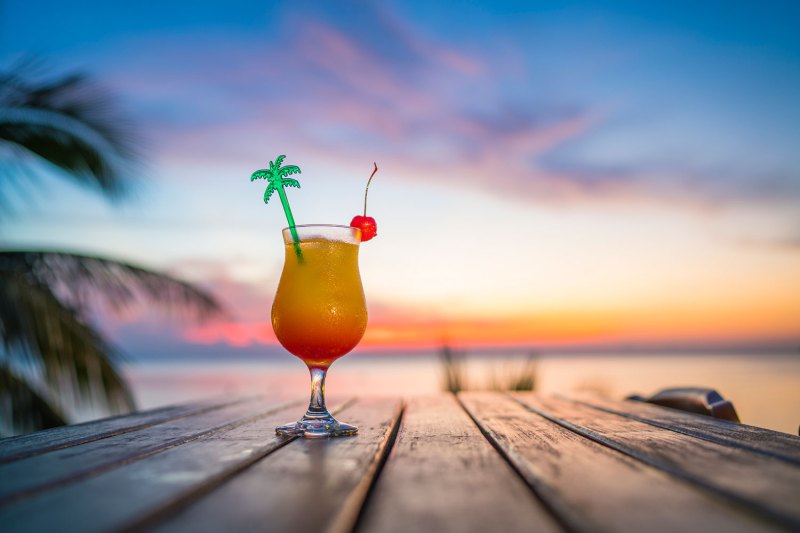 We love a standard Hurricane but the addition of spiced rum adds another layer of complexity and warming flavors. If you're feeling tropical, try throwing in some passionfruit or pineapple juice.
Ingredients
3/4 ounce spiced rum
3/4 ounce white rum
1 ounce orange juice
1 ounce lime juice
1/4 ounce grenadine
Ice
Orange slice and cherry for garnish
Method
Add ingredients to shaker with ice. Shake until blended and strain into an ice-filled hurricane glass.
Garnish with orange and cherry.
Spiced Rum Bloody Mary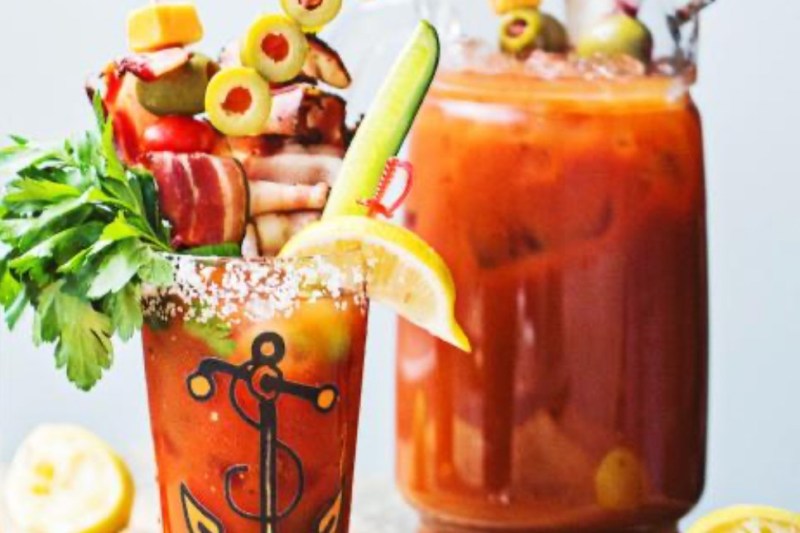 Who says a Bloody Mary has to be a vodka drink? No sensible soul. This one takes advantage of the many spices already infused in the rum and is prepped for some ridiculous garnishes.
Ingredients
1 part Sailor Jerry Spiced Rum

2 parts tomato juice

1/3 parts lemon juice

.25 part Worcestershire Sauce

hot sauce and salt & pepper to taste
Method
Combine all ingredients in a large pitcher and stir.
Garnish with pickle or similar.
Editors' Recommendations