About the only thing better than a top-notch bar is the holiday incarnation of it. You get all the great drinks and company plus some festive menu items and enough lights and decorations to make Clark Griswold jealous.
Sure, any old watering hole can throw up a string of bulbs and pop on a Christmas album and say it's celebrating. That's fine and dandy, but we appreciate the places that go full hog and really embrace the December majesty. We're talking special cocktails, over-the-top kitsch, and enough cheer to cure even the darkest, coldest days of the year.
Here are the nine best holiday-themed bars to check out this festive season.
Happy's
Chicago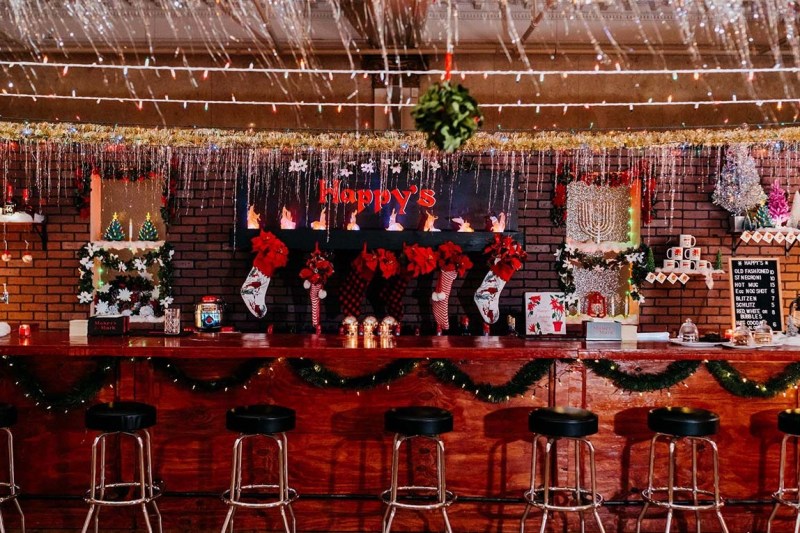 Happy's is very much what it advertises itself as — a giddy bar set in the building of the Chicago Athletic Association. It went on a brief hiatus last year, like most things, but came roaring back in 2021 with seasonal drinks and bites. Frequenting the place feels like being inside of a gingerbread house, with enough twinkling lights to put you in the best kind of stupor.
Loreley Beer Garden
NYC
A true German Biergarten in the heart of NYC, Loreley ought to have a strong Christmas presence. Anybody who's been to Berlin knows that Germans take the holiday very seriously, with holiday markets on just about every street corner. Lorely mimics that energy, with charming holly strands and decor inside and a fully heated winter wonderland outside as well. Come for the spiked egg nog and mulled wine and stay for, well, another round.
Colada Shop
Washington, D.C.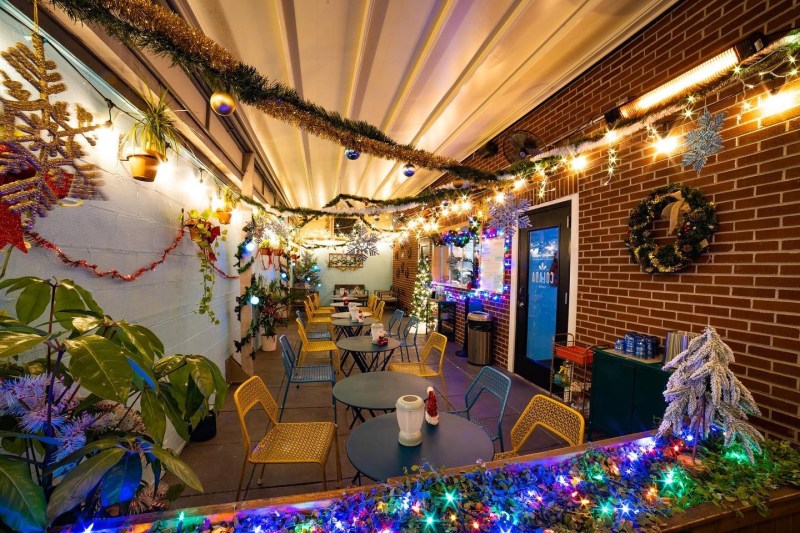 This delightful Cuban bar in our nation's capital flips all the right switches with its holiday bar. In a genius move, the bar has taken special drink concoctions from top bartenders in the city and put them on the list. So, if you're thirsty for something like a Hot Buttered Yum (rum, sherry, and spiced butter) or a Winter Island (rum, Triple Sec, spiced pear liqueur, passion fruit Champagne syrup, green tea, and coco lopez), put Colada Shop on your list.
Sippin' Santa
Phoenix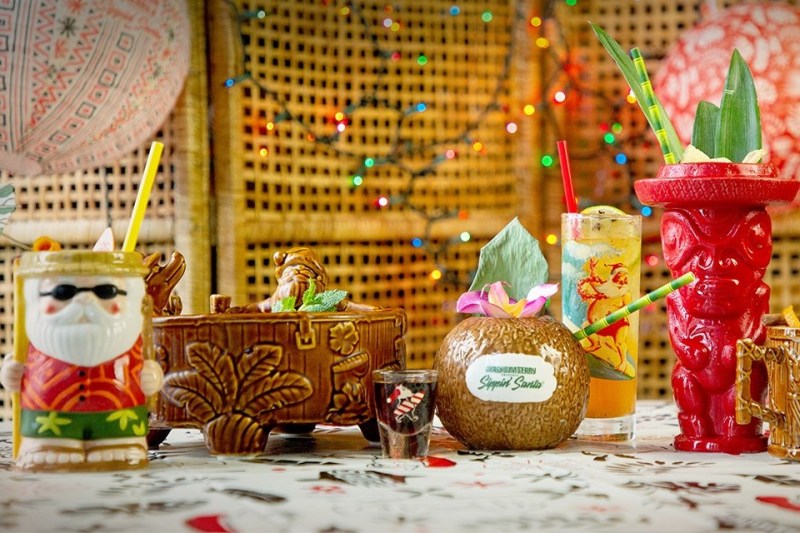 This pop-up hosted by Phoenix bar Bitter & Twisted runs through Christmas Eve and touts a heavy touch of tiki. The menu is rum-soaked and the place throws together more than 10,000 lights for your pleasure. If your idea of Christmas is vintage escapism to a hot island locale riddled with palm trees (although let's face it, you're already in the desert if you've made it here), Sippin' Santa is your spot. Even cooler, it's all set in the historic Luhrs Building in downtown Phoenix.
Donn's Depot
Austin
Dive bars can make the absolute best holiday bars. There's a certain unapologetic nature to these beloved establishments and Donn's Depot in Austin very much embodies this. The Lone Star State bar is known for its honky-tonk and cheerful crowd, going at it since 1978. This time of year, it goes all out with decorations, along with a special menu of roughly 20 holiday cocktails (hot and cold) as well as flavored shots like the Snickerdoodles or Moldy Fruit Cake. As the menu exclaims, "Merry Christmas to y'all, and to y'all a good night!"
Playa Provisions
Los Angeles
Playa Provisions is a beach-y bar set a sand hill away from the Pacific in Playa del Rey. It's incredibly cozy, with fire pit's roaring and world-class drinks and grub from Chef Brooke Williamson (a Top Chef winner). The seasonal beverage menu includes things like homemade wassail and a variety of espresso Martinis and some of the best from-scratch egg nog out there. Who says you can't get in the spirit of the season while it's 70 and sunny out?
Zoo Lights
Portland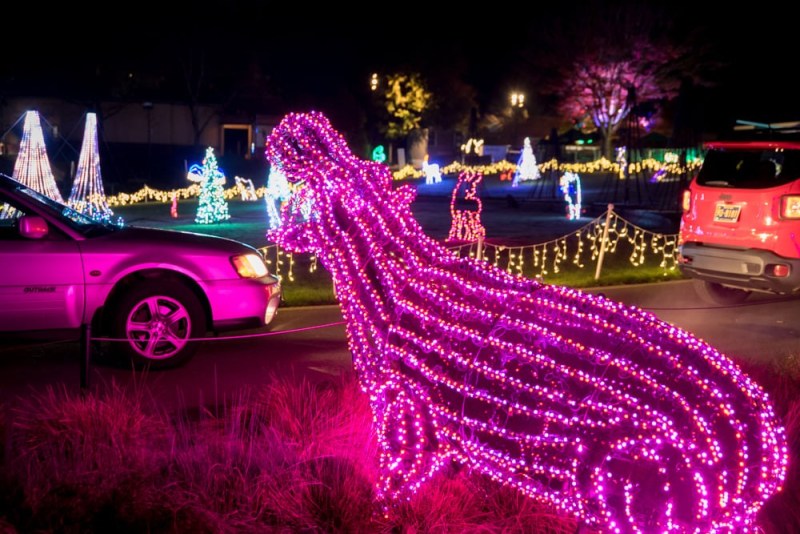 As the name suggests, this seasonal affair actually occurs at Oregon's biggest zoo. However, with beer and wine stands en route throughout, it's practically the biggest seasonal bar of them all, with millions of light bulbs and actual critters to boot. It's kid-friendly and crowded but worth the slower pace. Zoo Lights keeps adults happy with a slew of beers and wines from the Pacific Northwest. There is an option to drive thru the event, but we suggest a stroll so you can sip on a drink or two.
Yebo Ski Haus
Atlanta
For a good part of the year, this ATL bar goes by Yebo Beach Haus. During the holidays, it swaps its surfy ways for a ski lodge approach, one that's incredibly inviting. The food and drinks are inspired by the cuisine of South Africa, and things go full-comfort food while the place is in ski house mode. You can try an ostrich slider or bobotie crêpes with a glass of Chenin Blanc or Dirty Martini in hand. Best, it extends into February, so you can kick the first two months of the year off in cheery style.
Miracle in Miami
Miami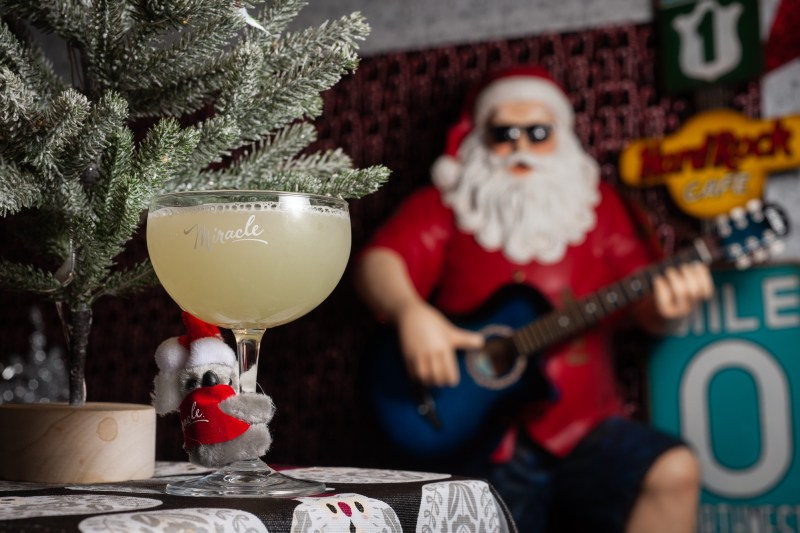 This pop-up at beloved bar Gramps in the Wynwood neighborhood, along with another bar in Miami, is the work Drink Miami. Yeah, it's a reference to a classic football game full of weird plays, but in this case, it's all about seasonal drinks and festive Florida fun. It's modeled after the best office parties ever, so expect loud props, imbibers dressed up in sweaters, and lots of happy toasting. No wonder we recently put Gramps on our best bars list.
Editors' Recommendations