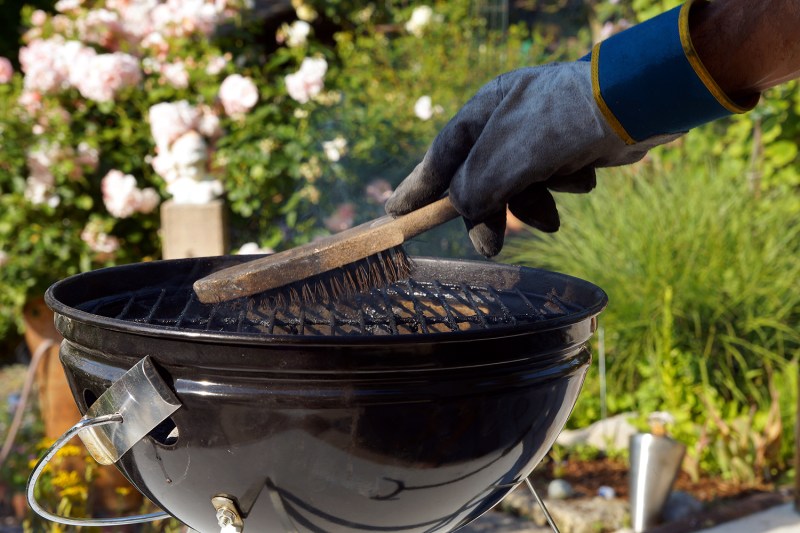 It's grilling season again, which means it's time to top off the propane (or grab a bag of charcoal, we're not here to start a fight), dust off your barbecue toolkit, and crank up the heat for every dad's favorite way to cook. But before you tie those apron strings, you're going to need to clean your grill. It doesn't matter how expertly you season your steaks, how perfectly you prepare the vegetables, or the family secret in your burger grind — a dirty grill will ruin the most expertly planned barbecue. Cleanliness is next to godliness, they say, meaning you can't call yourself a grilling god unless your grate is immaculate.
Related Guides
Luckily, there are products on the market that take a lot of the elbow grease (and regular grease) out of grill-cleaning. There's no sense spending money on dry-aged steaks just to have them ruined by a sooty grill-top, and we've rounded up the best products on the market to take the guess-work out of grill cleaning.
Best Overall: Carbona 2-in-1 Oven Rack and Grill Cleaner
Quick, effective, and easy to use, this cleaning solution is applied in a simple 3-step process. It comes with a bag and disposable gloves for your convenience as well. A star feature is that you don't need to turn on your grill at all. You can even clean more than one rack at a time, saving you a grueling chore after cooking. This cleaner is just as effective on stainless steel as it is on iron grill grates. Why overcomplicate it? The Carbona cleaner is ideal for those who just want to keep it simple.
Best Brush: Grill Art Stainless Steel Brush and Scraper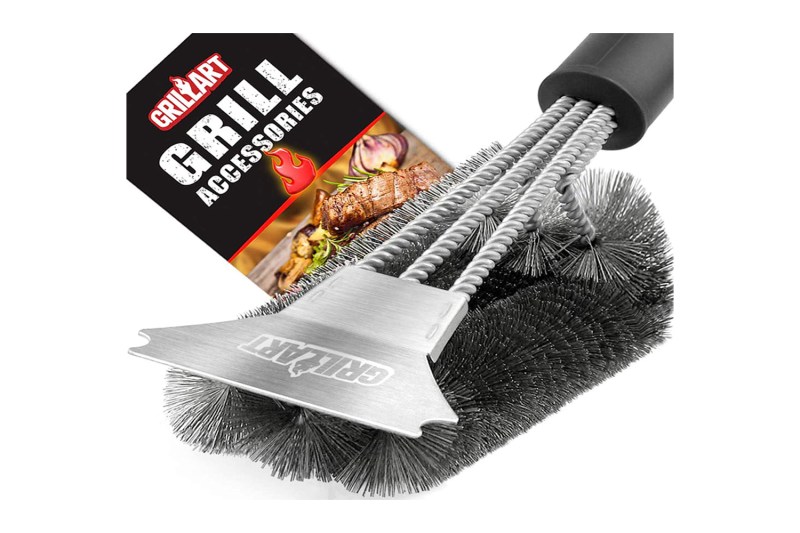 Stubborn stains wearing you out after grilling a delicious meal? If stubborn food is giving you grief, you'll be grateful for this particular brush. Designed with both a scraper and bristle pad, this tool is made for deep cleaning. The bristles give a 360-degree rotation when getting those hard-to-reach gaps. The handle is comfortable to grip, meaning you don't have to apply as much pressure for a thorough cleaning.
Best for Smaller Grills: OXO Good Grips Ultimate Brush
If you are using an indoor grill, and want a non-abrasive brush on those non-stick surfaces, this little purchase is just the thing. This brush is safe to use up to 600 degrees Fahrenheit. The rubber-lined handle is comfortable and easy to grip. Since the wiper blade is silicone, rinsing the brush when you're done using it is an easy task. An added bonus, this is a fantastic brush for waffle cleaners and griddles as well.
Best Spray: Citrusafe BBQ Grill Cleaner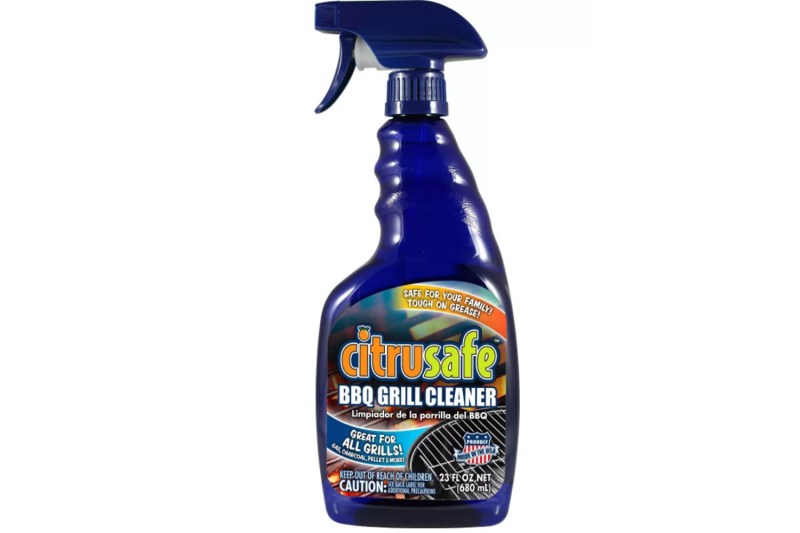 This bottle is a miracle worker, and is just as versatile as your grilling. Grills, cookers, and smokers and smoker-grill combos can be cleaned with this spray after cooling down. It is non-corrosive and non-toxic, so you won't have to stress over harmful residue giving your next steak a chemical seasoning. Who knew a grill cleaner could smell good? The formula has a citrus base, and was engineered for a deeper clean.
Best for Grill Grates: Char-Broil Cool Clean Nylon Grill Brush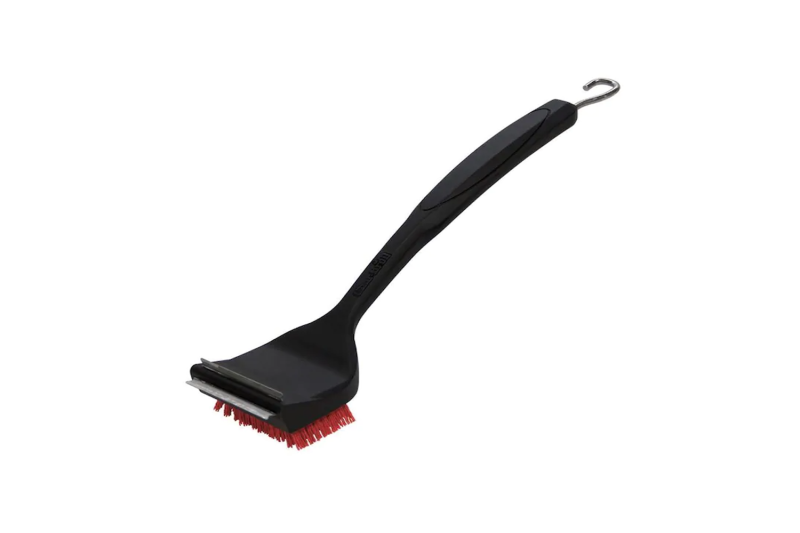 The part you dread — scraping and scraping those charred grates — has just gotten a lot easier. The Char-Broil brush has uniquely angled, abrasive bristles to get around and under the grate's rods. Removable and replaceable heads can be popped on in seconds. Whether you prefer to clean your grill hot or after it has cooled, you're covered, because the multi-blade scraper can do both.
Best for Stainless Steel Grills: Method Stainless Steel Clean and Polish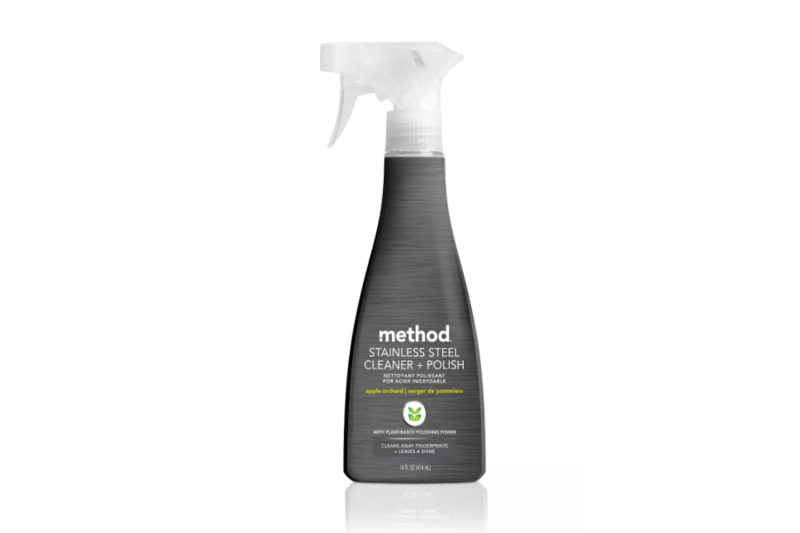 Even if your food of choice to grill isn't plant-based, this cleaner is. Method uses a formula that is both surface-safe and biodegradable. If you have a stainless steel hood, this will take off smudges and fingerprints, leaving everything looking just like new. Packed with a pleasant apple vanilla scent, you don't need to pinch your nose at strong chemical clouds as you spray.
Best for Gas Grill: Easy-Off BBQ Grill Cleaner
Gas grills are a favorite option among outdoor chefs. However, they can tend to carry a lot of buildup. Easy-Off holds true to its name, as it is famously tough on grease and burnt residue. It dissolves the gunk you don't want, leaving you with the easy job of simply wiping everything off afterwards. You don't even need a grill brush! Just spray, let it sit, and wipe.
Best Low-Cost: Weber 12-Inch Bamboo Grill Brush
Often, simple is better. You don't need to drop a fortune on elaborate cleaners, you just need a basic tool to do the job. The Weber brush is made with a narrow scraper on the end, which is curved to fit perfectly along grate rods. An added bonus — renewable materials are used in the bamboo handle. Bamboo is famously resilient and sturdy. And don't worry, these bristles don't rust or leave deposits.
Best High-End: Stainless Steel Steam Cleaning Grill Brush
For those that incorporate grilling into their life as a regular event, no matter the season, this Sharper Image brush is the ultimate cleaning necessity. You are investing in the longevity of your grill. This brush is designed to use your grill's existing heat to make steam and easily break loose all food or grease particles in seconds. It works on any grill type, and comes with perfectly calibrated steel bristles.
Editors' Recommendations