Drinking a piping hot (or ice-cold) cup of coffee is a morning ritual we can't live without. If you love trying plenty of great coffees or want a caffeine-packed day without going to a café, we recommend investing your hard-earned cash in a coffee subscription box. Given the popularity and demand of the best subscription boxes, getting a coffee subscription is like having a personal roastmaster at home.
The hard part is figuring out which coffee delivery service is best for you. Some brands roast coffee beans they source from all over the globe, and some hook you up with hundreds of different roasters. Lucky for you, we've done the dirty work. Below, we've gathered the best coffee subscriptions for helping you brew the ideal cup of Joe in summer. Not into coffee? Here's a quick roundup of our top tea subscription boxes.
Related Guides
Stumptown Coffee Roasters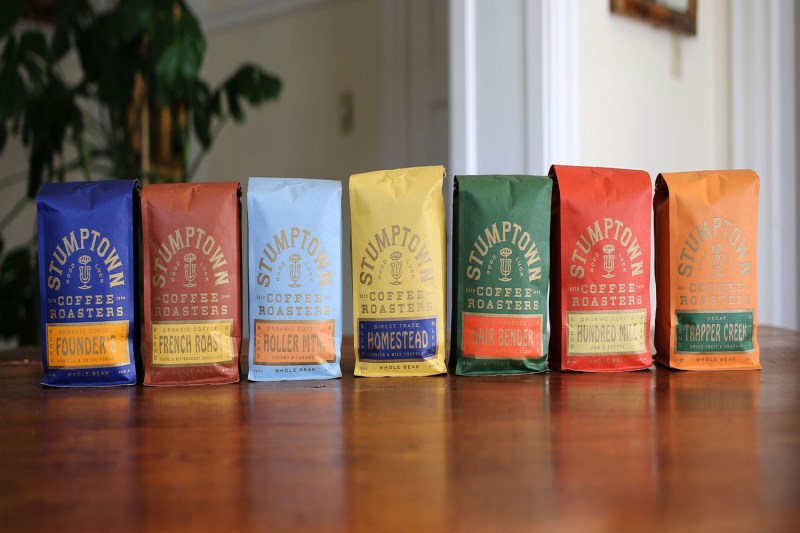 Stumptown is an institution, not only in Portland but across the U.S. It's renowned for its extremely high-quality coffee beans, exquisite roasting methods, and richly nuanced blends. Stumptown's biweekly subscription service only offers its bestselling blends like its Hair Bender blend. If you want to be surprised, you can choose Stumptown's Roster's Choice to try what the roasters are into at the moment. If you require some top-of-the-line, single-origin beans, you can still get them; you just have to order direct from the store.
Cost: For signature blends and Roaster's Pick, prices start at $16 and $21, respectively
Shipping: Every Monday to Friday
Delivery Frequency: Every 1-4 weeks, depending on the subscriber
Blue Bottle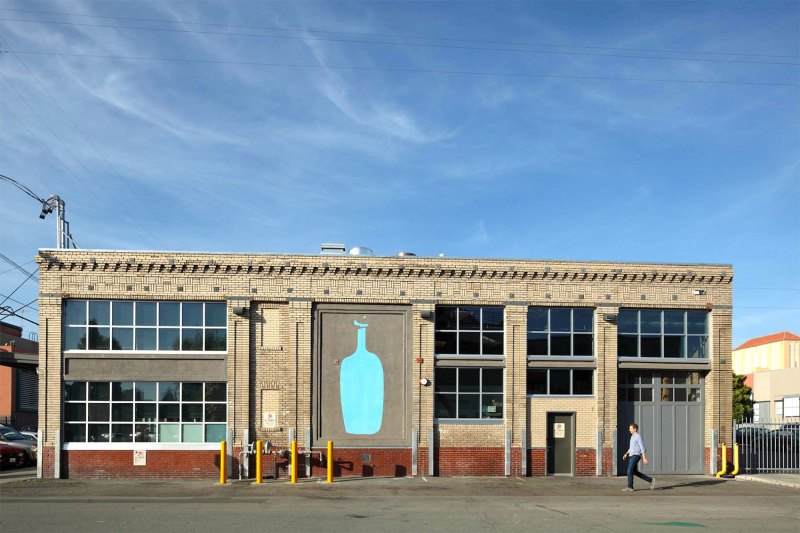 Blue Bottle is one of the pioneers of the third-wave coffee movement. Headquartered in Oakland, California, its laser focus on using only the finest, single-origin beans and working directly with farmers helped shift the coffee narrative. They help educate their consumers on where the beans come from, who farms them, and how coffee is processed. By doing so, Blue Bottle makes people feel more connected to what they're drinking, giving it less of a commodity feel and more of a farmer's market vibe.
Blue Bottle offers an assortment of subscriptions like single-origin or espresso. You don't exactly get to pick your beans, that's left to the roastmasters. They follow the Earth's rotation and procure beans from the top producers during the best harvest times. They then roast the beans to perfection and deliver them to you in peak condition. All the subscriptions are prepared and roasted to order and delivered within 48 hours to ensure maximum freshness. Plus, Blue Bottle will give you your first bag of beans free if you sign-up now!
Cost: $11 to $52 per shipment, depending on the type and quantity of coffee
Shipping: Within 48 hours post-roast
Delivery Frequency: Every 1-4 weeks, depending on the subscriber
Atlas Coffee Club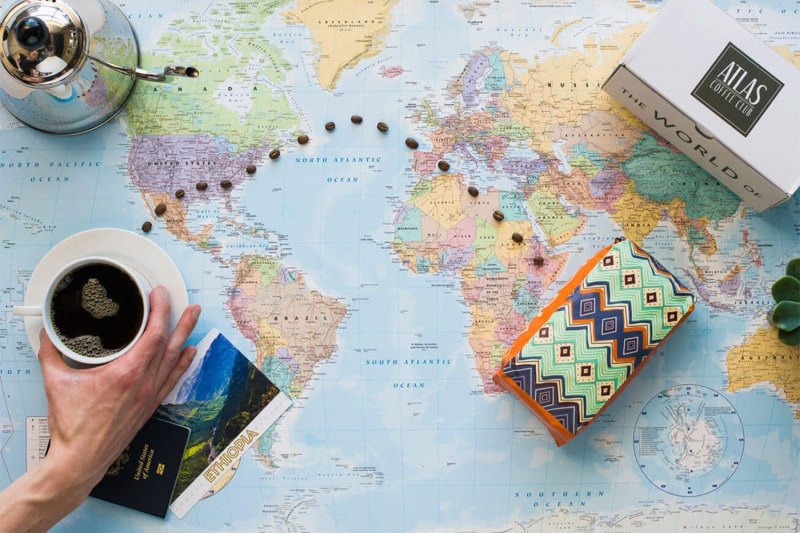 Suppose you want to feel like you've traveled to all the different bean-growing regions worldwide and tried them directly from the source. In that case, Atlas Coffee Club is an excellent option. Their subscription service allows you to choose the roast type (light/medium, medium/dark, or all), grind type (ground or whole), amount (6-24 ounce), and frequency (every two or four weeks) of your coffee shipments.
With every box, they send you a postcard describing the country of origin and the region. Included are also tips for the best brewing methods, which can vary based on coffee type. Like Blue Bottle, the roastmasters at Atlas Coffee Club curate their beans from select regions during the best time of year. So, you'll not only get a variety of regions, you'll get guaranteed freshness.
Cost: $9-$28 per shipment
Delivery Frequency: Every 2-4 weeks, depending on the subscriber
Trade Coffee
Variety is the spice of life, and Trade Coffee gives it to you (when it comes to coffee anyway). With Trade, you sign up for a subscription for free! Then, you fill out a short survey to determine your preferred flavor profile and brew methods. After that, Trade will set up your subscription queue with coffees from the hundreds of partnering rosters they think you'll like. But, if you don't trust anyone but yourself when it comes to your taste in coffee, you can build out your own subscription queue. They never charge shipping, and you can set your shipment frequency anytime you want.
However, when you get it will depend on when that specific roaster roasts their beans. If you happen to have an adequate supply of coffee at home, you can push your next shipment to up to six weeks out. One downside to trade is if you need to stick to a specific monthly coffee budget, that can be difficult, as every roaster varies in price. If you sign up right now, Trade will give you 30% off your first bag.
Cost: Prices vary. A 15% discount will be applied for the Hookup subscription tier, with each bag priced between $15 and $22. A 20% discount, meanwhile, will be applied for two-bag orders. For the Classics subscription tier, one bag costs $14.75. Avail the bundle and get a 15% discount for every two-bag shipment.
Shipping: Within 24 hours
Delivery Frequency: Every 1-6 weeks, depending on the subscriber
MistoBox
MistoBox is all about the personalized experience. They pretty much do everything except sending a barista to your house. Like Trade, MistoBox quizzes you on your coffee preferences. Based on those preferences, you're then assigned a coffee curator specializing in your specific flavor profile. From there, your curator sends you coffee based on your plan. MistoBox prides itself on the roasters with which it partners. Roasters must meet its stringent quality, ethical, and sustainability requirements to be considered. So, if you're a roaster at MistoBox, it's a big deal. Right now, it partners with 52 roasters, featuring 590 different types of coffee.
Cost: Starts at $11 plus shipping. Each bag costs as low as $12.71 and $15.26 for Deluxe and Exclusive tiers, respectively.
Delivery Frequency: Every 1-4 weeks, depending on the subscriber
Intelligentsia Coffee
When talking about the third-wave coffee movement, Intelligentsia should be in the same breathe as Blue Bottle. In the mid-1990s, owners Doug Zell and Emily Mange pulled coffee from the overly commoditized corporate grasps of companies we won't mention (cough, Starbucks, cough). They made people interested in where their coffee comes from, how it's grown, and how it's roasted. Therefore, Intelligentsia helped make coffee interesting and cool again.
There are few coffee buffs out there that have not heard of Intelligentsia. Its subscription service is fairly straightforward. Intelligentsia offers 3 different types of subscriptions with free shipping — Blends & Espresso, Single Origins, and Intelligentsia's Choice.
Cost: A flat rate of $19 per shipment for Intelligentsia's Choice. For Blends & Espresso, price points range between $14-$18.
Delivery Frequency: Every 1-4 weeks, depending on the subscriber. As of this writing, delivery frequency is not specified for Single Origins.
Wandering Bear
Cold-brew isn't just "cold coffee." Creating cold brew coffee is an intricate and time-consuming process that is better left to the experts. That's where Wandering Bear comes in. Not only is its cold-brew coffee delicious, but it's also distributed in easy-pour cartons that make it as simple as opening your fridge and pouring a glass. In addition to small cartons that are perfect for on-the-go, the brand's specialty is giant, 96-ounce boxes of refreshing, kick-in-the-pants cold-brew, either black or with flavoring like vanilla.
Cost: $32 for one box, $54 for two boxes, and $78 for three boxes
Shipping: Within 24 hours
Delivery Frequency: Every month
Port of Mokha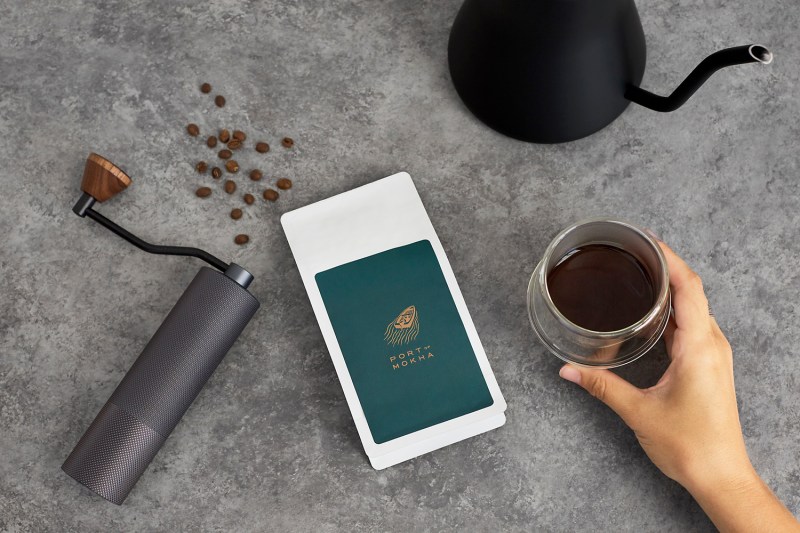 Good coffee is always worth the investment. It's what sets the tone for your day, so splurging a bit on the finest coffee available that will help you start your day on the right note is well worth it. If you're looking to experience some of the finest coffees in the world from your living room, then you should definitely give Port of Mokha a try.
Literary fans will likely recognize the name from The Monk of Mokha. This Dave Eggers book recounts the true story of Mokhtar Alkhanshali, a Yemeni-American determined to resurrect Yemeni coffee in the eyes of the world. Well, he did it and now offers Port of Mokha, an award-winning selection of high-end Yemeni coffee. The company's monthly subscription is a 5-ounce bag of whole beans that makes around ten cups. We know that doesn't sound like a lot, but once you taste it, you'll be a believer.
Cost: $28 a month for the Mokha Monthly Subscription, $84 for the 3-Month Prepaid Coffee Subscription, and $168 for the 6-Month Prepaid Coffee Subscription
Shipping: Within 2-5 business days
Editors' Recommendations