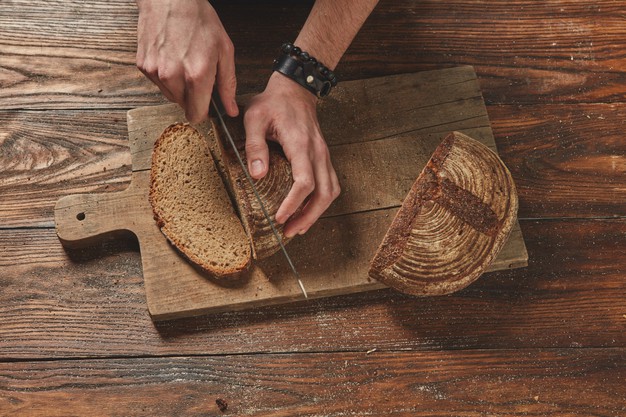 If you've ever tried to slice a loaf of bread with anything other than a bread knife, you understand why they exist. If not, just try it. Even with a sharp chef's knife, your bread slice won't maintain the same shape as the loaf itself. With a good bread knife, it does.
You don't get more bread and butter than the bread knife. In case you think any knife can be used to slice bread, may we just remind you of all the slices of bread rolls and loaves you have ruined because of rips, tears, and skewed slices. A great baker never blames their tools, because they have a bread knife that was designed to slice bread so perfectly that it would make any grown man cry.
Related Guides
There are plenty of bread knives to choose from, so be sure you know what's out there before simply buying the first one you see. If you can't stand the idea of scouring the internet, reading thousands of reviews for the best bread slicer knife, don't fret — we have put in the hours to make your choice much easier! Take a look at our list and grab your bread knife today.
Most Affordable Bread Knife: Zulay Serrated Bread Knife-8Inch
The Zulay is an 8-inch bread knife that costs about the same as a fast-food meal. The elegantly designed knife is available in 4 different colors. The blade has a serrated edge that is extremely sharp — making slicing bread effortless.
Best All-round Bread Knife: Orblue Serrated Ultra-Sharp Breadknife
Under $50, this knife has thousands of great reviews and a great track record for being hardy and reliable. The blade is 8 inches long and 2.2mm thick. The handle us 4.9 inches. The knife is built like a much more expensive knife, so get it while the price is low.
Best Bread Knife to Give as a Gift: MOSFiATA 8" Bread Knife
The MOSFiATA is an ideal present to give at a bachelor's, a wedding, a birthday, or for Father's Day. This Knife is incredibly good-looking and comes packaged in a luxurious velvet box. The German stainless-steel blade features a laser imprinted design. Its handle is crafted from micarta and features reinforced rivets. The box set features a bread lame allowing you to get your baked bread looking like it's from a professional bakery.
The Most Fancy Bread Knife: Nesmuk Janus Bread Knife
This Knife costs a lot of money — $750. If you're rolling in the dough, then buy one of these for your personal chef. The Nesmuk Janus is probably the most beautiful-looking bread knife around. It's also of the best quality, featuring a Micarta Red ergonomic handle and a double serrated edge. This knife was specially developed by Nesmuk to saw soft breads without using too much pressure or generating too many crumbs.
Cheapest Breadknife: 10 Inch Stainless Steel Knife with Plastic Handle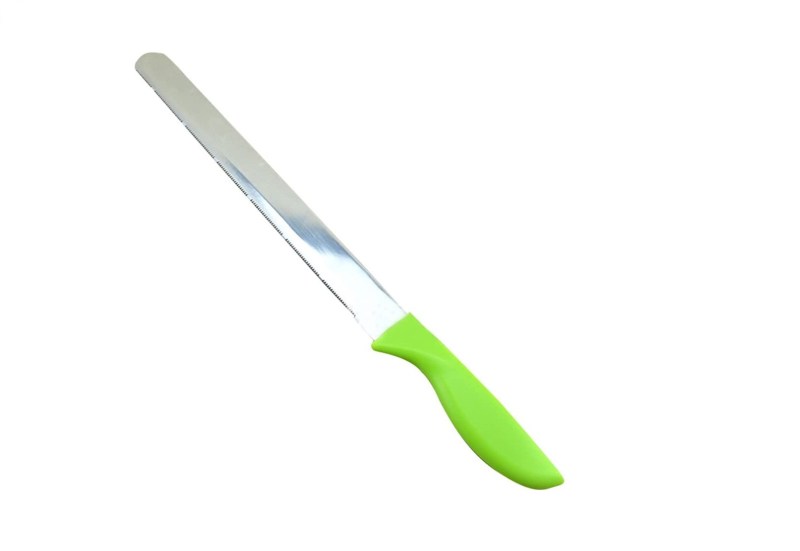 If you're looking for a deal, you can't do much better than this. With a smooth surface and an ergonomically designed plastic handle, it checks all the necessary boxes. It is constructed from high quality stainless steel and fine polishing. Never fret however, the knife is still dishwasher safe and maintains durability between washes.
Most Attractive Bread Knife: DALSTRONG Frost Series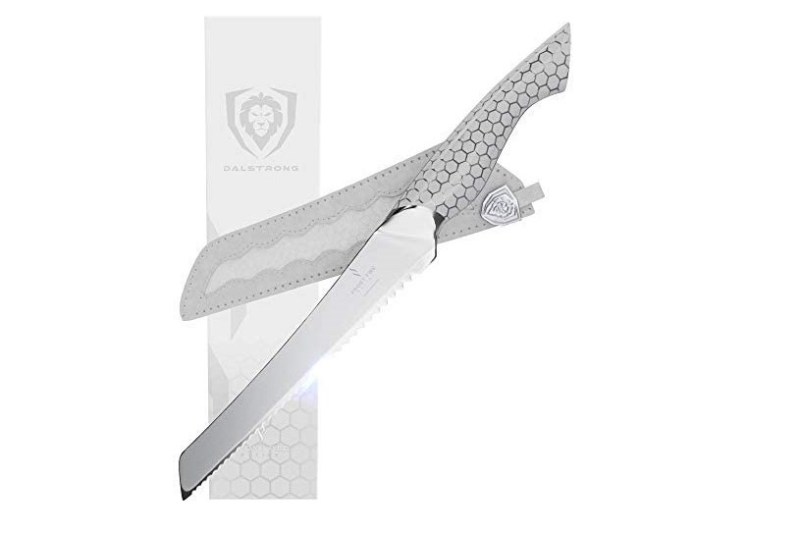 While beauty is in the eye of the beholder, we bet you didn't know a bread knife could look so beautiful. The DALSTRONG possesses a frosted, carbon fiber-looking design on its handle, which is made from white resin aluminum and incorporated with a mesh design. Its blade is made from high chromium stainless steel that features a tapered sandblasted look. The cherry on top of this already stunning knife is the leather knife sheath included that really brings the whole look together.
Best All Black Knife: Maarten Sandwich Knife with Knife Sheath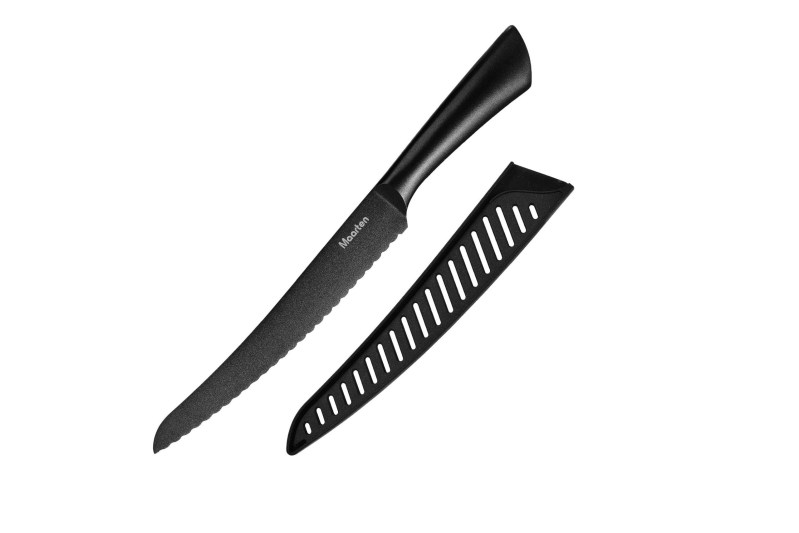 If Batman were buying a breadknife, he would ask for this one by name. The Maarten Sandwich knife has a range of cutting uses, but its semicircular saw tooth ensures it cuts bread like a hot knife through butter. The knife is crafted from stainless steel and features a sandblasted all-black body. The knife is made from one piece of metal, making it incredibly strong and the best for sourdough bread.
Best Classic Bread Knife: Cuisinart Classic Triple Riveted 8-Inch Bread Knife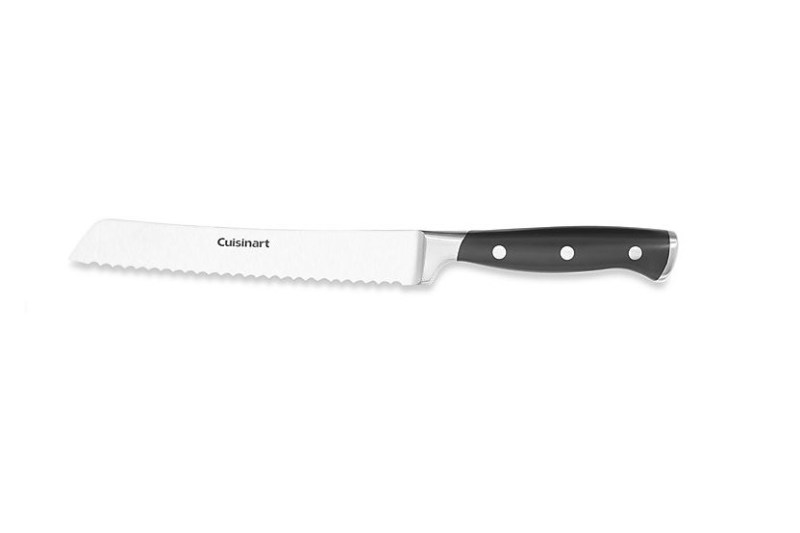 This practical and dependable bread knife has a traditionally western shape and is built from high carbon stainless steel, featuring an ergonomically designed handle. This imported knife is best washed by hand.
Best Electric Knife: Hamilton Beach: Classic Chrome Electric Knife with Case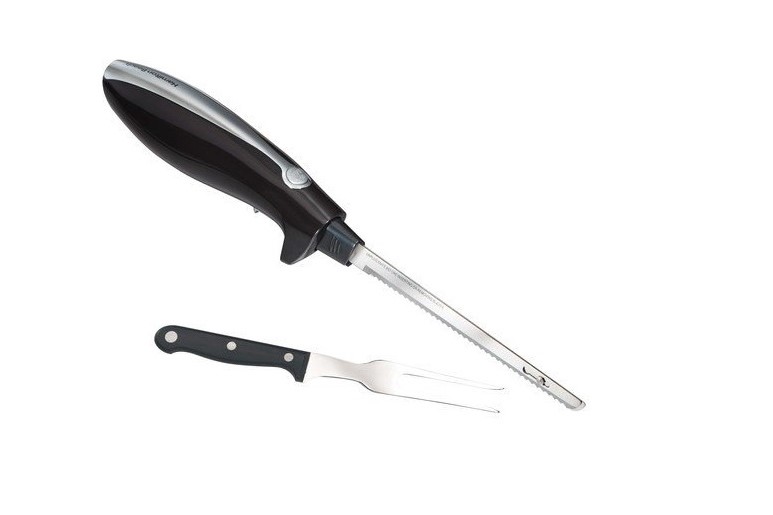 The electric knife makes accurately slicing large volumes of food incredibly easy. This knife can be used on bread, meats, and cheese, allowing you to bring the deli into your home. The electric knife set includes a fork to assist you while cutting and a storage case for easy and neat storage.
Best Knife Set: Cuisinart 12 PC Knife Set- Multi
This set consists of 6 knives and their covers. Included knives are: 8″ chef's knife, 8″ slicing knife, 8″ bread knife, 7″ santoku knife, 5-1/2″ utility knife and a 3-1/2″ paring knife. Every knife is color-coded in a bright hue, helping you locate the right knife quickly. Why buy one knife when you can get a whole set for a little more?
Conclusion
Picking the right bread knife is no easy decision with all the options available. Bread knives should last you years, maybe even a lifetime, so ensure the knife you pick gives you everything you're looking for. There's something for everyone on this list, no matter your budget or aesthetic. Just don't let your kitchen be short of this essential tool. You have to have a bread knife before you get that bread.
Editors' Recommendations