The Manual Spirit Awards recognize the best damn booze in America. Across nine categories — Bourbon, Rye, Single Malt Whiskey, Unaged Rum, Aged Rum, Vodka, Flavored Vodka, Gin, and Brandy — we blind-tasted multiple products from around the country to determine our champions. Each of the winning bottles was judged on appearance, aroma, palate, finish, and how well the product represented the category as a whole. Our focus on smaller craft distillers in the U.S. allowed us to highlight spirits that, we hoped, our readers have not tried yet.
[/aside]
Best Aged Rum
Privateer True American Amber Rum
Aged rum is a distillate made from fermented sugar cane juice, sugar cane syrup, molasses, other sugarcane byproducts, or some combination thereof. The product is distilled at less than 190 proof and bottled at no less than 80 proof. The rum is then aged in a wide range of barrels — new or used, depending on the distillery — for varying periods of time.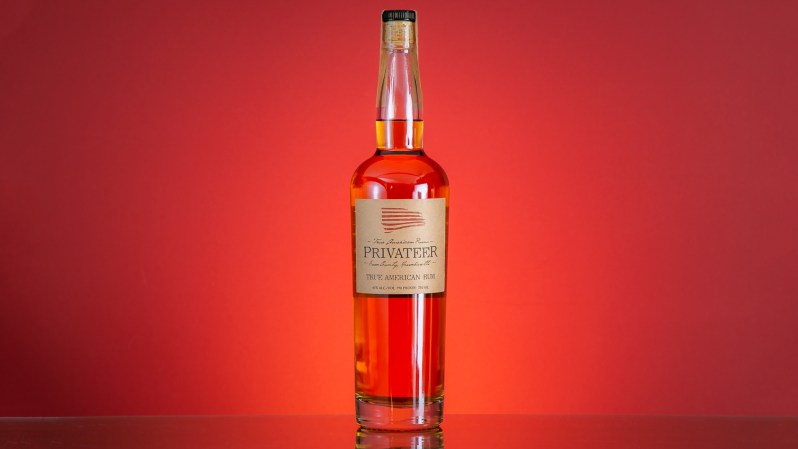 Privateer True American Amber Rum (45 percent alcohol by volume) is crafted by Privateer Rum in Ipswich, Massachusetts, with a blend of boiled brown sugar and grade-A molasses that is aged between two and four years in a mixture of bourbon, brandy, new American oak, and used rum, barrels.
The dryness of Privateer is what did it for us. Woody with burnt sugar notes on the nose, the rum reveals itself over multiple sips. It is as much a rum drinker's rum as it is a whiskey drinker's rum, making it an easy choice if you've never experimented with the category before. You can find Privateer True American Amber Rum in Massachusetts, New York, and select other states across the country.
Tasting Notes
Appearance: Privateer True American Amber Rum is brilliant amber.
Nose: On the nose, you'll find a mix of caramel and oak, with a little bit of a tropical fruit-like aroma underneath the main scents.
Palate: A sweet, full body that exhibits vanilla, banana, coconut, and some toasted oak notes. It manages to be dry, yet sweet — warm yet not overwhelmingly hot. Some dried tobacco notes come through behind the sweetness as well, reminiscent of being in the same room as someone smoking a cigar.
Finish: Medium in length, it has a semi-sweet oaky finish. The tropical notes of banana and coconut are back, mixing with some burnt sugar flavors.
About the Distillery
Massachusetts-based Privateer Rum has its roots, like many New England institutions, in the American Revolution. Founder Andrew Cabot's ancestor, who bore the same name, was a merchant, rum distiller, and, when the Revolution called for it, privateer. Among his ships was the True American, the namesake of Privateer's flagship rum. The President and distiller at Privateer, Maggie Campbell, took a winding road to get there, first learning how to make wine, then studying under distiller Todd Leopold, then working as an assistant distiller at brandy-maker Germain-Robin, where she learned the arcane arts of cognac. Campbell's diverse resume shows in Privateer's bold lineup of spirits. In addition to True American, Privateer makes Silver Reserve (a white rum), Navy Yard (a traditional New England rum aged in oak barrels), and Queen's Share (a traditional single-cask rum).
How to Enjoy It In a Cocktail
Planter's Punch
When we think rum, we think warmer climates. Said to have been created at the Planter's Hotel in Charleston, South Carolina, in the 1800s, Planter's Punch brings out not only the tropical citrus flavors of the juices, but the vanilla, dried orange, and nutty flavors of the rum. You can immediately tell there's rum in the drink, and we love that. For step-by-step instructions, check out our detailed video on how to make Planter's Punch.
Glass: Collins glass
Tools: Shaker
1.5 oz Privateer True American Amber Rum
2 oz pineapple juice
1 oz lime juice
1 oz simple syrup
.25 oz grenadine
1-2 dashes Angostura bitters
Pineapple slice
Cherry
Method: Pour all ingredients except bitters into shaker filled with ice. Shake. Pour into a Collins glass filled with ice. Add Angostura bitters on top. Garnish with a cherry and pineapple slice.
Best Aged Rum Runners-Up
| | |
| --- | --- |
| Montanya Oro Rum | Red Harbor Rum |
| Montanya Distillers | Red Harbor Rum |
| Crested Butte, Colorado | Charleston, South Carolina |
| | |
| A gold rum, Montanya Oro Rum boasts oak and fruit flavors that mix with black pepper and wood notes. There is some apple in there as well, leading to a great sipping experience. | Cane sugar and molasses are heavy on the nose and across the palate of Red Harbor Rum, with vanilla and some wood flavors presenting themselves towards the end. |
Editors' Recommendations