After having carved out an esteemed reputation in the whisky category, Japanese distillers are now taking over the genre of gin. The clear spirit, beloved for its aromatics and made with a real sense of terroir, is reaching new heights thanks to brands like Awayuki. The strawberry gin in particular is one of the best flavored gins we've encountered, bursting with freshness and spring-like flavors.
This isn't just any run-of-the-mill gin treated to some additives, either. It's made from a rare strawberry grown in Japan, specifically the Awayuki strawberry grown in the Nara Prefecture. An abundance of pink and white strawberries goes into every batch, picked at what the brand describes as the peak moment of ripeness. Awayuki strawberries are rare and beautiful, with a delicate persimmon color (or cherry blossom pink, as the locals tend to say), white flesh, and a lovely fragrance.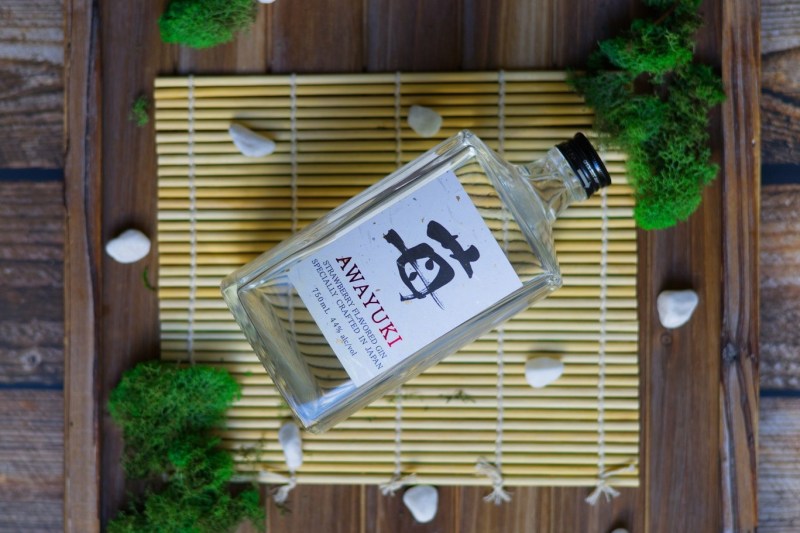 All of those qualities make it a great berry to infuse gin with. The candy-sweet flavors work well with the botanicals of the gin. Only select farms in Japan are allowed to grow these coveted strawberries, making the gin all the more special. Anybody who's tasted fresh wild strawberries in late spring knows how good they can be, especially compared to the supermarket-acquired ones that are so often grown out of season and lacking in flavor. These strawberries take the in-season freshness we love here in the states every May and June to a next level, and that striking flavor is preserved beautifully in the gin.
Looking at this Japanese gin, you'd never know it was flavored. Awayuki is clear and seems like standard bottling until you open the cap and the strawberry aromas burst out. Maybe it's been a long winter and we're craving those spring flavors. Maybe this is one of the better flavored gins on the market. We think it's an even combination of the two.
It's not uncommon for gin to offer some harshness on the palate, whether it's a botanical bill that doesn't quite line up or an underlying astringency. That's not the case here, as the strawberries seem to tie everything together. This is one you pour into a glass and bury your nose in, not unlike a good riesling.
How to enjoy
First and foremost, try this stuff neat. When it's served on its own, slightly chilled, you'll really be able to enjoy the harmonious flavors and radiant berry flavors. To maximize that intense and well-rounded flavor, we suggest going neat or hitting it with a little unflavored tonic water. If you do opt to mix it, try a Bee's Knees cocktail (go light on the honey syrup given the gin's inherent sweetness) or a Tom Collins. A gin fizz is a great way to go as well, with the egg white tying all the flavors together, from the tartness of the lemon to the juniper and floral qualities of the gin.
Editors' Recommendations