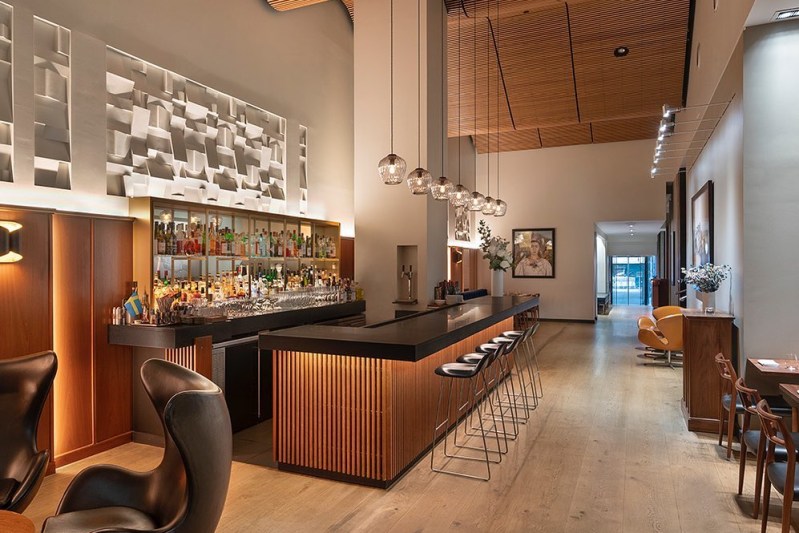 With two Michelin Stars, Aquavit is home to one of America's finest tasting menu experiences. While Scandinavian ingredients and flavors are at the center of the food, the drinks at Aquavit also draw heavily from those flavors, creating a cocktail program that is wholly unique and elevated. Simply put, the drinks here are one-of-a-kind, and definitely a restaurant worth splurging for.
The best way to experience cocktails at Aquavit is the Cocktail Tasting. This four-course tasting centers on curated drinks and small bites, all crafted by Jeff Arnold, head bartender at Aquavit. And while Scandinavian ingredients remain at the forefront, it's also combined with inspiration from other cuisines and cultures. In a global city like New York, this synergy creates a fascinating melding of ingredients, both traditional and modern.
"We are in New York and don't want to strictly be bound by what's traditional," said Arnold. "We look to highlight tradition when applicable, but then to expand on Scandinavian tradition whenever we like it to be playful and inventive."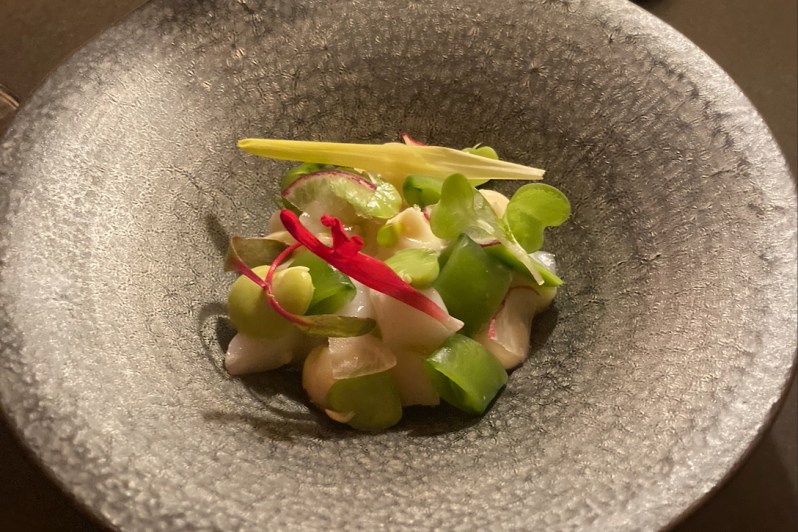 Scandinavian cocktail ingredients
It should come as no surprise that Arnold is a big fan of Aquavit's namesake spirit — aquavit itself. Also known as akvavit, this Scandinavian spirit is distilled from either grain or potatoes and is hugely popular in Sweden, Norway, and Denmark. "I love to use different aquavits, both imported and homemade," said Arnold. "There is such a great expanding profile of aquavit that allows for a much more development of flavor profiles."
Because of that philosophy, the cocktail program at Aquavit is serious about highlighting Scandinavian flavors: accentuating smoke through various types of wood smoke, warm baking spices, and native Scandinavian ingredients like sea buckthorn and lingonberries. However, because of Aquavit's location in New York City, the cocktails, including those for the curated Cocktail Tasting, are not strictly bound by tradition.
One drink showcasing this blend is A Bird From Macao, a fruity tequila cocktail ideal for a beach day in summer. Another drink, Fisherman's Friend, takes another global route, combining cherry aquavit with naturally umami kombu, the dried seaweed that's a fundamental part of Japanese cuisine.
The cocktail tasting at Aquavit: a breakdown
Currently priced at $125 per person, the Cocktail Tasting is located in the Bar Room instead of the main dining room. Designed with that uniquely elegant Scandinavian style, the Bar Room is a less formal experience than the tasting menu of the main dining room. The cocktail experience features four cocktails, all paired with small bites designed specifically for each drink. The pairings are as whimsical as they are intriguing. A spiced lamb sausage patty is presented as a miniature burger, served in a playful, fast food-like cardboard takeout box, and paired with a mustard cognac, aquavit, and banana liquor cocktail. The final bite is a Swedish Waffle with blueberries and tonka ice cream. It's the perfect pairing for the Liquid Breakfast cocktail, a dessert drink that's like taking a shot of spiked maple syrup.
But don't expect the same drinks every season. Central to the philosophy at Aquavit is seasonality, and seasonality means change. "With the Cocktail Experience tasting format," said Arnold, "it changes so often because we have the opportunity to create flavors for the menu that normally wouldn't be on our regular cocktails. This allows for additional creativity as you're not attempting a crowd pleaser, but you can really concentrate on the flavor profile of the food and a playful way to accentuate it to make for a fun experience for our guests."
For Arnold, this creative process also means that his drinks should be created to complement the vision of Executive Chef Emma Bengtsson.
"I really try to think of what chef is developing first during a particular season, and then try to find a way to accent her vision behind the bar," said Arnold. "The bar is an accompaniment to the experience of our menu, so I try to think about the acidity, body, and savory characteristics that will accentuate our cuisine. The bar should not operate independently, and I truly love the collaboration process of how the chef and I work together to integrate the two."
A Bird From Macao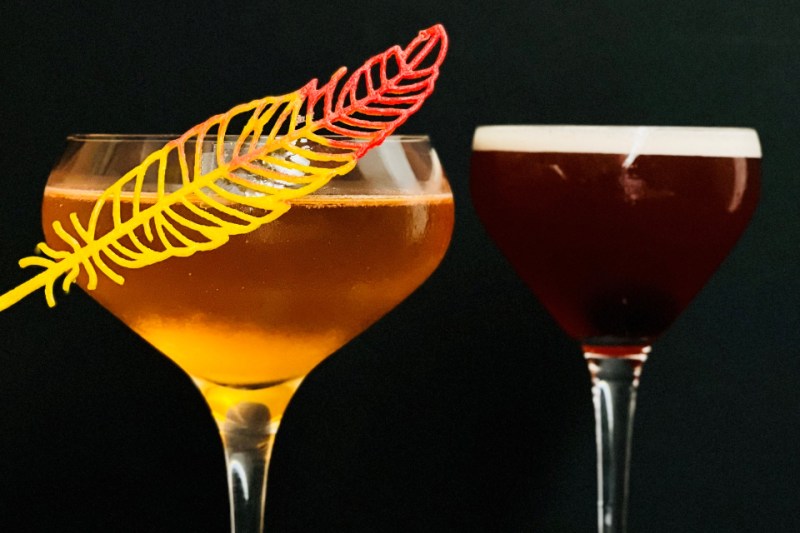 Ingredients:
1 1/2 ounces blanco tequila
1 ounce pineapple shrub
1/2 ounce Aperol
For the pineapple shrub:
2 parts white vinegar
1 part blended Scotch
1 part water
20% muscovado sugar (or any unrefined sugar)
Mustard seeds, all spice, star anise and salt to taste.
Method:
To make the pineapple shrub, cut down a pineapple into chunks.
Add white vinegar, Scotch, water, sugar, and spices to a pot. Bring to a boil. Then simmer for 40-50 minutes.
Turn off heat and let sit until cool. Strain and refrigerate.
For the cocktail, combine blanco tequila, pineapple shrub, and Aperol.
Shake over ice, double strain into coupe glass.
Fisherman's Friend
Ingredients:
1 ounce cherry aquavit
3/4 ounce kombu Everleaf Marine
1/2 ounce Cherry Heering
1 ounce lime juice
Pinch salt
1 pint of red cherries
1 3/4 ounces vodka
Method:
To make cherry aquavit, pit red cherries and soak in 1 3/4 ounces vodka for 3 days, then strain.
To make kombu Everleaf Marine, steep dried kombu sheets in Everleaf Marine. Set aside.
For cocktail, combine all ingredients and shake over ice, double strain into Nick and Nora glass.
Editors' Recommendations