If you ask rapper-turned-celebrity-chef Action Bronson what he loves about tequila — specifically Olmeca Altos tequila, the brand he recently partnered with for the J. Hernandez & Sons bodega pop-up event in New York City – you'd find out it isn't just the taste, but it's also the people and the process behind it.
"I love a good, beautiful tequila, and these beautiful people are making the best and they're doing it right. We have a common ground," he tells The Manual. It's the allure of Mexico, too, he says, that gets him every time.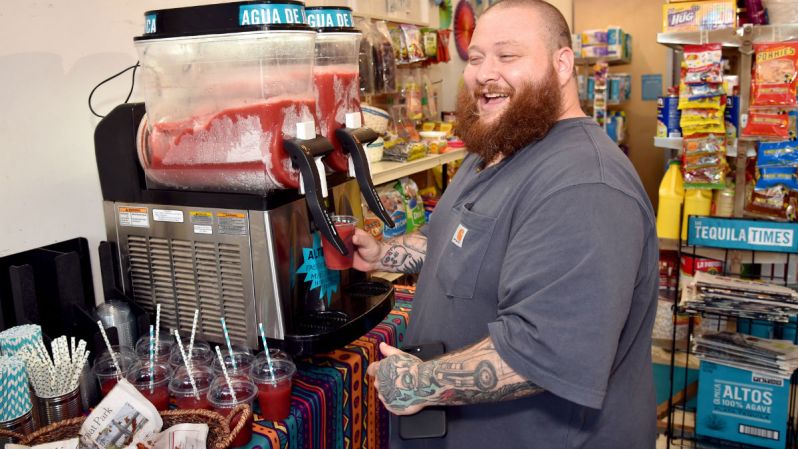 "I've driven myself all the way around the Yucatán Peninsula and all around the rest of Mexico. It's a beautiful place. I've worked with people from Mexico for years. They're endearing human beings. They're very crafty, incredibly talented artisans," he adds.
The overall experience — the tequila, the people, the scenery — is "a sensory overload, which is one of my favorite things about life."
Known for his food devotional book, F*ck, That's Delicious, and the various cooking segments and shows (like making the best sandwich in the world), Bronson was all about the idea of a bodega pop-up with Olmeca Altos, which also appeared in Los Angeles, Denver, Austin, Nashville, and Chicago. "I'm no stranger to bodegas," he says. "Have you ever had a sandwich from a bodega? They're fucking phenomenal."
The experimental pop-up was a way to show how a community is built up around and through a bodega. Guests were invited to chow down on pizzas and tacos and indulge in Altos tequila and tequila cocktails while listening to salsa music and the man of the night himself, Bronson.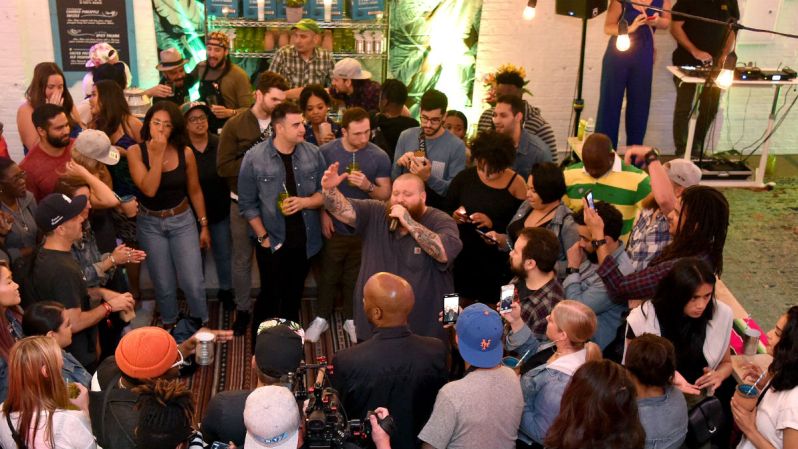 Let's get back to the tequila, though. It was important to find out what kind of tequila Bronson enjoys. "I go for the blanco because, for me, all that dark stuff is a little too heavy for me. This is summertime after all."
And how does he take it?
"I'm a simple man — I like it in a good glass. Pour it in and then I put it straight down the gullet," he says. If he has tequila in a cocktail, it's got to be a "beautiful" Tommy's Margarita or Paloma.
Bronson says he's also at work on a new book "based upon all the trickery and the wild things of my life that have to do with weed."
Following in the vein of F*ck, That's Delicious, it will feature recipes to eat while high (not food cooked with weed, though you can find out more about that on our podcast), ruminations, and more.
"It's about being stoned, being a man, and having fun," he says.
Before we let Bronson go, we had to know. While his beard may be gone now, it was epic while it was there. How does he keep it so awesome?
"I have good genetics. My grandfather worked on the Alaskan pipeline. It's in my blood. It was those cold winters," he says. As far as actual beard care, though, "I like to shampoo and condition. I also use argan oil, olive oil, a little bit of peanut oil. This is a blend."
Bronson's regiment doesn't end there, though: "After you shower, after you dry your beard, you must — you must — use Dr.Palmer's Stretch Mark cocoa butter. It's got the good stuff in it. It makes it grow, it makes it shine."
We know what we're going to be trying, right after a Tommy's Margarita.
Editors' Recommendations