Every runner has probably had to fend off the glib comment "Running is bad for your knees," from a well-meaning friend or co-worker at some point. And, while there's little evidence to suggest that running is bad for your knees, an occasional knee injury or bout of knee pain is rather common if you're training for a marathon or running a lot of miles.
Although major knee injuries and lingering chronic pain usually necessitate a trip to the orthopedist for professional care, mild knee pain and instability can often be remedied at home with activity modification, ice, rest, and an OTC knee brace. Knee braces and knee sleeves can support a knee that feels weak or unstable and can provide some compression to the knee joint to help control inflammation.
They can provide support to the patella (kneecap) and the knee ligaments and maintain alignment of the knee joint, reducing stress and strain on the knee joint. This can reduce pain and protect a weakened knee from further injury while the injured tissues heal.
Knee braces and sleeves can also provide compression, which reduces inflammation and can help disperse the forces over a larger area of the knee. As such, wearing a knee brace while running may even allow you to keep training if you have mild knee pain.
After reviewing and testing the top knee braces for running across many different styles, we've rounded up our picks for the best knee braces for running.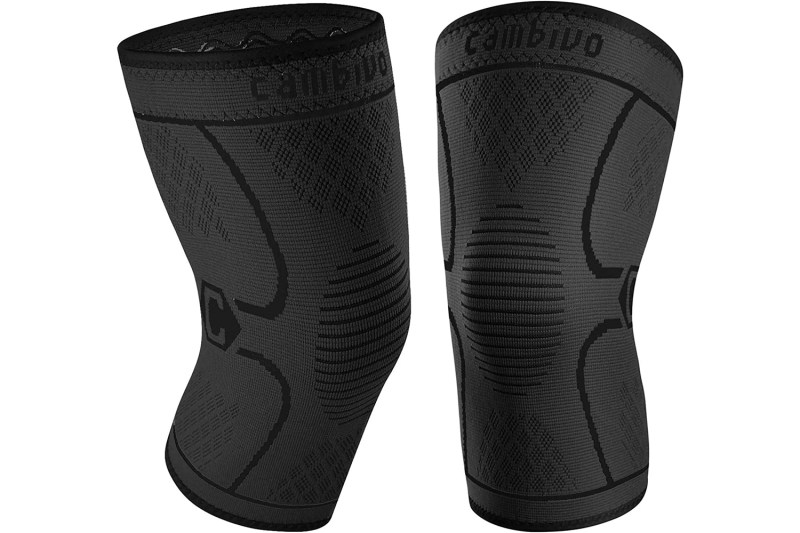 Cambivo Knee Compression Sleeve
Made from 65% nylon, 20% latex, and 15% spandex, the Cambivo Knee Compression Sleeve provides just the right balance of compression and support while still being extremely lightweight and breathable. The design of this knee sleeve elevates the basic compression sleeve design. It has features like special, flexible 3D knitting technology that provides consistent pressure to stabilize and support your knee while distributing forces evenly across the knee joint to disperse painfully high loads.
The Cambivo sleeve is ideal for running because it stays put with anti-slip silicone strips embedded in the material. Moreover, it provides enough insulation to enhance circulation to reduce stiffness without being overly hot.
Cambivo Knee Compression Sleeve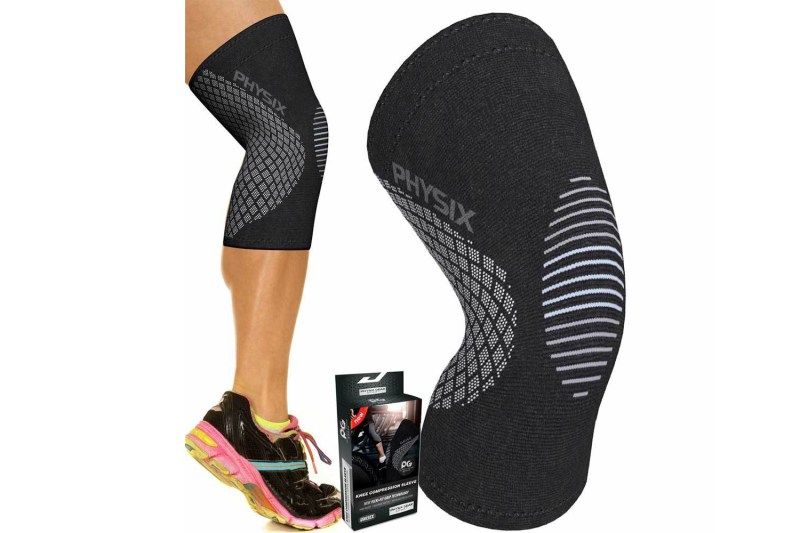 Physix Gear Compression Knee Sleeve
The Physix Gear Knee Sleeve is made from 67% nylon and 33% latex with an anti-slip silicone wave pattern for stay-in-place confidence. The four-way stretch fabric conforms to every contour and bump around your knee, helping give a nice, snug, supportive feel to the sleeve.
Even if you get sweaty on a long training run, the knee brace stays up without slipping, twisting, or rolling down. It also comes in a wide range of sizes, from small to XXL.
Physix Gear Compression Knee Sleeve
Jiufentian Copper Knee Brace
There is some evidence pointing to the ability of copper to increase circulation and aid healing. The Jiufentian Copper Knee Brace capitalizes on this property by embedding copper fibers in the knee sleeve knit. The knee brace is constructed from 60% copper fiber cloth, 32% nylon, and 6% spandex.
It is lightweight, yet it provides stability to alleviate pain and disperse forces. The Jiufentian Copper Knee Brace employs sweat-wicking technology to enhance airflow and has grippy silicone strips at the top to prevent the brace from slipping while you run.
Jiufentian Copper Knee Brace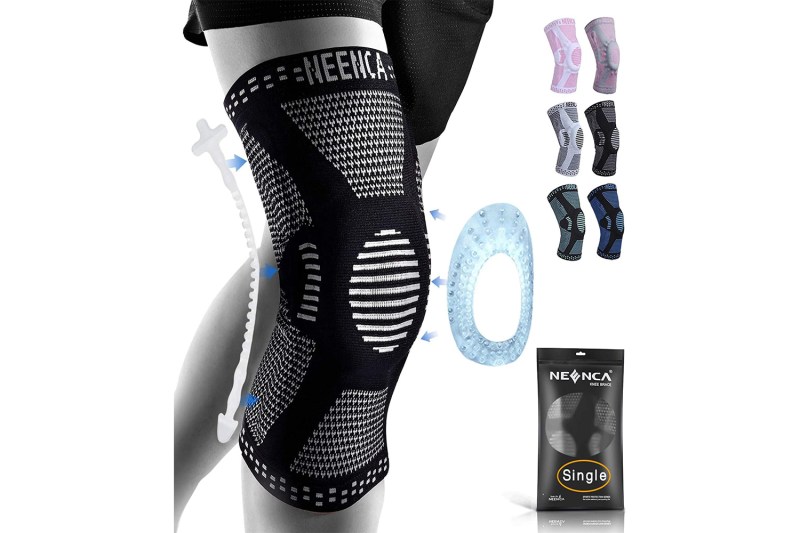 Neenca Professional Knee Brace
While most knee sleeves are basic pull-on wraps with elastic, spandex, or Lycra, the Neenca Knee Compression Sleeve offers extra support and stability with integrated metal side stabilizers and a unique, patented gel pad surrounding the patella.
The gel pad helps disperse pressure and align the patella, while the side stabilizers provide lateral stability. These design features make the Neenca sleeve more robust and supportive than typical knee sleeves, while also improving the ability of this brace to stay in place without falling down, bunching up, or rotating — the common complaints from wearers of most other knee sleeves.
Between the highly elastic fabric and silicone straps, the Neenca Knee Compression Sleeve provides an impressive amount of compression to the knee joint and hugs the anatomical curves of your body, while still managing to wick moisture and minimize sweating.
Neenca Professional Knee Brace
Ipow Patella Stabilizer Strap
The Ipow Patella Stabilizer Strap is a simple, adjustable knee strap that comes in a dual pack, so you can support both of your knees. These knee straps seem to hug the contour of your shin right under your knee better than other knee straps, which means you can wear them while running or playing sports without worrying that they will fall down.
They're constructed from breathable, soft materials, which makes them comfortable to wear when you exercise, and the straps can be adjusted to accommodate a leg circumference of 10 to 18 inches.
Ipow Patella Stabilizer Strap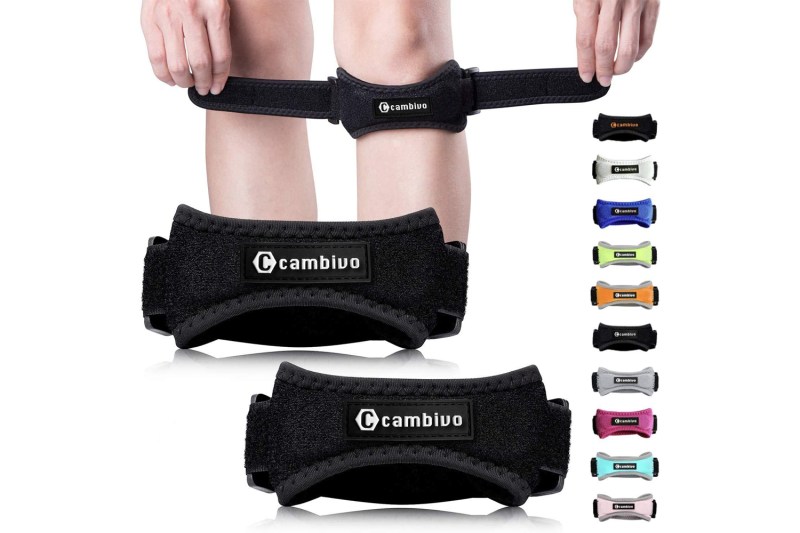 Cambivo Patella Knee Strap
Made from 60% neoprene, 30% polyester fiber, and 10% spandex, the Cambivo Patella Knee Strap provides just enough compression below the knee to stabilize the patella and absorb shock. It's ideal for runner's knee or patellofemoral pain syndrome. The material absorbs your sweat to prevent a soggy feeling and can be washed and hung dry.
Cambivo Patella Knee Strap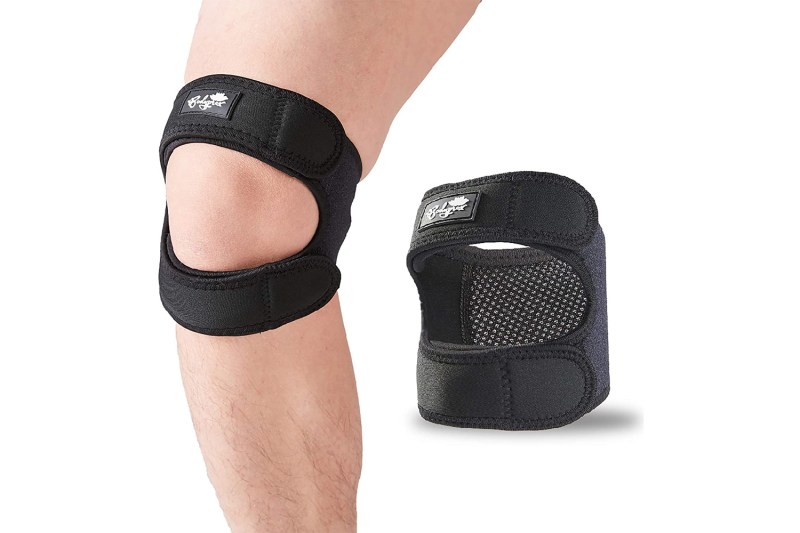 Bodyprox Dual Patellar Support Strap
The Bodyprox Dual Patella Tendon Support Strap builds on the simple knee strap design by offering structural support both above and below the knee. This dual system provides enhanced support for proper tracking of the quadriceps and kneecap, which many runners find to be more effective at minimizing knee pain while running. The brace is extremely lightweight and unrestrictive.
Bodyprox Dual Patellar Support Strap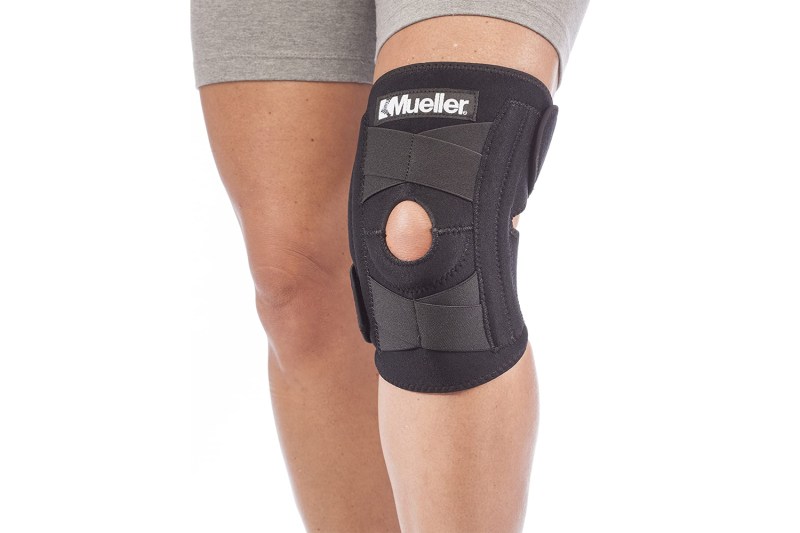 Mueller Self-Adjusting Knee Stabilizer
For a bit more support, consider the Mueller Self-Adjusting Knee Stabilizer. This knee brace is crafted from a neoprene blend that provides compression and insulation to enhance circulation. The crisscross straps allow for targeted compression and adjustability, while there's a buttress lining open patella design to stabilize the knee cap while allowing for a natural range of motion.
Mueller Self-Adjusting Knee Stabilizer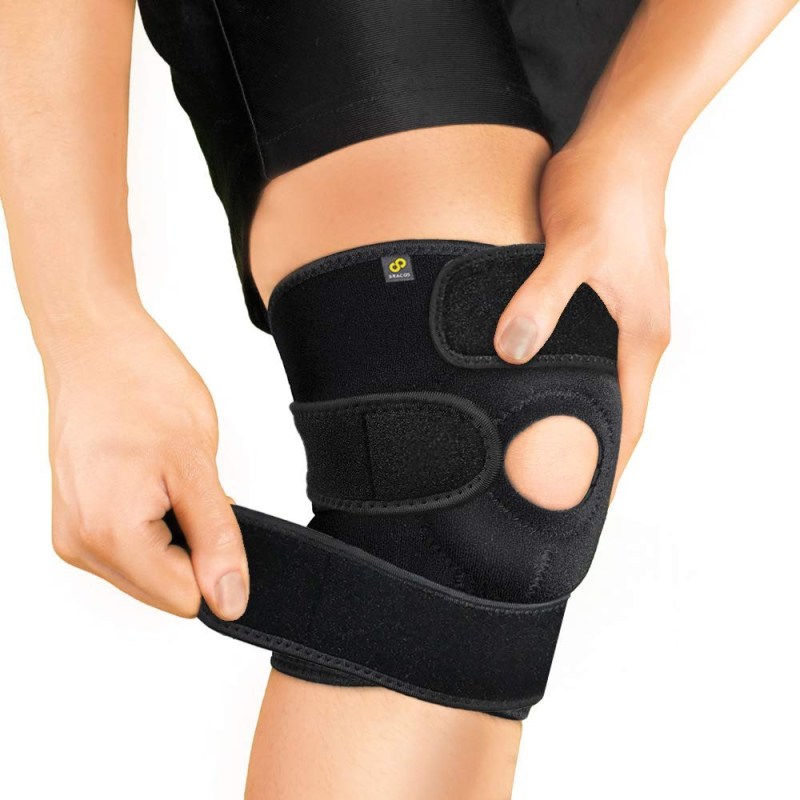 Bracoo KS10 Adjustable Knee Compression Brace
When your knees act up while running, a lightweight brace can sometimes offer the support and protection you need to alleviate your knee pain without overly restricting your stride. The Bracoo KS10 Adjustable Knee Compression Brace is designed for osteoarthritis relief when running, hiking, or playing sports.
It is constructed from perforated neoprene, making it very lightweight and breathable. The perforations are intended to improve airflow and reduce sweating and itchiness, while the neoprene also insulates and keeps the knee warm to increase blood circulation.
The Bracoo KS10 uses an open patella design to help it stay in place while you're running or playing sports, so you're not constantly having to stop and twist it back in place or pull it up. The patella area is reinforced with a stabilizing ring, which lends compression and stability.
The three-strap system on the knee brace allows for customization of the fit and disperses the loads and pressure evenly across all the ligaments and structures in the knee joint. You can wear it on either knee and it accommodates knees with 12.5 to 18 inches of circumference.
Bracoo KS10 Adjustable Knee Compression Brace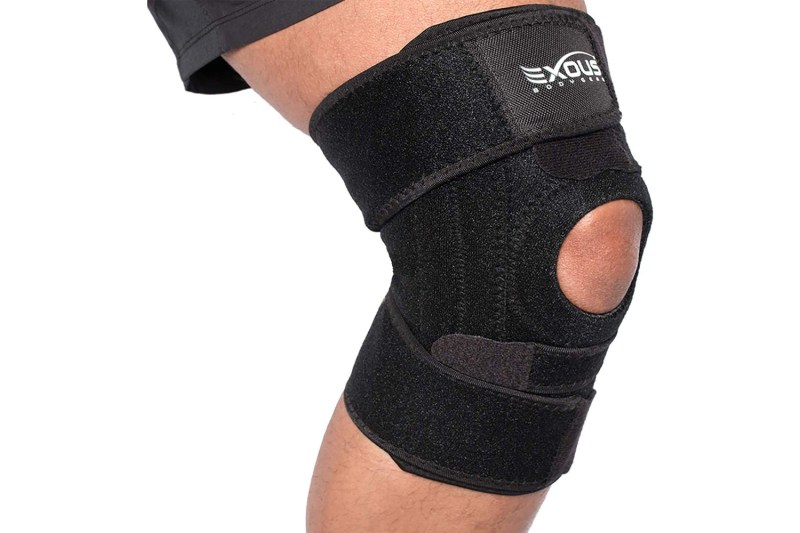 Exous Bodygear 4-Way Knee Brace
With an impressive four-strap design, the Exous Bodygear 4-Way Knee Brace provides superior stabilizing support and reliable traction for your knee compared to most knee braces.
The four straps allow for a highly precise fit, 360-degree control, and enhanced patellar stabilization for maximal effectiveness and pain relief. Despite the more robust support and adjustment system, the knee brace still manages to be flexible and lightweight and doesn't restrict your stride. In fact, the Exous Bodygear brace weighs only 6 ounces and has a slim profile.
Exous Bodygear 4-Way Knee Brace
Frequently Asked Questions
What Are the Factors to Consider When Buying a Knee Brace?
When buying a knee brace or knee sleeve, it's important to ensure the knee brace you buy is intended for your injury or usage. The specific purpose of a particular knee brace dictates its design as well as its suitability for your needs.
For example, if you are indeed looking for a knee brace to wear while running, be sure the knee brace you choose is designed to be worn during exercise. Otherwise, it may lack the flexibility, breathability, and support your knee needs while being physically active.
The degree to which a knee brace provides support depends on the materials used and the design. It's important you buy a brace that provides the support you need for your particular knee injury or issue. Some knee braces, such as knee straps, only support the patella, while others have metal hinges on both sides for lateral stability as well. 
Essentially, knee sleeves provide light compression, which can help provide stability and encourage the alleviation of inflammation in swollen knees. Many people with osteoarthritis, strained ligaments, partial meniscus tears, or general knee pain find the stability and control afforded by a knee sleeve takes the edge off their knee pain and instability.
Sometimes, a simple knee strap is all you need to provide the necessary stability to your knee cap to alleviate pain, and research demonstrates knee straps are indeed effective at treating pain brought on by patellar tendinopathy. Knee straps are especially helpful for runner's knee, a painful condition where the kneecap (patella) tracks abnormally along the femur, causing pain, but they can also alleviate pain from jumper's knee and patellar tendinitis.
How Do You Wear a Knee Brace for Running?
Knee sleeves and knee braces are designed to provide support and compression, so they inherently need to be quite snug. This can make them difficult to get on and off. If you have large calf muscles or mobility impairments, it may be challenging to hoist up knee braces with a pull-up style. Wraparound knee braces are easier to get on and off, but they can be hard to properly align for some people.
Knee braces are usually adjustable via Velcro or hook and loop straps or buckles, which allows you to tailor the fit. Ensuring you have a proper fit helps prevent the knee brace from moving and improves the comfort and effectiveness of the brace. Getting a knee brace with multiple adjustment straps is particularly important if the degree of swelling in your knee fluctuates significantly from one day to the next.
Knee sleeves, on the other hand, are usually not adjustable so measuring your knee accurately to get the proper sizing is important. You may also need to buy multiple sizes to accommodate different inflammation levels in your knee.
Editors' Recommendations