We're living in crazy times, especially since this whole pandemic mess started a few long years ago. With so much instability out there, it's easy to feel, well, a little uneasy. That's why it's not a bad idea to consider a few self-defense weapons to have at your disposal, just in case. You never know really know what lies ahead but you can be prepared if things do go very, very wrong.
There are many options out there, but the best of the bunch are packable, discreet, effective, and non-lethal (because you don't necessarily have to put somebody six feet under to "take them out"). Now, it's one thing to have one of these on your person and quite another to use it safely and properly. So make sure you know what you're dealing with beforehand and maybe even set up some training time with your new tool. Whether you're planing to get (intentionally) lost in the backcountry or just milling about in the city, it's not a bad idea to consider getting one of these. Here are the best self-defense weapons for protecting yourself in 2023.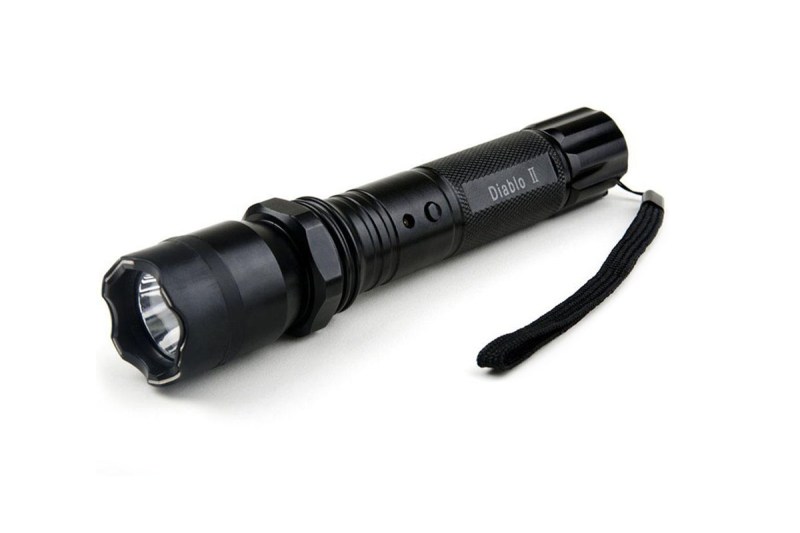 Guard Dog Diablo II Tactical Stun Gun Flashlight
Even the best tactical flashlights aren't designed with self-defense in mind. Part 320-lumen flashlight, part 5 million-volt stun gun, the Guard Dog Diablo II is a multifunctional defense tool with solid (we mean solid) stopping power. For a stun gun to be effective, it should deliver at least 1 million volts, says Top Stun Guns.
This one is concealed within an aircraft-grade aluminum alloy body that is shockproof for the user. An emergency glass-breaker bezel rounds out the specs. For only around $30, it's a powerful yet not-too-crazy self-defense weapon that you won't have to replace, thanks to the built-in rechargeable battery. But don't be fooled — this is still a powerful weapon that requires training in advance.
Guard Dog Diablo II Tactical Stun Gun Flashlight
HyperWhistle Original
A police siren can emit up to 120 decibels. Jet engines run up to 130 decibels. The explosions from your favorite fireworks can blast up to 140 decibels, which is also the threshold at which humans experience hearing pain. The HyperWhistle emits a screech at up to 142 decibels.
Can you imagine someone (or something) trying to harm you while getting blasted by such a painful level of sound? Yeah, neither can we. This tool has a range of up to two miles, so it's also great to have as part of a wilderness food and survival kit as well.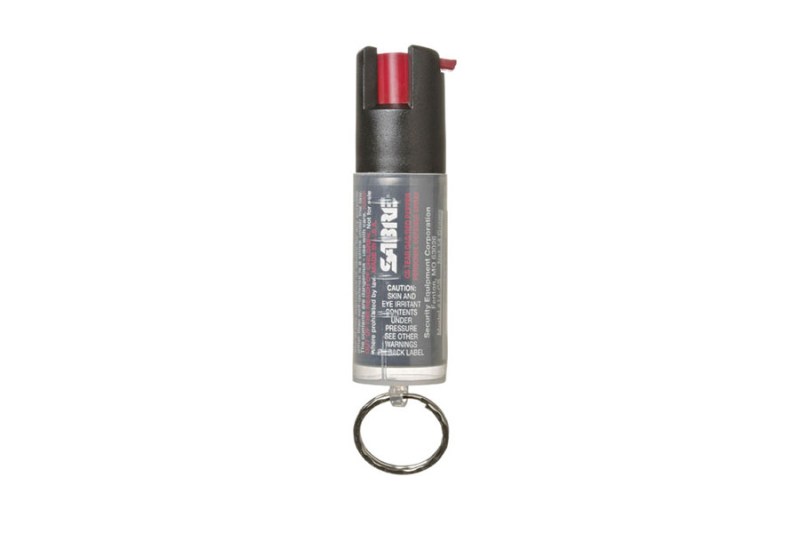 Sabre 3-in-1 Pepper Spray With Key Ring
With a formula that includes CS tear gas plus UV-marking dye to aid in suspect identification, Sabre's 3-in-1 Pepper Spray packs maximum strength in a small bottle and is used by law enforcement across the U.S.
The 10-foot range is good for 25 bursts, which is about five times more than other brands, according to Sabre. The key ring makes it easy to carry and a locking top protects it from accidental discharges. Sabre uses military-grade tear gas for its pepper spray, but steers clear of CN tear gas, which can burn the skin and eyes.
Sabre 3-in-1 Pepper Spray With Key Ring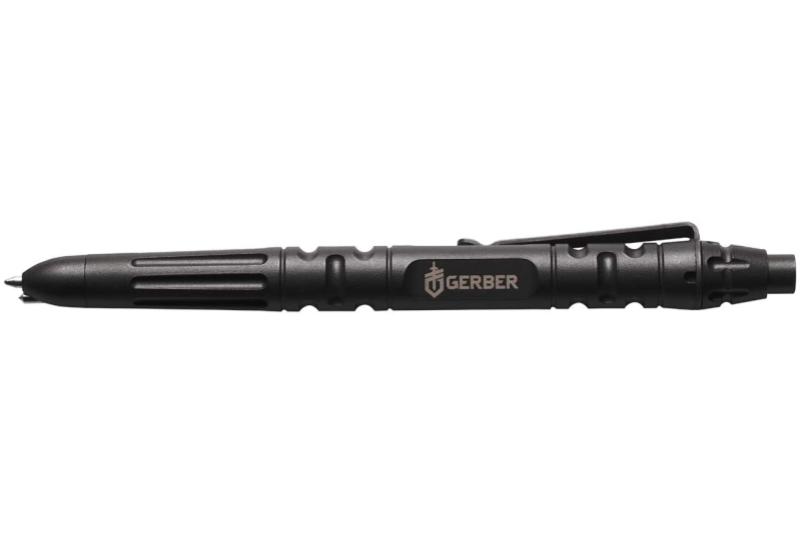 Gerber Impromptu Tactical Pen
Sounds kind of like a joke, right? A tactical pen? With a bevy of features beyond just the ability to write your monthly rent check, though, these tools are nothing to laugh at. The Gerber Impromptu features an integrated glass-breaking tip, so you're able to extricate yourself from a threatening situation.
The ink cartridge is from Rite in the Rain, so you're always able to take important notes no matter the weather. A stout body made from machined steel means this writing tool can even function in a melee if needed.
Gerber Impromptu Tactical Pen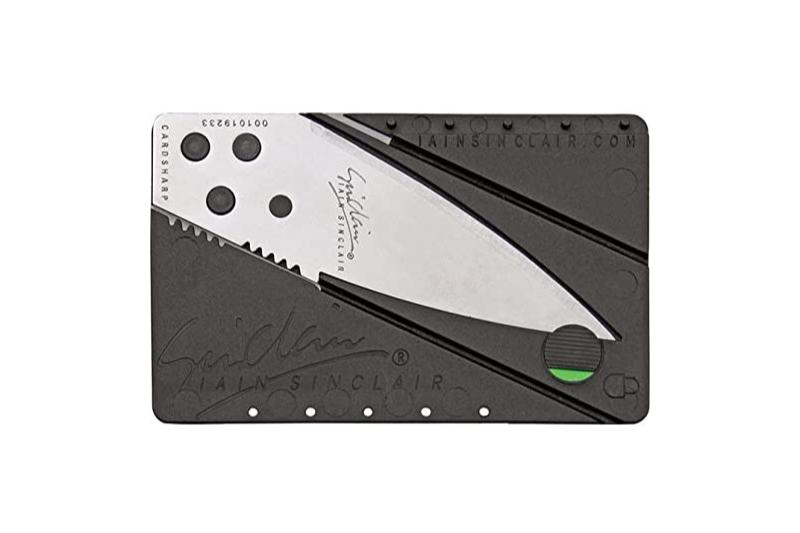 Cardsharp2 Credit Card Knife
The Cardsharp2 from Iain Sinclair Design is an interesting concept. When stored, it takes up about as much space as a credit card. However, when folded into a ready-to-use configuration, it transforms into a knife with a 65 mm cutting edge.
This definitely isn't a weapon that you'd take into prolonged battle, but it's an extra layer of security if you often travel to less-than-safe places. The ultra sharp surgical steel blade can double as a prep knife, too, for your next battle against mirepoix.
Cardsharp2 Credit Card Knife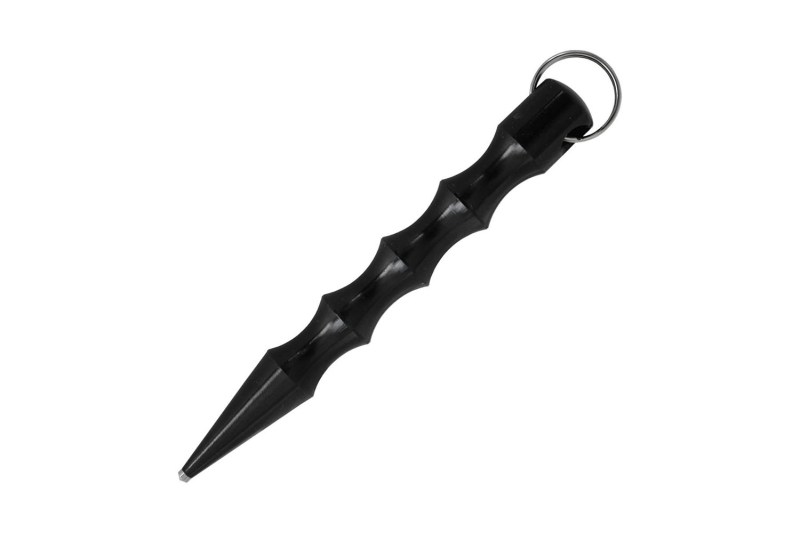 Tactical Pointed Tip Grooved Grip Kubotan
While the Kubotan looks like a gnarly vampire stake, it has a slew of nonlethal uses for self-defense. Attach this lightweight aluminum stick to your keys for simple carry, and in the event of an attack, you can do one of the following: Grip it to harden your fist for punching, use as a flailing weapon and whip your keys at the attacker, or take the Kubotan and strike your assailant's hands and joints.
In self-defense situations, it's best to go for the most sensitive parts if accessible, like the bridge of the nose, shins, or knuckles. A well-placed strike can break bones.
Tactical Pointed Tip Grooved Grip Kubotan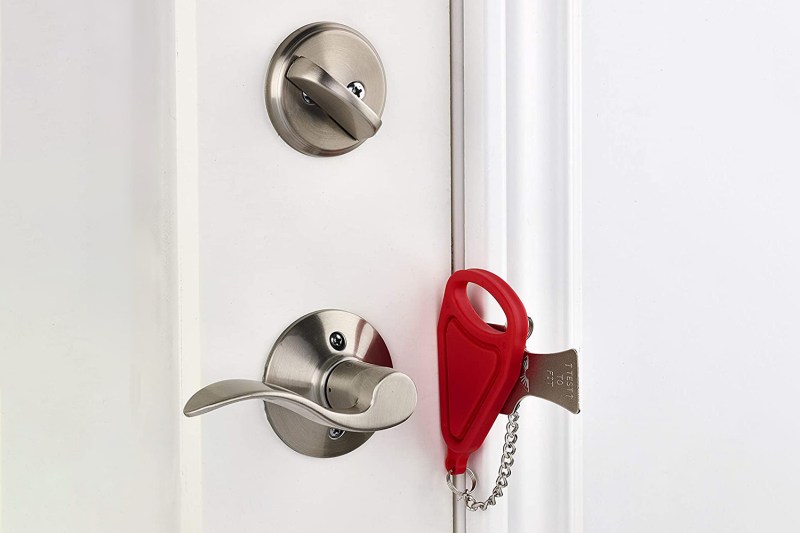 Addalock Original Portable Door Lock
When you're traveling, give yourself additional peace of mind with the Addalock. If you'd prefer an additional locking device on your hotel room or Airbnb door, the Addalock makes it easy.
Used on inward-opening doors, it wedges into the strike area, preventing the door from opening. Made from steel and installed in just seconds, the Addalock is a simple, strong addition to your arsenal of self-defense options.
Addalock Original Portable Door Lock
CRKT Williams Defense Key
Discreet, easy to carry, nonlethal, economical, and effective, the CRKT Williams Defense Key definitely hits all the requirements for this list. You carry keys with you every time you leave the house. This key from CRKT, however, is an addition to your keychain featuring an ergonomic handle and a pointed end.
While it doesn't look like much, it may be enough to quickly get you out of an unanticipated situation. Additionally, the tip can be used as a Phillips-head screwdriver, so you'll be able to make impromptu repairs as well.
CRKT Williams Defense Key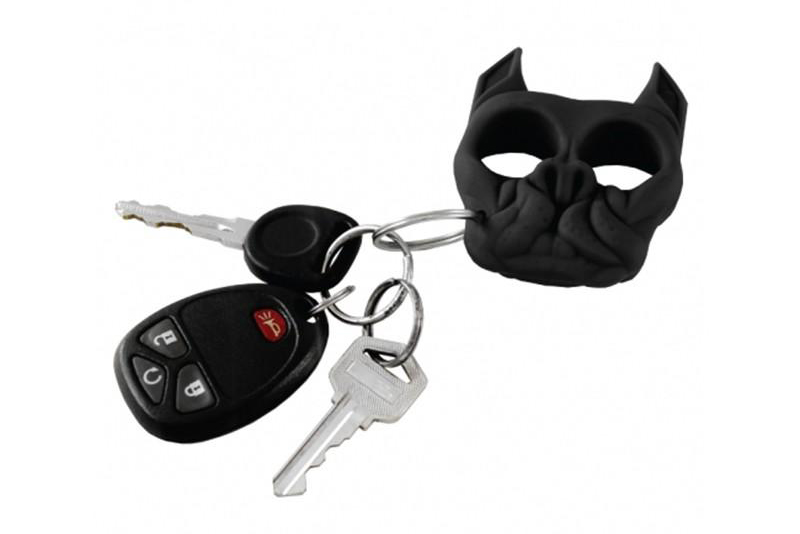 Brutus Bulldog Self-Defense Keychain Knuckle Weapon
The goal is to make self-defense accessible while not worrying yourself sick about what could happen. Set out for a warm-weather run or nighttime dog walk with only your music and keys, knowing if you tread into the wrong area you'll be protected.
Disguised as a bulldog keychain, the Brutus Bulldog Self-Defense Knuckle Weapon becomes a spiked accessory fitting around your knuckles, made to strike an oncoming assailant and pierce the skin. The ABS molded plastic is said to be unbreakable. Word to the wise, though: Cat or dog-ear weapons are not legal in states that don't permit brass knuckles.
Brutus Bulldog Self-Defense Keychain Knuckle Weapon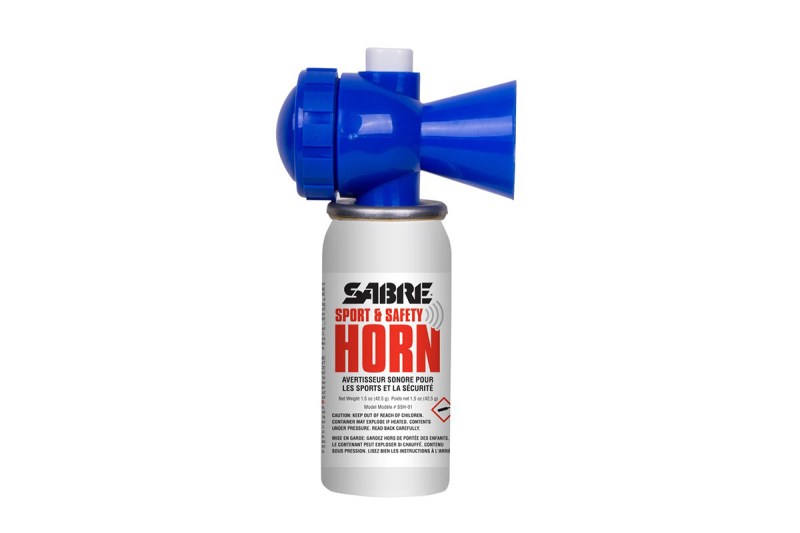 Sabre Sport and Safety Horn
We're not joking. Get a horn — a very, very loud horn. Audible over a half-mile away, this compact air horn fits in your car door (it's only 4.75 inches tall) and is incredibly loud. This noise is designed to startle an aggressor and make them flee.
Sabre says the alarm also reduces the risk of bear attacks. A bear deterrent such as this is great to have while hiking and camping. Periodic blasts can alert bears you're in the area, decreasing surprised and aggressive behavior. An easy-to-use button makes firing simple.
Sabre Sport and Safety Horn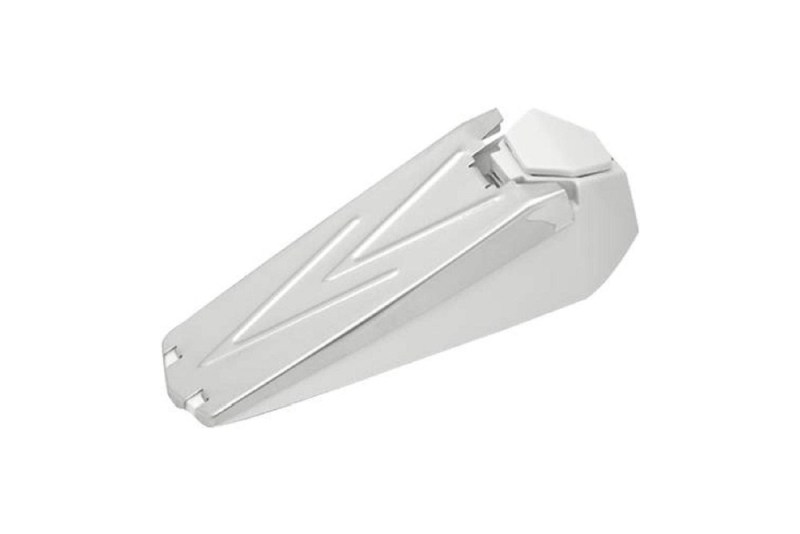 GE SH50246 Personal Security Door Stop Alarm
Technically speaking, a door alarm isn't a weapon. However, it's still an essential tool to have for self-defense. This clever doorstop alarm by GE is easy to use at home and it's compact enough to pack for your travels.
When the alarm activates, a 120-decibel alert will sound, allowing you to get to safety and kick out possible intruders. If you're the type of man who finds himself traveling often or ends up staying the night in a sketchy place, this doorstop alarm is a must-have.
GE SH50246 Personal Security Door Stop Alarm
Frequently Asked Questions
What is the most effective self-defense weapon?
Simply put, the most effective self-defense weapon is the one you are carrying. No amount of research or training with a specific weapon will help you if you aren't actually carrying it. So, regardless of which tool or weapon you choose, make sure it's practical and comfortable enough for you to want to carry it all the time.
Prepare yourself by taking a local self-defense class. Also, keep aware of your surroundings and show no fear. Nonverbal displays of confidence can go a long way. Remember: Your goal with a self-defense weapon should be to quickly employ it to get yourself out of a dangerous situation, not to engage in a prolonged fight. (The only prolonged battles you should be taking part in are ones that involve today's best Nerf guns)
What is the best legal weapon for self-defense?
Any time you make physical contact with someone else, either with a part of your body or with a weapon, you open yourself up to the liability that comes with hurting them. Sometimes this is your intention, but in today's litigious society, it might not be worth it. That's why a noncontact, nonchemical weapon, such as a tactical flashlight or air horn is a good bet.
Blinding light or very loud sounds might cause your attacker some mild discomfort and disorientation, but there's little to no risk of long-term injury to them. Protecting yourself takes many forms, after all.
What is the best self-defense weapon besides a gun?
Again, the best self-defense weapon is one that you're carrying and know how to use. With any weapon, take time to learn how to use it. YouTube has tutorials for everything these days.
During tense situations, it's easy to get flustered and confused. In these situations, you'll want a weapon that is intuitive and simple to use. Also, maintaining and increasing the distance between you and your attacker should be the main goal of personal defense. For these reasons, we like simpler self-defense gadgets, like tactical flashlights and pepper sprays. They're simple to understand and use, and they allow you to create distance and escape.
What are some nontraditional self-defense weapons?
Nontraditional self-defense weapons are items not typically thought of as weapons but can be used to defend oneself. These weapons can be everyday objects that you may already have. Here are some examples of nontraditional self-defense weapons:
Flashlight: You can use a regular flashlight to blind an attacker or to strike them in the head or face.
Umbrella: Use an umbrella to block another person's blows or to poke them in the eyes.
Cell phone: Your cell phone can be used to call for help or to record an attack.
Keys: Your regular, everyday keys are a good self-defense weapon. You can interlace them through your fingers when walking in area you're not entirely comfortable. Use the keys to scratch an attacker's face or anywhere on them with the keys through your fingers.
Obviously, diplomacy is the preferred method of dealing with conflict but it doesn't always work. We hope you consider these self-defense weapons if you're feeling the need to heighten your level of protection, without wanting to worry about seriously injuring whatever or whoever is giving you trouble.
Editors' Recommendations