At some point during your childhood or teenage years, you have at least joined thrilling water gun fights against or with your friends and family in the backyard, shot them sneakily, or wielded dual water pistols because you wanted to channel your favorite character from your favorite movie. Nostalgic, right? Unfortunately, we tend to forget to get in touch with our child selves due to the adversaries of adult life.
Well, soldier, that's life. However, that does not mean you should not take a break. So, why don't you invite your family or best buddies over for a water gun match this summer? Surely, they are more than eager to get into the battlefield with you. If you want to sharpen your aiming skills in time for the fight, we've compiled a list of the best water guns for men this 2022.
Best Handle: Hitop Water Gun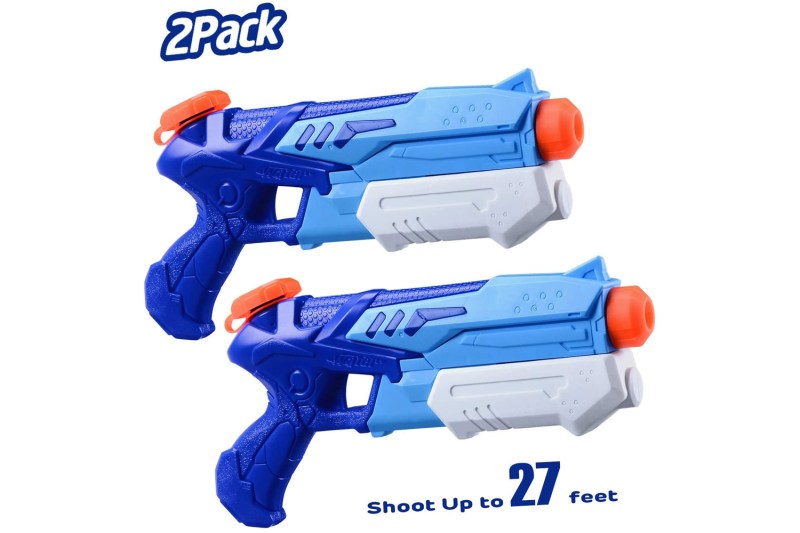 We know it's for kids, but what's going to stop grown men from picking up a water gun or two? Nothing. Available in two-pack and three-pack variants, HITOP's water guns are a bargain as you can share them with a friend or your child before the match. The guns can store up to 300 CC (10 fluid ounces) of water, unleashing a deluge as far as 27 feet. With that amount of water, we believe the "ammunition" can last you for one round. Matches can be grueling and exhausting, but fortunately, the handles are ergonomically designed to provide comfort and security to its wielder, especially children.
Best for Gunslingers: Heytech 2-Pack Water Gun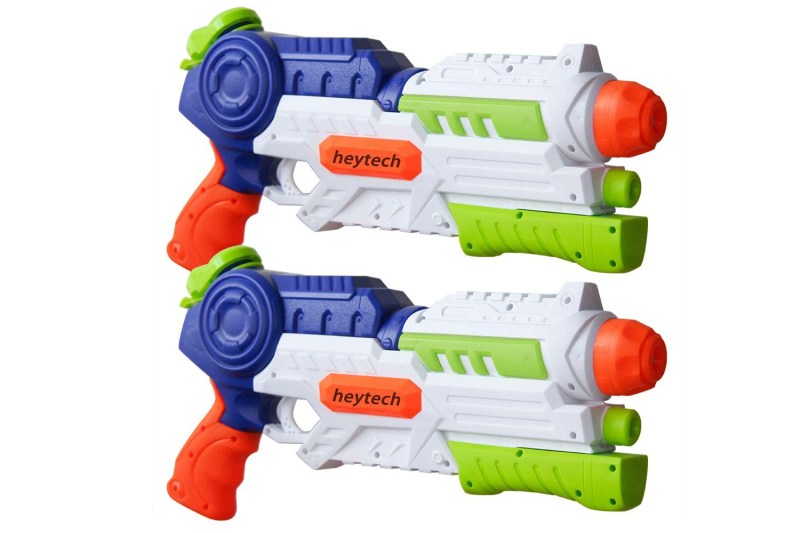 Sporting a cutting-edge design, these big boys can shoot water at 32 feet, ideal for gunslingers who want to snipe their foes from afar. They can also hold 1,200 CC water (40 ounces), lasting you for a round or two before you refill the guns and giving your squad the upper hand during the fight. To use the guns, pull the pump and squeeze the trigger to release a stream of water at your enemies. They're easy to use so long as you don't forget to move the pump. Imagine how awkward it will be if it happens to you.
Best for Couples and Friends: Joyin Phaser High Capacity Water Gun
Surprise the woman in your life with one of Joyin's water guns so she can engage in a heart-pounding 1v1 match with you, or let her (including you, of course) defeat your buddies in a squad deathmatch to show everyone who's boss. The guns' power-pump action can unleash a stream of water up to 35 feet. That's quite far. Regarding storage capacity, the Hydro Enforcer and the two Aqua Phasers can hold 35 and 15 ounces of water, respectively. Whether you or someone else will equip them, these water guns are ideal for individuals who love using guns with ample water tank capacity.
Best for Sniping: Ehpow Water Gun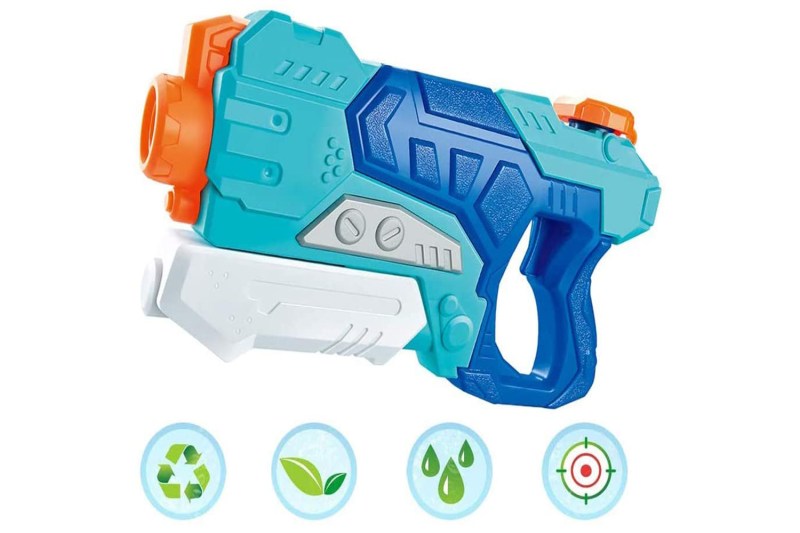 Ehpow's water gun may be a bit smaller than other models made for children (uh, manchildren). But it can fire water from between 27.2 feet to a staggering 40.4 feet, making this gun a top choice for wannabe snipers. How is that possible? Fill the water gun with 600 CC water (20 ounces), pump it a few times to build pressure, and watch it spray water at a distance! It's challenging to use this weapon during fast-paced water gunfights. Be quick on your feet and Ehpow's water gun will serve you all. Given its design, this water gun from Ehpow makes you feel like you're a gunslinger from the future.
Best Bundle: Zuru X-Shot Water Blaster Pack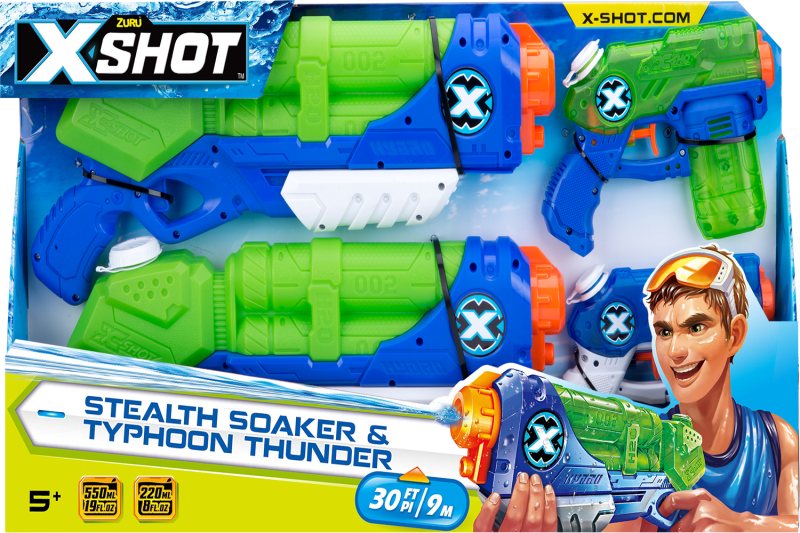 Have your kids improve their marksmanship skills with the bundle pack's Zuru X-Shot Water Warfare Double Stealth Soakers. These two water guns can hold 8 ounces of water and reach 16 feet. Compact and functional, these blasters are perfect for letting your kid execute sucker punches at unsuspecting opponents.
Meanwhile, the Typhoon Thunder Soakers are the powerhouses of the bundle pack, able to fire powerful shots as far as 30 feet accurately. With a tank capacity of 19 ounces, the Typhoon Thunder is easy to refill so you can return to the battlefield quickly and at the ready. We recommend both water guns if you plan to hold an intense family water gun fight at home. They're great for dual-wielding, too, if you want to be a kickass squad member.
Best Easy-to-Fill: Nerf Super Soaker Fortnite TS-R Water Blaster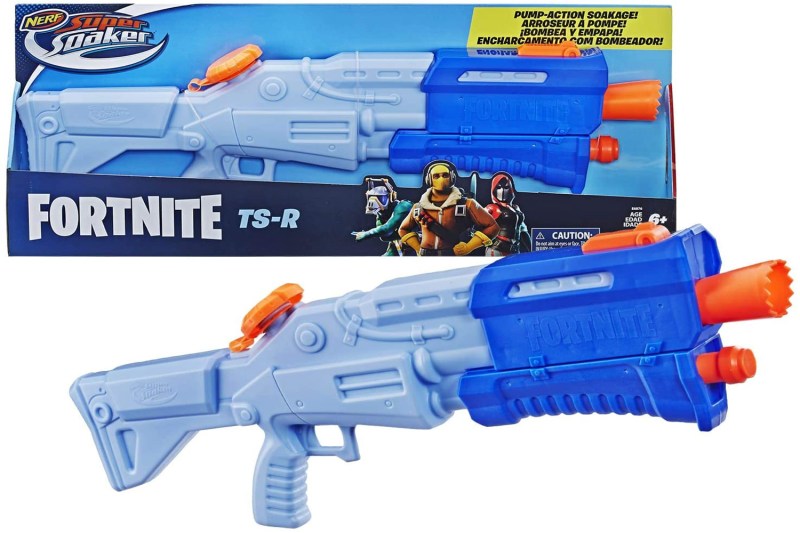 Modeled on the blaster in the online video game Fortnite, this Nerf water gun replicates the exact style and colors, only this one you can hold in your real damn hands. Quick fill and fire with a pump-action handle that unleashes massive soaker power. If you find yourself shouting, "He's one shot!" just roll with it until the 36 fluid ounce tank is spent, which can take about 41 shots. If you want to spice things up here are also the best Nerf guns for adults.
Best Value Set: Adventure Force Water Strike Aqua Squad 4-Pack Water Blaster Value Set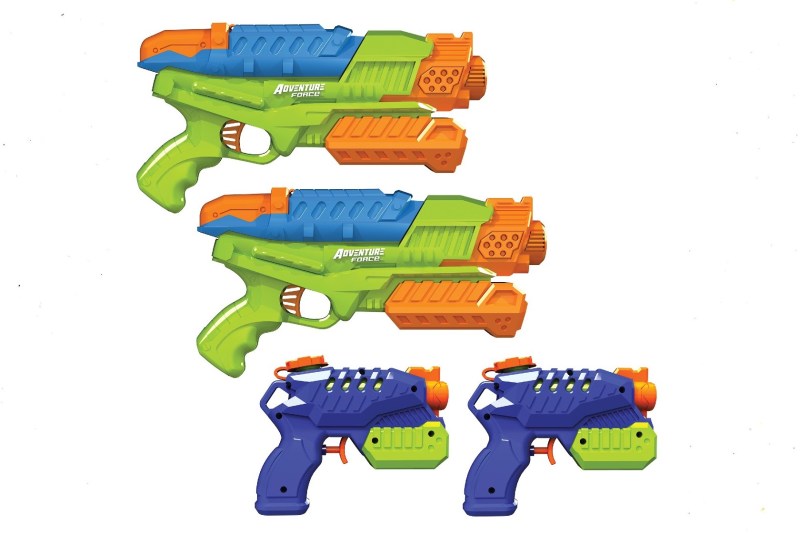 Recommended for ages 6 and up, Adventure Force's Water Strike Aqua Squad consists of two power water blasters that can blast water up to 25 feet and two large power pump water blasters that can blast water up to 30 feet. It can also be refilled within seconds with the blitzfill refill cap, making the set the perfect water guns for water battles during summertime and beach vacations with your family and friends.
Best Water Tank Capacity: Play Day Hydro Splash Water Blaster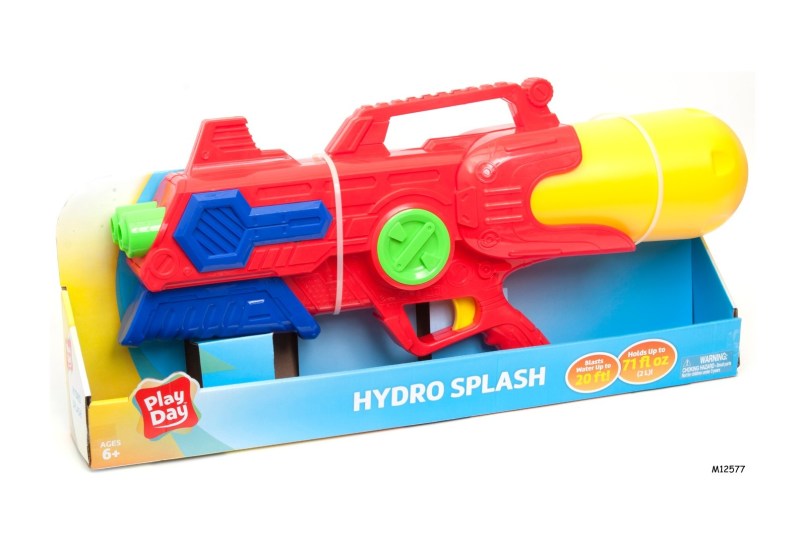 You can make your beach vacations, pool parties, and summertime getaway with your family and friends with this 24-inch Hydro Splash Water Blaster. Ideal for kids as young as 3 years old, this water gun by Play Day has a water capacity of 71 ounces and can blast up to 20 feet. You'll surely be able to hit all of your targets and turn them into a soaking mess with this gun — this water battle royale is yours for the taking.
Best Pack: Tidal Storm Aqua Master Power Water Blaster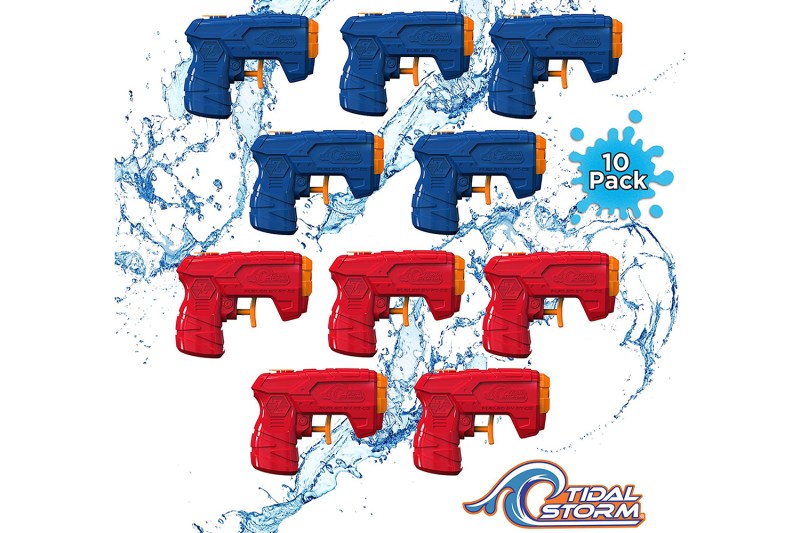 The Tidal Storm Aqua Master Water Blasters are a lot more compact and easy to handle compared to the ones on this list, but as the saying goes, they're small but terrifying. Do not underestimate these little ones because they feature a quick and easy refill action that's perfect for water battles. Not only that, but they can also launch a stream of water of up to 25 feet once you pull the trigger — perfect for channeling your inner Neo from The Matrix.
Best Multi-Purpose: Mozooson Water Gun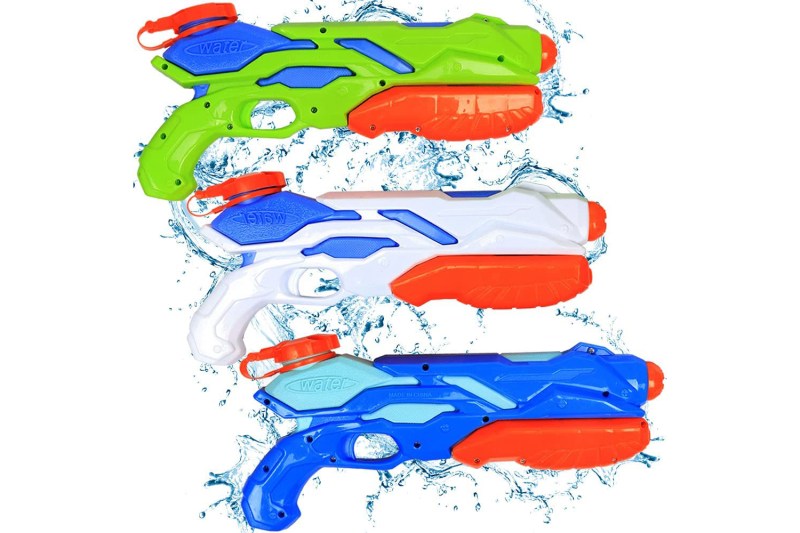 This durable, long-range water gun that can reach between 26 to 33 feet is made out of non-toxic, eco-friendly plastic that comes in bright, friendly colors. This is perfect for both children and adults who want to enjoy playing with each other during pool parties and summer festivities. However, this water gun's purpose does not end at fun, because you can also use this to train your dogs or cats or shoo your neighbors' pets away without inflicting harm upon them.
Best Range: Nerf N Strike Elite Strongarm Toy Blaster
If you want to stand out and get your hands on something unique, then Nerf N Strike Elite Strongarm Toy Blaster is probably the right for you. Unlike most water guns, this quick draw and fast-firing water gun from Nerf has a flip-open rotating barrel that can hold six darts, which can be shot up to 90 feet. With this, not only do you have the most uniquely designed water gun, but you also have a lot of advantages when it comes to water battles during your summertime vacation.
Best Minimalist: Stream Machine Water Gun Launcher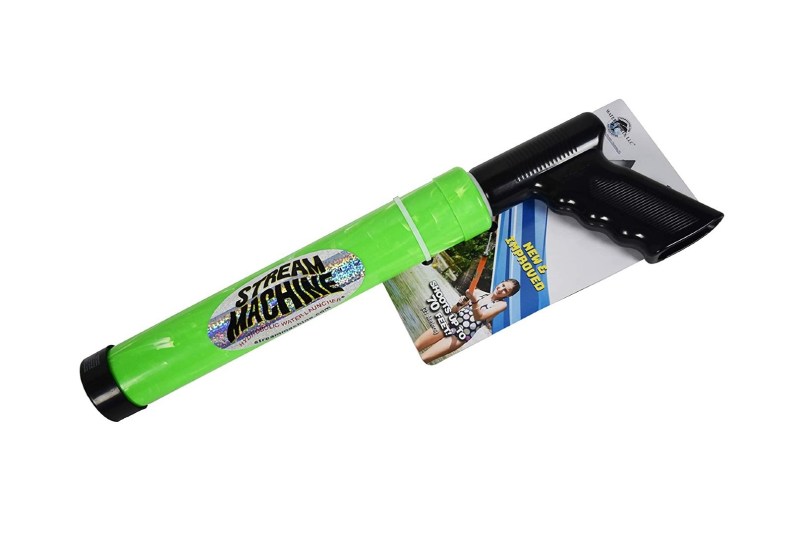 For people who aren't fond of busy designs, this minimalist water gun might just be the perfect one for you. This 17-inch Single Barrel Water Launcher by Stream Machine can launch a steady, powerful stream of water up to 40 feet or more with great accuracy. It can also reload almost instantly once you submerged the product in the water. This one can last a lifetime as it is made out of high polymers and vibrant colors that will not chip or peel.
Best for Kids: Kidpar Water Guns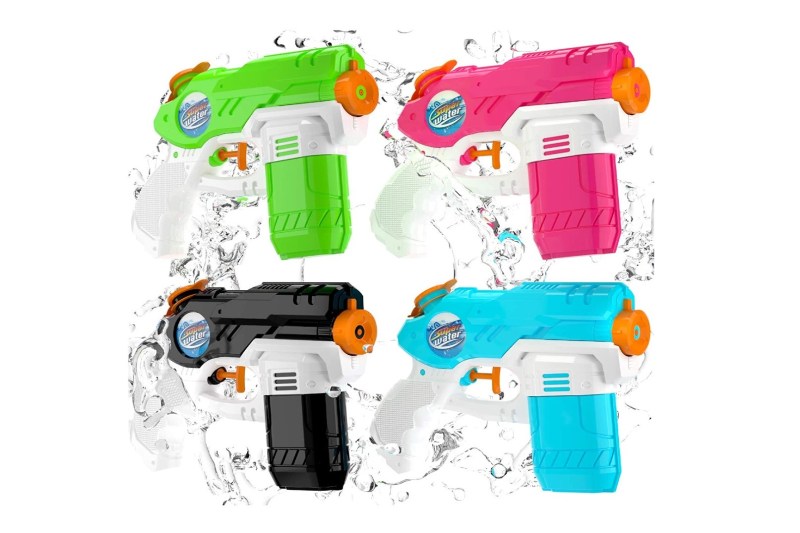 The KIDPAR's 4-pack water guns come in a variety of colors, so kids can choose a color of their liking. You don't have to worry about the safety of children with these water guns as they are made of high-quality ABS plastic material with a leak-proof design. Plus, their round edges can protect the kids from getting harmed — all of this while having the capacity to do the same things other water guns can do.
Editors' Recommendations