If you're thinking about adding weightlifting to your exercise regimen, you may want to start out with adjustable dumbbells. They come in different designs and made out of various materials, but all of them will help build your muscles and get you in shape. Adjustable dumbbells will also help you save space in your workout area, compared with traditional dumbbells that will require a whole rack. Here are some of the best adjustable dumbbell deals that you can shop right now, though you have to hurry if you want to take advantage of them because we're not sure how long they'll stick around.
Best adjustable dumbbell deals
Gikpal 5-in-1 adjustable dumbbell —

Mangko adjustable dumbbell set —

ProForm 50 lb. Select-a-Weight dumbbell set —

Bowflex SelectTech 552 adjustable dumbbells —

Ativafit 66 lb. dumbbell set —
Gikpal 5-in-1 adjustable dumbbell — $150, was $470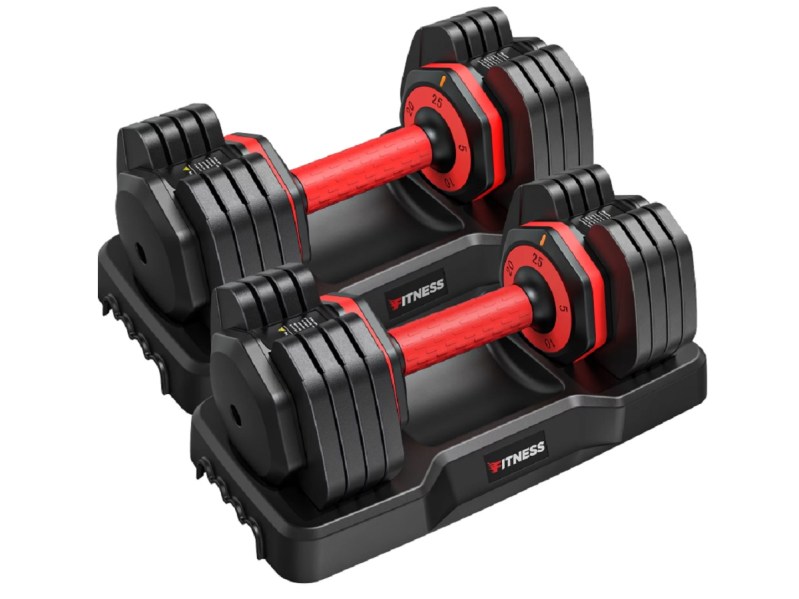 The Gikpal 5-in-1 adjustable dumbbell offers five weight settings from 5 pounds to 25 pounds, so you can customize your workouts and allow other members of your household to use them as well. You just have to place the dumbbell on its base, rotate the grip to your desired weight as shown on the handle, then lift it up, triggering the safety lock. There's an eight-lock structure to make sure that the plates are secure, while the non-slip handle improves your grip. The textured pattern on the grip is also durable and odorless, so that the adjustable dumbbell will last for a long time.
Mangko adjustable dumbbell set — $230, was $300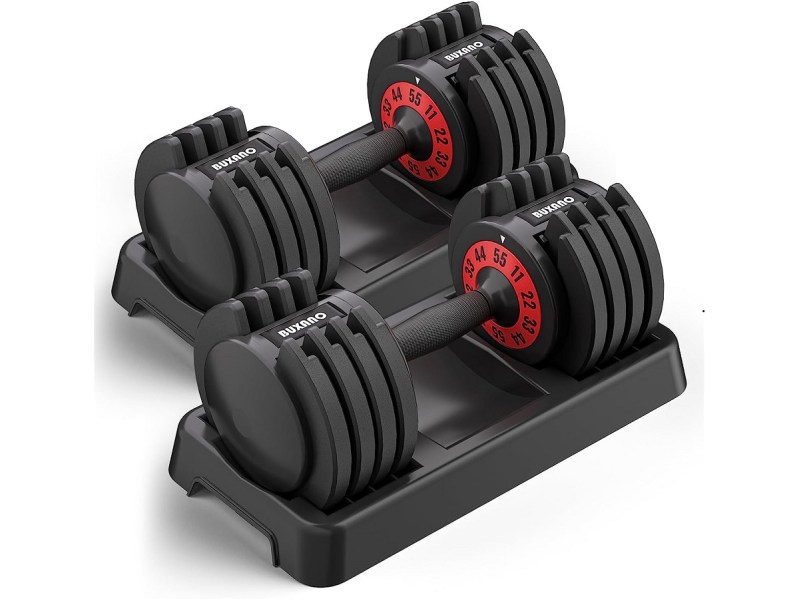 You can use the Mangko adjustable dumbbell set in 11-pound increments, starting from 11 pounds to as heavy as 55 pounds, for a diverse workout experience. It only takes a second to switch the weight that you put on the adjustable dumbbell, but you don't have to worry about any safety issues because the plates are secured to the handle by eight locking notches to maintain stability. The Mangko adjustable dumbbell also comes with a non-slip nylon handle for a better grip, so that you can focus on building your muscles and following your workout routine.
ProForm 50 lb. Select-a-Weight dumbbell set — $300, was $349
The ProForm 50 lb. Select-a-Weight dumbbell set starts at 10 pounds per dumbbell, and goes up by 10-pound increments to as heavy as 50 pounds. This will allow you to customize your training, depending on the purpose of your lifting weights. You can be sure of their durability as they're made of steel and hardened plastic, and you can store the adjustable dumbbells on their storage trays when they're not in use. You can use the ProForm 50 lb. Select-a-Weight dumbbell set with a free trial from the iFit app, which offers trainer-led video workouts.
Bowflex SelectTech 552 adjustable dumbbells — $429, was $549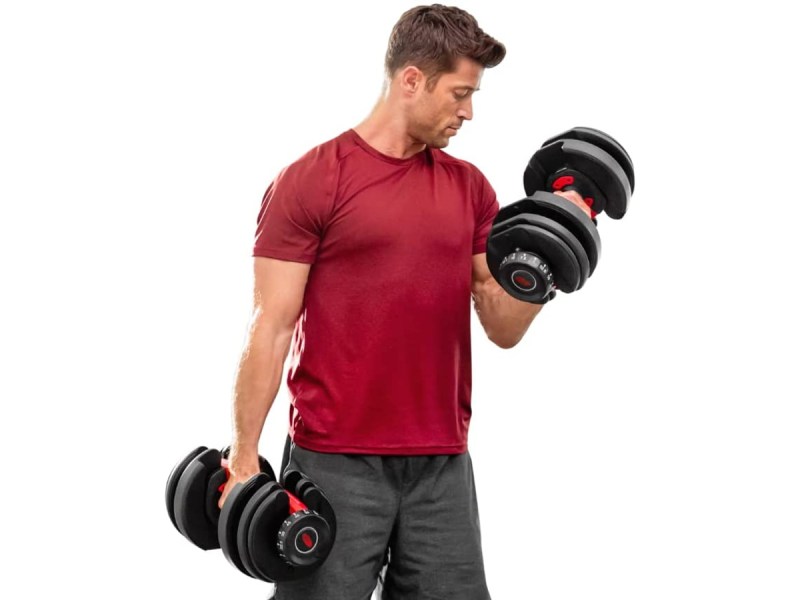 The Bowflex SelectTech 552 adjustable dumbbells are in our list of the best dumbbells as the recommended option if you're looking for user-friendly adjustable dumbbells, with 2.5-pound increments up to 20 pounds, and then going at 5-pound increments after that. They start at 5 pounds each, and go as heavy as 52.5 pounds. They allow you to adjust the weights granularly for workouts that need small additions in weight. Like most high-end dumbbells, they come with trays, although they can sometimes stick with a full load, that's not too big of an issue. Overall, these sturdy weights are a good stopgap between your home gym and signing up for a full-time gym membership.
Ativafit 66 lb. dumbbell set — $470, was $600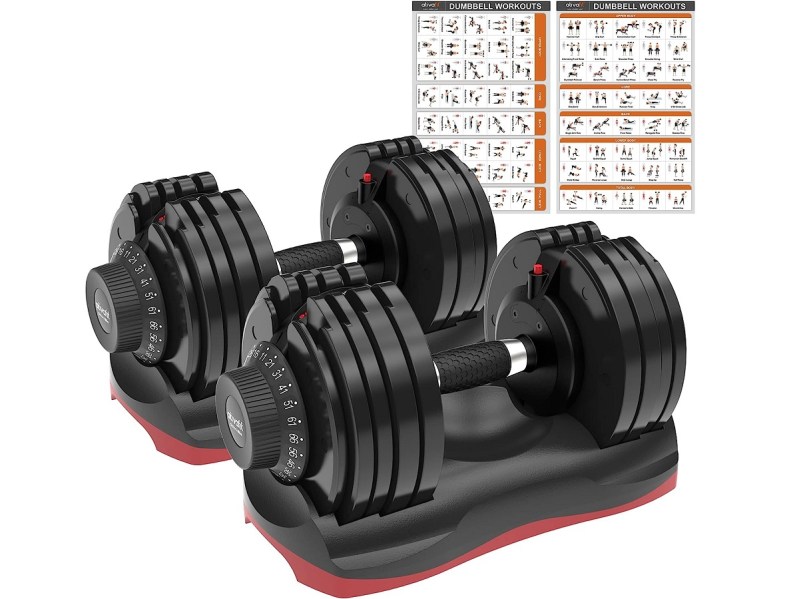 The Ativafit 66 lb. dumbbell set features 12-in-1 adjustable dumbbells, with weights ranging from 11 pounds to 66 pounds. They're space-saving because they are similar in size to a shoe box, and you can quickly adjust their weights in just a few seconds by simply turning a dial thanks to Ativafit's Dial Tech. The adjustable dumbbells come with metal inner discs and steel weight plates, which amekt hem more durable than other products with plastic components.
How To Choose a Dumbbell
In the case of dumbbells, size does matter. Make sure you pick a size and weight range that aligns with your current and future fitness goals. Depending on the kind of exercises you like to incorporate into your workout routine, you might require different dumbbell weights. In this case, you have a few options: You could pick up a few cheap dumbbell sets at varying weights, or you could score a deal on a set of adjustable dumbbells.
Fixed Dumbbells: These dumbbells come in a predetermined weight capacity (10 pounds, 15 pounds, etc.) and are typically what you're used to seeing at your local gym. They're durable, classic, and get the job done. Some fixed dumbbells even come with a rubber coating on both ends to protect your floors, which may be a worthwhile upgrade if you're using these weights at home. Multiple sets of fixed dumbbells can take up a lot of room, so if you're low on space, only order what you think you'll need to accomplish your workout.
Adjustable Dumbbells: If you don't have a ton of spare room for workout equipment, consider investing in adjustable dumbbells. These most often come with a set of metal weights you can attach to rods that allow you to customize your dumbbell workout routine — it's simpler than it sounds. Spin-lock adjustable dumbbells are great for beginners and can grow with you as your strength increases, and your workouts get more intense. Adjustable dumbbells are compact, versatile, and can be hidden away in a closet or under the bed when not in use.
Editors' Recommendations