A great leather jacket occupies an iconic place in a man's wardrobe. If you don't have one, you probably want one, or at least have admired one from afar. From Marlon Brando in The Wild One to Tom Cruise in Top Gun, and onto Chris Evans' Captain America in any of The Avengers movies, the material represents an all-American rebel spirit. Yet that sense of cool also comes with an ethical dilemma. Like Brando's brand of toxic masculinity, that classic leather motorcycle jacket doesn't necessarily conform with contemporary values. Groups like PETA push for vegan alternatives to leather that reproduce the archetypal style without harming animals. Yet the use of alternative materials — polyurethane is a common synthetic leather substitute — can come complete with their own moral baggage, made from unsustainable materials that can end up in landfills and sourced from a petroleum industry that isn't exactly noble. These days making a style statement comes with some tough choices.
This issue first came to this writer's attention when attending an event for the fur industry. Although this luxury category doesn't stray into the menswear arena very much these days, it's hard to miss the headline-grabbing attention it's been getting; particularly with California's recent ban on the sale of fur clothing and accessories. The exhibition I attended included a convincing case for fur as a truly sustainable material. A fur coat has an intrinsic value which contributes to its having a longer lifespan. They can often be repurposed to fit different sizes and fashion trends, and it's ultimately biodegradable.
The California law does provide exceptions for cowhide, deerskin, sheepskin, and goatskin … the materials that we commonly associate with leather jackets. But given the sentiment, I couldn't help but wonder if leather products aren't next on the proverbial chopping block. In fact, a Vegan Fashion Week, organized this fall in Los Angeles, included 54 different companies that eschew leather in favor of alternative materials. Consumers who have chosen vegan dietary habits are rapidly recognizing that their moral stance should also be reflected in their wardrobe choices. The endorsement of celebrities like Moby and Mena Suvari just adds to the trend's relevance.
Beside the obvious — that leather comes from animals who have to die to surrender their voluptuous skins — leather can also get a bad rap for some of its other environmental costs, including the industry's use of chrome to tan most hides, resulting in toxic waste being dumped into water systems.
Designer Frank Zambrelli holds a master's degree from Glasgow Caledonian University and is currently Senior Advisor to its New York City-based Fashion Center that focuses on the intersection of profitability and sustainability. As Zambrelli puts it, "The challenge remains that, if you're a vegan, you don't want to kill a sentient being. There's no argument I can make that will make leather work for you. On the other hand, as a designer, I don't want anybody to limit the number of crayons in my box. It's great to have choices. The big difference is that much of the product made for fast fashion holds little value, so it's more disposable. A good leather jacket is an investment: I still have a jacket I got in school that's now 35 years old."
"We feel that leather and sheepskin are more of an organic product, where humans are using all parts of an animal that is otherwise being used for food. If the byproduct of food is not used then we would see a lot of extra waste going into landfills," says Jacky Clyman, EVP of Cockpit USA, a made-in-USA leather jacket company that focuses on military heritage styles. "Leather and sheepskin products are also not discarded like other versions of apparel and are usually passed on from one generation to another, which has a lot more meaning and usefulness than a PVC, PU, or even a vegan leather piece. Even using lab-generated leather products would not solve the waste management of the leftover skins." Clyman also sees clients returning with jackets they've inherited from fathers, grandparents, and uncles that have a priceless sentimental value, and are now being repaired and refreshed for a new generation to wear.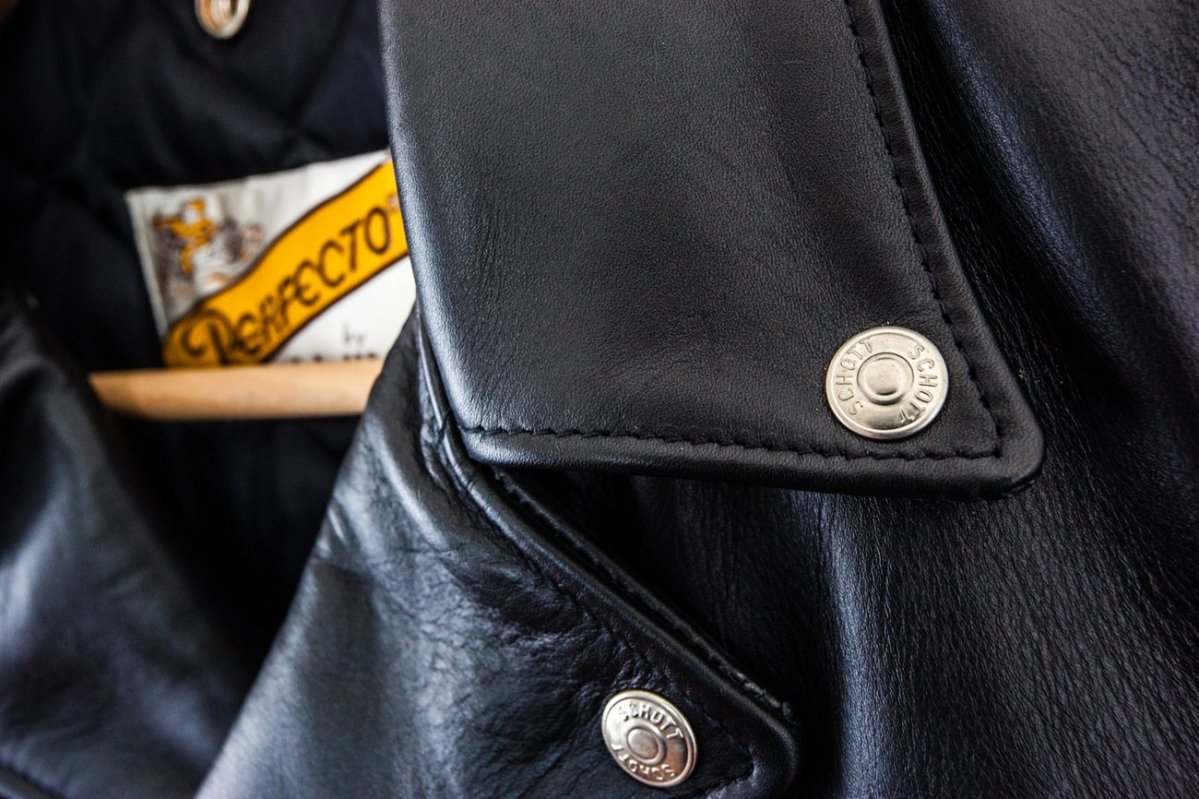 Andrew Dent, Vice President of Library and Research Materials at Material ConneXion, a materials consultancy firm, was quoted in a story about this issue saying, "The tanning process for leather has traditionally been awful. People don't live very long if they become a tanner in certain parts of the world." But he also says in the piece that when synthetic leather wears out, it isn't pretty. "What constitutes 'worn out' in a leather is different from what constitutes 'worn out' in a polyurethane."
Now if, of course, you are a committed vegan, and are hoping that humans move toward a society where we don't eat meat (and, therefore, there won't be any of those animal skin byproducts); we'll still need to clean things up a bit to make sustainable, societally responsible choices. To be blunt, there's good faux leather, and bad faux leather.
You won't see as much faux leather made from polyvinyl chloride (PVC) as you might have in the 1960s and '70s, but the material can still be found in the composition of some. The problem with the polymer is that it can release dioxins and other toxic substances. Since PVC uses chemicals called phthalates, which are highly toxic, to make it soft, it's even been banned in some countries for food packaging, anything related to children and babies, and many healthcare institutions are abandoning it.
Lately polyurethane (PU) is a more commonly used material. As Zambrelli puts it, "It's still no angel. It's made from fossil fuels, doesn't biodegrade, and can be carcinogenic."
The good news is that there are some other materials coming onto the market that deserve some attention, including faux leather products being developed from pineapples and apples. Talk about being made from food byproducts! Piñatex uses pineapple leaf fibers, left from the pineapple harvest, to create a leather substitute. In fact, once the fibers have been stripped from the leaves, the remaining "biomass" can be used as fertilizer or biofuel, so nothing is wasted. Italian brand Altiir has a classic motorcycle jacket made from the material that, while not thoroughly convincing, does have its own kind of textured, chill aesthetic.
For the purists among us, British brand Gola is testing a vegan initiative this season, partnering with the Vegan Society for a capsule collection. The shoes Gola produces have undergone something called Ve-MAP testing, which identifies if any trace animal DNA was utilized in the shoe manufacturing process. While we haven't seen the process being applied to any faux-leather jackets, we're sure it's only a matter of time, given market pressures.
Shopping has become a regular minefield, with issues about sustainability, fair-trade, climate change, and more informing our decisions on everything from grabbing a coffee to buying a home. The good news is that, whether you choose to go for a leather jacket that will have a legacy, or a vegan alternative that may help preserve the planet, you're now equipped to make a decision that will maintain your sartorial, as well as your moral integrity.
Editors' Recommendations