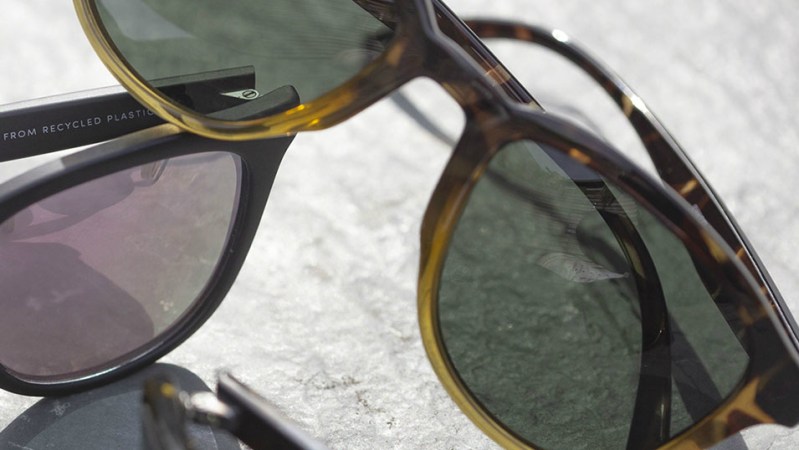 When the Pacific Ocean has a swirling vortex of discarded plastic the size of Texas floating in the middle of it, you know there's something wrong with the way we handle plastic. From clam-shell takeout containers to ubiquitous, sea turtle-choking plastic bags, a ton of our single-use plastic waste finds its way into our rivers, streams, and eventually the ocean.
In order to prevent the Pacific Ocean from ending up as one big plastic soup, Sunski has taken its environmentally friendly business and manufacturing processes one step further and created an entire line of sunglasses sporting fully recycled plastic frames.
"We believe that companies have a responsibility to make the world a better place," Sunski co-founder and CEO Tom Stewart said in a press release. "Since the beginning, Sunski has donated 1 percent of all sales to environmental non-profits fighting the effects of climate change. Now, after years of behind-the-scenes materials innovation, we are introducing our first-ever collection of frames made of entirely recycled plastic. It is the first of many sustainability initiatives over the next three years that will transform the way we make our products."
Constructed from durable, yet flexible recycled plastics molded into frames, Sunskis new collection comes in three classically shaped, but updated designs — all for just $68 each.
A thick brow line and contrasting color on the bottom of the frame make the Manresa Sunski's boldest addition. Pair with dark jeans and a light summer T-shirt for the perfect warm weather outfit.
With design cues taken from both the wayfarer and the classic Clubmaster sunglasses, Sunski's Portola frame manages to pull it all together with a subtle brown-on-tan tortoiseshell pattern and ice blue lenses.
Inspired by 1970s ski aviators, Sunski has reworked the design of these chalet-worthy sunglasses to be appropriate for any elevation.
For more from Sunski, check out their full collection, including our favorite Treeline sunglasses, here. If you're looking for other options that aren't bound by environmental ethics (what are you even doing?), check out our round-up of the best spring and summer shades.
Editors' Recommendations