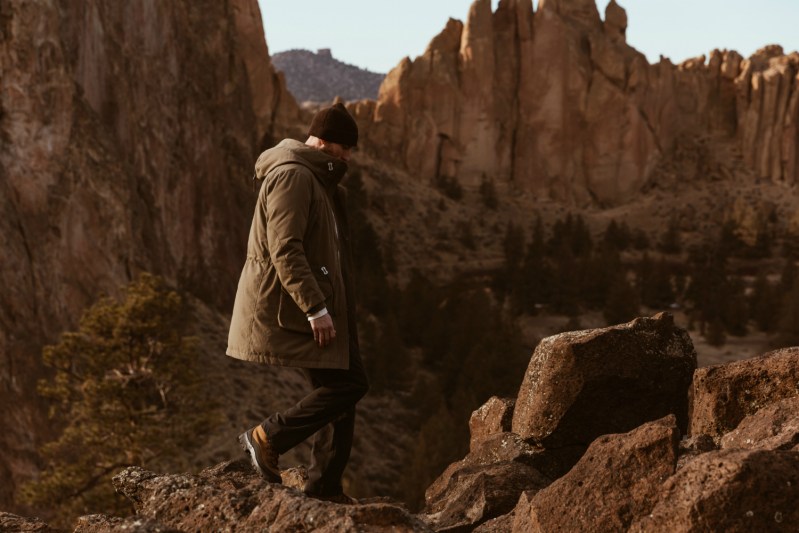 Winter is the season of campfires. Roasting marshmallows over a campfire in the crisp winter air is a magical experience that just can't be recreated any other time of the year.
It can have its downsides, though, especially if you're unlucky enough to get burned by a rogue spark. If you've ever been stung by the popping embers of a campfire and lost one of your favorite pairs of pants to the fiery fates, you need to check out the latest apparel collection from Snow Peak. The outdoor lifestyle brand has just dropped a new line that begs the question: How did no one think of creating a fully fire-resistant line of camp clothes before?! Seems like a no-brainer to us.
Snow Peak's Fire Resistant garment series includes four new styles: the FR Down Pullover, the FR Down Jacket, the FR Rain Jacket, and the FR Rain Trench.
Each is designed with a four percent Aramid (the same fabric used in firefighting suits) shell and a special coating that won't melt in the face of your next toasty campfire. In addition to their flame-retardancy, each new style is also water resistant and built for both comfort and functionality, with highly breathable materials and all the pocket space you would expect from any high-quality hiking gear.
You can also up the coziness factor of the Jacket and Pullover styles by opting for a 90 percent white goose down filling. Each style in the series is available in three colors: olive, black, and brown.
It's no secret that we are at The Manual love spending quality time in the great outdoors, and as campfire enthusiasts, we tip our proverbial hat to Snow Peak for this clever new collection. The Snow Peak Fire Resistant garment series is available now from Snow Peak stores in Soho and Portland or on the brand's official website, so be sure to snatch up your favorite style this campfire season.
For other fire resistant clothing options, check out the 100 Year Pant. And for a deeper look at all of Snow Peak's great offerings, take a look at Snow Peak and Pendleton's collab blanket, the brand's Slim Iron Grill table, and an overview of all their great gear.
Editors' Recommendations