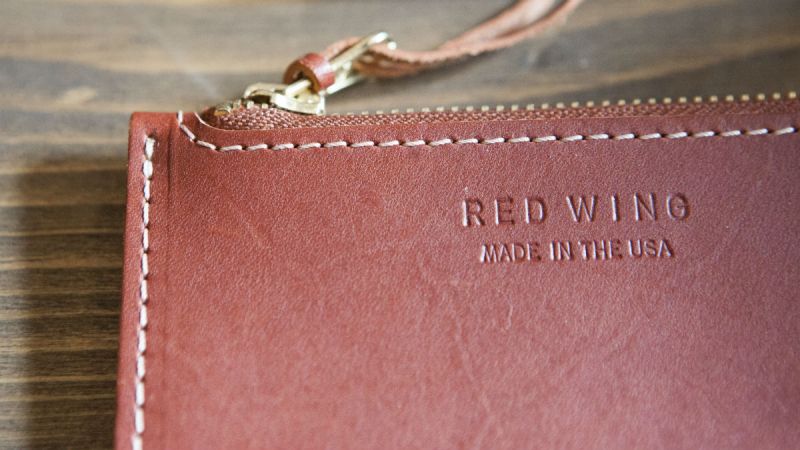 Red Wing Heritage, a workman's staple for quality boots, is hell-bent on equipping us with all the leather goods our little hearts desire.
The launch of Red Wing Heritage's new collection sees wallets, gloves, belts, bags, even coasters join the ranks of premium leather offerings from the crimson-winged label. Unlike many accessories "collections" introduced by staple-footwear brands, there isn't just one belt and one wallet in the assortment. Try 18 different wallets accounting for six different styles and three leather colorways (top of our wish list is the vegetable-tanned leather Card Holder), along with eight belts, seven gloves, four coasters, and one end-all, be-all dopp kit.
Every accessory is designed with sharp simplicity and southwest style sensibilities. Red Wing Heritage uses premium leathers from the company's own in-house S.B. Foot Tanning Co.; each piece stamped the iconic logo and a "Made in the USA" brand.
Red Wing Heritage got its start more than a century ago making premium boots — and has kept the standard of its product to the same high quality — so it's clear in this special expansion that we're dealing with leather goods that are built to last and look handsome for decades to come. If you can't say that already for your wallet, belt, and gloves … it's time to get better ones.
If you're too stoked to wait for your leather order in the mail, you can purchase the goods old-school style at a New York City pop-up shop located in TriBeCa neighborhood. The store signals the first time in Red Wing Heritage history that the entire men's and women's collections, care products, limited edition styles, and accessories — as well as the new leather goods — will be available in one shop. "It will be the best assortment of Red Wing Heritage found in the U.S." says a representative for the brand.
The pop-up will also house the recently released, limited-edition Irish Setter collection, the features throwback styles resurrected in modern styles. Seriously, these boots might be the best shoes introduced in the past five fall seasons, perfectly blending style with burly functionality (you'll look like you just chopped wood for an hour without any of the sweat and debris).
The Red Wing Heritage pop-up shop will be open through spring 2018 (more info and address here), however there's no word on whether the new leather goods will have an expiration date (please no, please no). Either way, we know what everyone's getting for the holidays. And we can guarantee nobody's gonna be re-gifting or asking for the receipt.
Editors' Recommendations