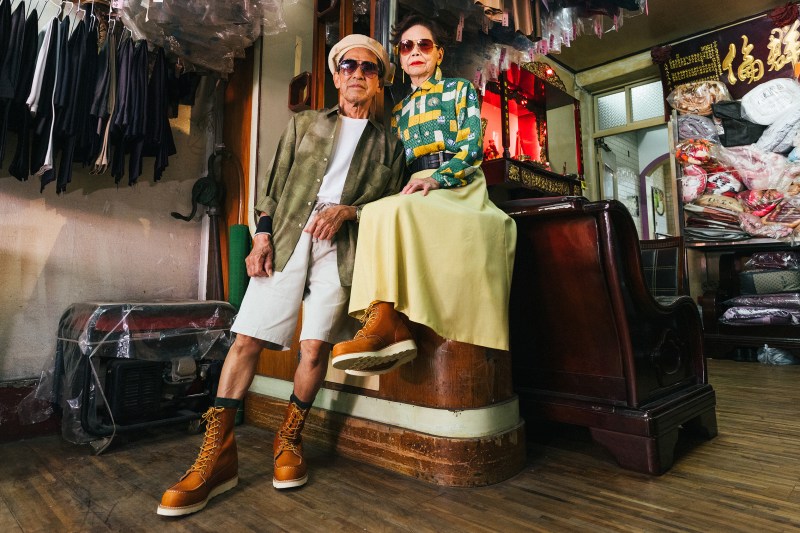 For most of their lives, Wan-ji and Sho-er, known in the West as Mr. and Mrs. Chang, have run their small dry-cleaners in Taiwan making a modest income. But one problem they had to deal with was what to do with the unclaimed articles of clothing that had stacked up over the years. So they began modeling them via an Instagram account; a couple of octogenarians looking dope in vintage clothing that hadn't aged a day. It caught fire, and it also caught the attention of American bootmaker Red Wing Heritage. On March 17, the company announced its official partnership with the Changs' Want Show Laundry in a one-of-a-kind collaboration.
Related Guides
Claiming inspiration from the Changs, Red Wing Heritage, maker of the essential Classic Moc work boot and everyman Iron Ranger, has dug deep into its vault and listed some rare and never-before-seen iterations of its classic styles, as well as some that became nothing more than a twinkle in a designer's eye. , the 30 styles all have an opening bid of $200 and remain up through March 24.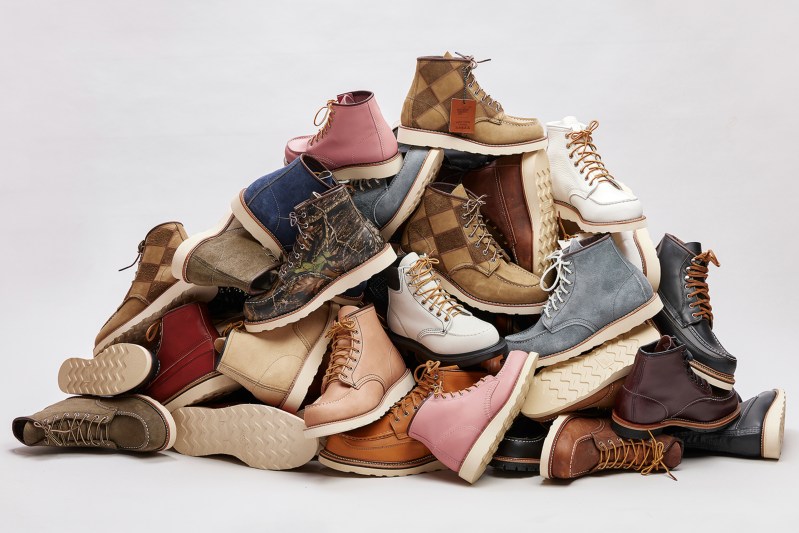 The offerings, while limited in size, are nevertheless a fascinating peek at past and potential releases that could have been. An eight-inch NCAA March Madness Moc from 2019? It's there in basketball-pebbled leather. A scrap-leather patchwork boot from a scuttled sustainability initiative? Also present. One of the most exciting additions was a canoe-moc style that, while only released in a single color, was mocked up in several hues. Simply scanning the eBay page is a treat, but diving into each description, with their aborted plans, what-ifs, rare materials, and hyper-exclusive regional releases, is worth the time for any shoe aficionado.
While one might look at this as some long-overdue spring cleaning by a company that has more than 100 years of history under its belt, the initiative is representative of a greater trend among clothing manufacturers waking up to the waste the industry creates. Fjallraven's Samlaren, which was announced March 1 and features items crafted from remaindered or deadstock material, is only one of numerous recent examples, and makers both small and large are feeling the impetus to clean up their act. Red Wing Heritage, with its latest campaign, is trying to learn how, as a heritage bootmaker, to leave a smaller footprint.
"This collaboration not only celebrates them as people, it also celebrates the important work [the Changs] are doing," Aaron Seymour-Anderson, Red Wing Heritage's head of creative, tells The Manual. "It has been an honor to collaborate with Want Show Laundry on this collection focused on timeless products, boots made of our own scrap leather, and the importance of circular fashion."
With the proceeds from their rarities and oddities sale, Red Wing Heritage has committed to support the Changs' Want Show Laundry Redefine Project. Mom-and-pop laundries in Taiwan waste limited resources on cleaning and repairing items that are never claimed, and the WSLRP provides funds to offset these losses, as well as putting excess money into various Taiwanese charitable areas. Everyone wins with this latest collaboration, but if we're judging by photos alone, the Changs are having a blast.
Editors' Recommendations