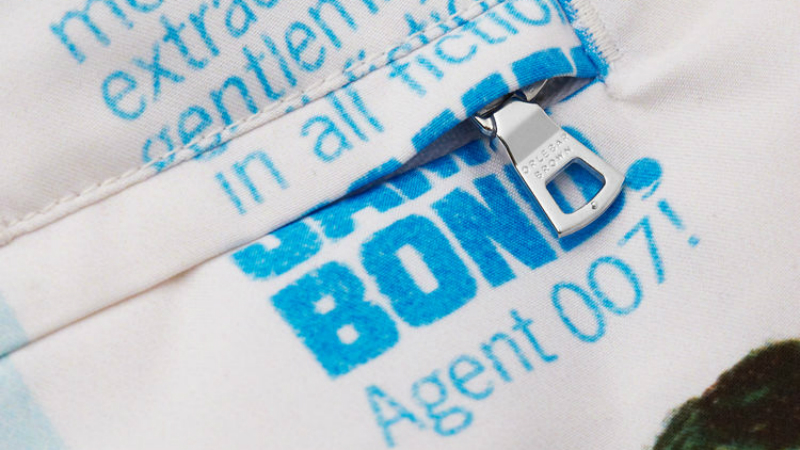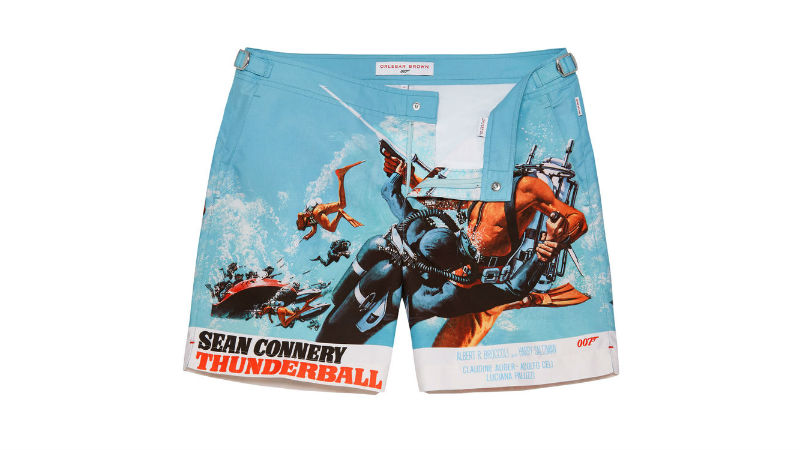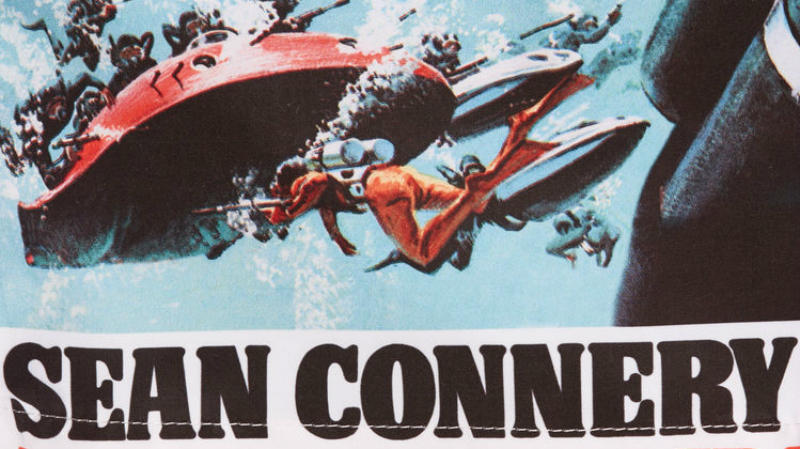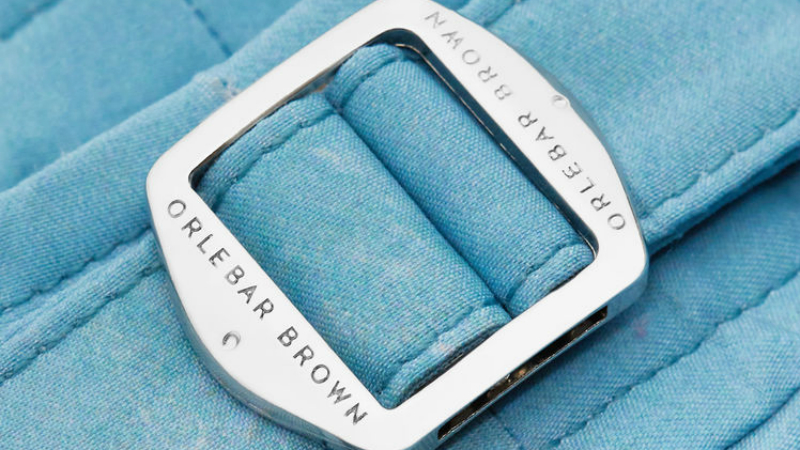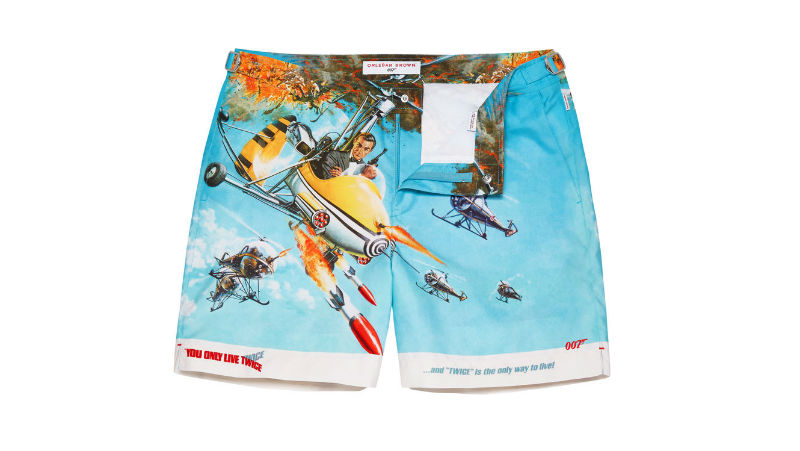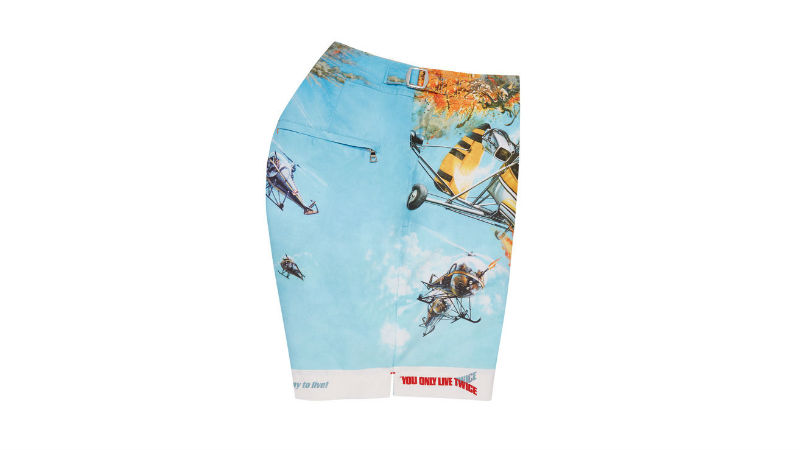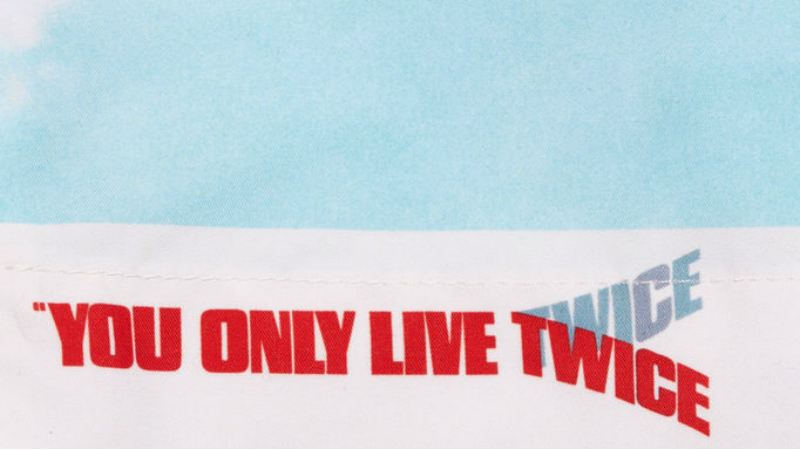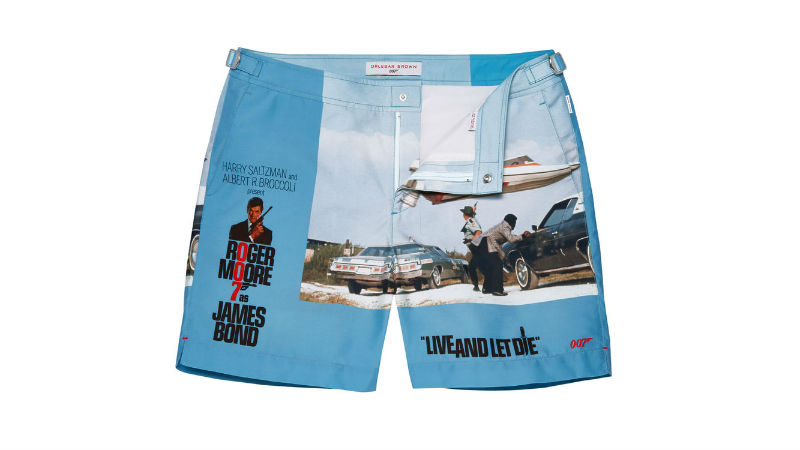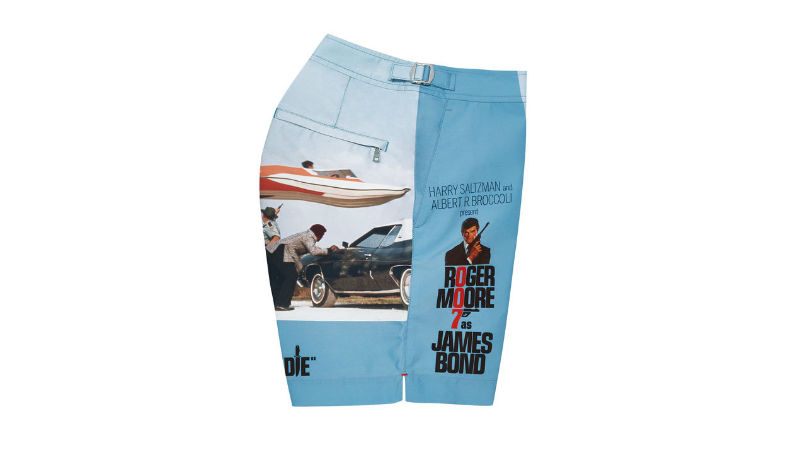 Orlebar Brown is making us cry puddles of shaken martini. The British clothing brand just released an exclusive edition of its classic Bulldog swim trunk silhouette in collaboration with James Bond (well, the people who manage the James Bond franchise).
Bond would never be caught crying over his computer but we just can't contain ourselves. This line of vintage-inspired, 007-themed trunks is money(penny).
Each pair of shorts — which comes with a nearly $400 price tag — in the Bulldog 007 collection depicts an iconic beach scene from four early James Bond movies. The prints are either film stills or old promotional photos, but share the trait of being bright, colorful, and classic AF.
Bulldog 007 Dr. No features a scene from the original James Bond film, Dr. No, where Sir. Sean Connery begins his journey as the suave British super-agent. In the image on the Bulldog shorts, Bond stands opposite Honey Ryder (the ultimate Bond babe) in her white bikini on the beach in Jamaica. This image was originally used as a promo shot to put in movie theater lobbies.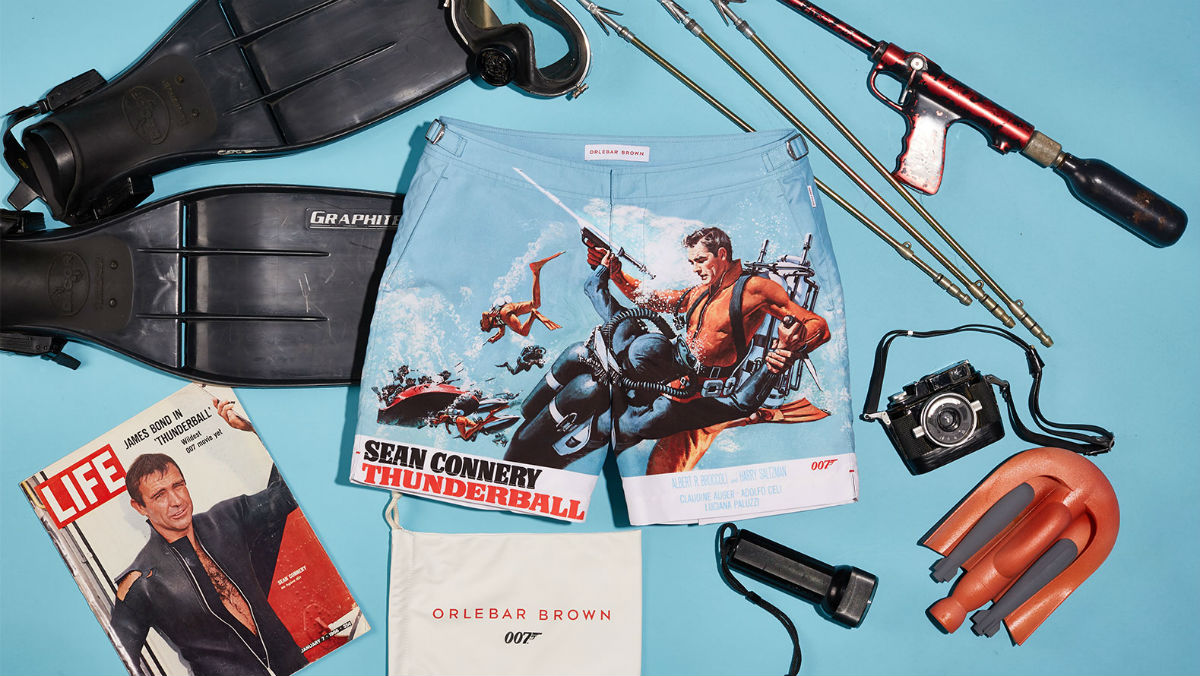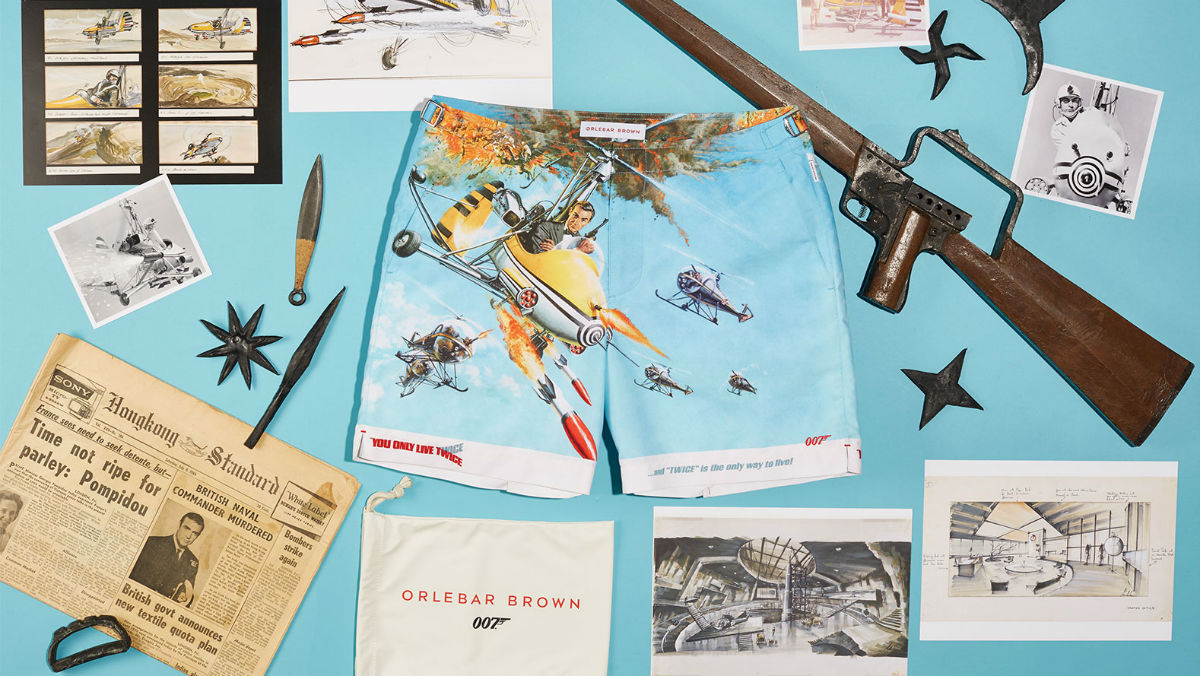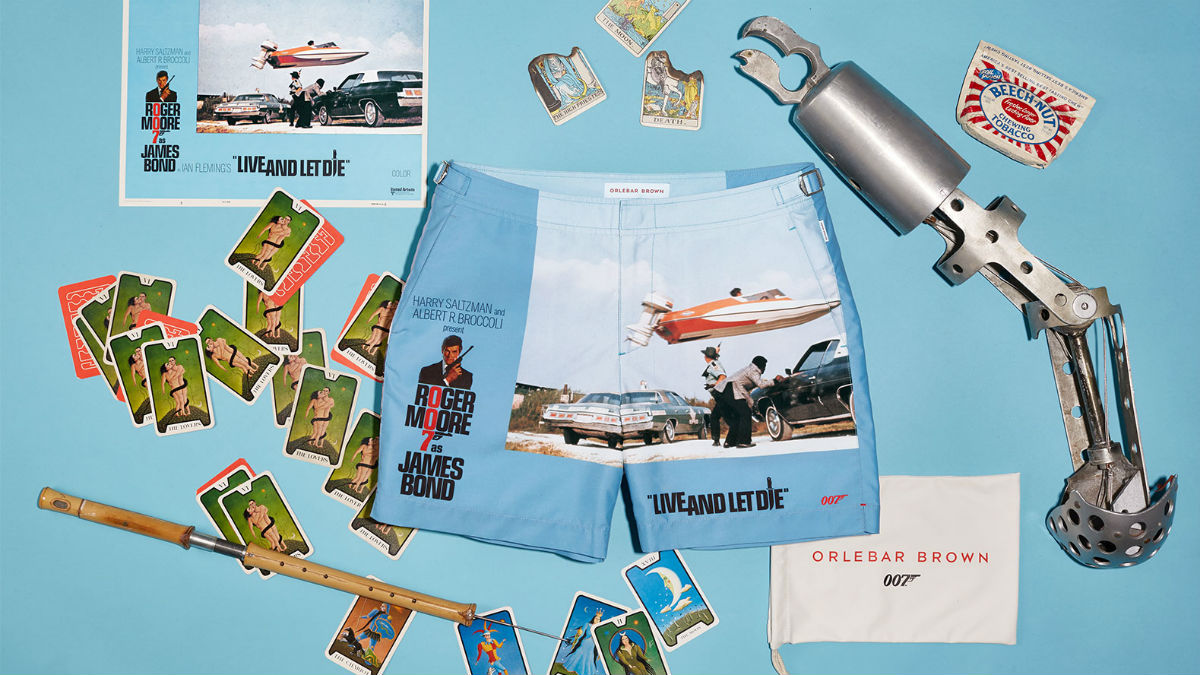 Bulldog 007 Thunderball is from, well, Thunderball, when Bond fights a SPECTRE agent with a spear gun underwater. This scene plays out on the trunks while a thick line at the bottom of the legs bears the film title.
Bulldog 007 You Only Live Twice shows a calm and cool Bond piloting the Little Nellie autogyro while being chased by SPECTRE helicopters. In fact, he's so chill that despite dodging fiery missals and an explosion in the background, Connery doesn't even have his hands on the steering stick.
The last pair of trunks, Bulldog 007 Live and Let Die, features Roger Moore as Bond launching a Glastron GT-150 speedboat out of the water to evade his pursuers. In true Bond style, the boat is caught mid-flight as it leaps over two cars during the most iconic chase scene of the movie.
The quartet of shorts is made of 100-percent, quick-drying polyester sourced and manufactured in Europe. They have an inside seam of 6 inches and a shaped waistband with adjustable side fasteners. While Orlebar Brown doesn't technically call the Bulldog a swim trunk, the brand does call it a "short you can swim in" — the design is patterned on a man's traditional tailored trouser.
Orlebar Brown also offers a five-year quality guarantee, which helps us rationalize the $395 price. Not to mention, the trunks are limited-edition.
But honestly, if they fit like a potato sack, we'd still covet a pair for their iconic James Bond prints. Which reminds us, we should probably wear them while we're building the soon-to-be-released 007 LEGO car.
Editors' Recommendations