Keanu Reeves is one of the most beloved actors in Hollywood; with his lovable and approachable demeanor and his image as the everyman, you feel like you know him without ever meeting him. Of course, his professional career saw him revolutionize the science-fiction genre with his starring role as Neo in The Matrix. Then again, revolutionizing the action genre in John Wick, he is also well known for his off-screen persona and one very unique quirk in men's fashion.
The actor has become known as one of the most generous and genuine people in the industry with his penchant for donating to his movie crews and his frequent sightings riding the subway like any regular New Yorker. But his tendency to revolutionize the world around him doesn't stop with his work on screen, as he is also revolutionizing his shoe style as he walks red carpets. If you have been paying attention, while others hit the carpets with their best dress shoes to complement their suits, the Bill & Ted actor elects to don his signature motorcycle boots.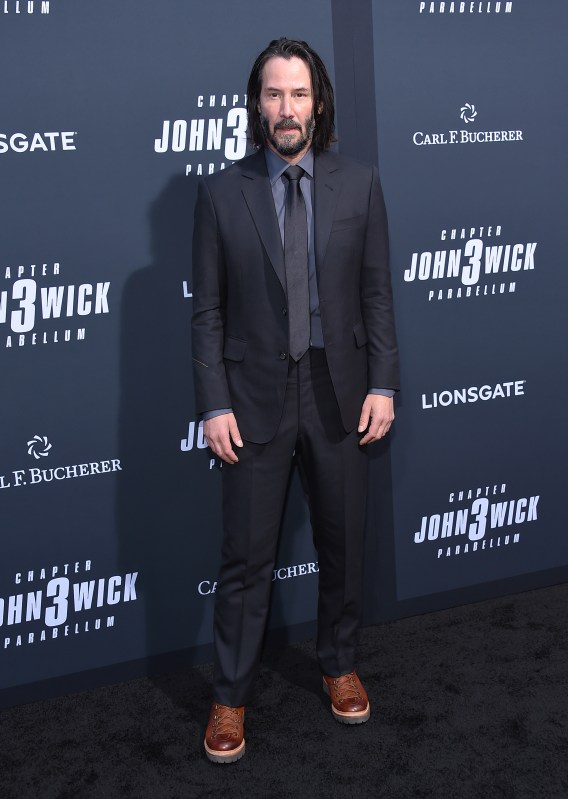 He adds his own flash to his style
Just like Ralph Lauren, Keanu Reeves stands out among the high fashion around him by going super casual. While runway shows see Ralph Lauren in full denim outfits among the elevated fashion world, the red carpet sees Reeves standing out from the crowd in his own casual addition to his ensemble, his motorcycle boots.
While he is typically seen in casual biker boots while riding on the subway or riding his motorcycles in Los Angeles, adding them to his suits when he attends premieres sets him apart from the rest. There are plenty of ways to dress down a suit, like a t-shirt, Chuck Taylors, or even dress denim; motorcycle boots seem like a genuinely unique take on casual suit-wearing.
Keanu Reeves doesn't seem like he conforms to those around him, and he clearly doesn't appear to worry about what others think about him, and the confidence to wear some of the most casual shoes on the market proves it. The question is…is it a fashion statement or a faux pax?
Is this stylish? Or is it inappropriate?
The difference between a fashion statement that shirks, rules, and subverts expectations and a fashion disaster are largely based on two factors: Acceptance and confidence. When Adam Sandler spends his entire career wearing nothing but t-shirts, basketball shorts, and sneakers, his fans accept that it is just him. When he wears it with confidence, it solidifies it as a look. Keanu Reeves is walking the same path. He is who he is, and his love for motorcycles fuels his men's fashion statement. Of course, every trend or anomaly will have its detractors.
If you spend a little time in the comment section of this Twitter post that makes note of his 25-year-old pair of motorcycle boots with tape around the toe to seemingly hold them together, you will see the mix of people that love it and people that hate it. Of course, if you start to really dive into Reeves, you can quickly conclude that these are the boots he wears when riding his beloved motorcycle. The tape? It protects the leather from the brakes of the bike scuffing them.
Keanu Reeves wears beat-up old biker boots with suits on the red carpet, and it isn't to create a look. It is simply to keep himself comfortable in times when the humble man doesn't seem to thrive. The bottom line is when you are a man that is as wholesome as Keanu Reeves…you can get away with almost anything.
Editors' Recommendations