There's one brand making what just might be the most affordable pair of denim on the market, and that's Jomers — the brand's White Oak Cone Denim retails for under $40 on sale, and they won't be around for long. Yes indeed, you read that right. Jomers White Oak Cone Denim will in fact set you back just $34 (not including shipping), a remarkable steal sure to please even the most exacting, intense denimheads.
Forums on the internet have popped up in the past decade to drive home the rare nature of the world's best denim fabric, but there's nothing out there quite like what New York City-based Jomers has been making as of late — at least, in terms of price and serious style points.
"We focused on creating a truly unique style of pant that's under $75 while using best-in-class heritage denim fabric and hardware," Jomers founder and CEO Meyer Dagmy said. "We believe we're delivering an incredible jean that's priced well below the current denim menswear market for anything similar."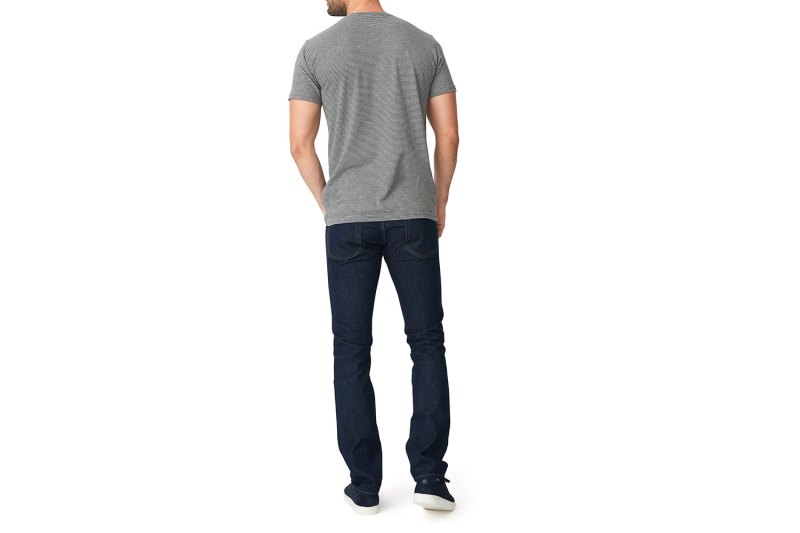 And as we mentioned, it's tough to top that mix of affordability and dependability from this upstart brand — the company uses frequent social media interaction to get a sense of the market and what its consumers want, and the focus seems to be on even more affordable, stylish menswear.
The difference is in the details when it comes to the coveted White Oak Cone denim fabric, weighing in at 13 ounces for a fabric feel that's heavy, but not overwhelming. It's a rich blue pair of classic men's denim that'll break in wonderfully over time, complemented and made all the better by the use of YKK Japanese hardware with a shank front closure — what does that mean for you? It means this classic pair of blue denim is tough and extremely well-made. Dagmy notes the fabric is a single rinse wash, making this a clean and even slightly dressy pair of denim.
Jomers is able to deliver cost savings by working closely with factories and suppliers, including the famed and now-shuttered Cone Mills White Oak factory in North Carolina —and buying large amounts of the coveted fabric delivered extreme cost savings, Dagmy said.
"Before they shut down, we flew down to North Carolina to purchase all the White Oak denim we could get our hands on," Dagmy noted.
These are well-priced and limited edition, but two reliable fits (Slim and the skinnier Tailored fit) provide options for plenty of discerning denim consumers. And given that the price is out-of-this-world affordable, we'd urge you to hustle out and snap up your own pair ASAP.
You can pick your own pair (or two) up here.
Editors' Recommendations