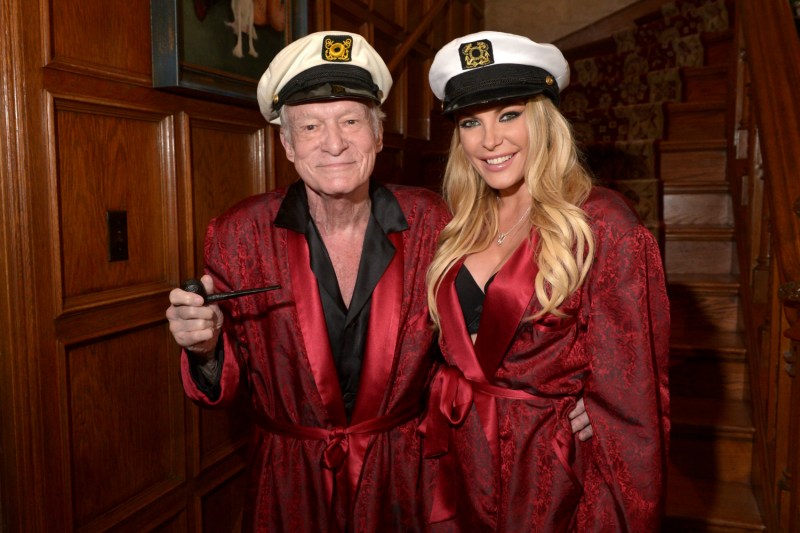 Setting aside all the controversial issues that surround Playboy founder and scion Hugh Hefner, there are a few things about the man that showcase his personal style, taste, and the way he lived his life better than his red silk smoking jacket.
Harking back to the days when "men were men" and could wear a roughly hip-length, silk, damask smoking jacket with a shawl collar while slapping the ass of a passing girl (remember: this is no longer acceptable and shouldn't have been then either), Hef's smoking jacket symbolizes the care-free, anti-authoritarian, and insouciant spirit that he exhibited throughout his entire life. From his bootstrap funding for the first run of Playboy magazine to the creation of his private key Playboy Clubs to his bon-vivant old age, Hefner was not shy about outwardly presenting his sex-positive attitudes. His smoking jacket was the scarlet garment to do it with.
Worn everywhere from the Playboy Mansion to press and media events, Hef's jacket has been around the block in more ways than one — and now, you can have your chance at owning a piece of publishing and pornographic history by offering up a bid for the smoking jacket via Julen's Auctions. The initial starting bid of $750 was surpassed almost immediately; the high bid at the publication of this article was hovering around the $7,000 mark.
The auction ends at 10:00 a.m. on November 30, 2018, so you've still got time to scrape together enough cash to buy this bad boy. And if not, you can always take a look at Hefner's other auction items, such as his original light bulb from the Hollywood sign, another silk robe, his beef-carving trolley, and even Hefner's WWII service medals.
For a look back at a few other famous auctions, check out how much Indiana Jone's fedora went for and see all the props sold from the set of AMC's Mad Men.