Cowboy boots have a rich history that dates back to the American frontier. Originally designed to meet the practical needs of ranchers, these boots have evolved into an iconic fashion statement embraced by people from all walks of life. However, despite their enduring popularity, cowboy boots are often misconstrued as a niche footwear choice. That couldn't be further from the truth.
Misconceptions of wearing cowboy boots
There are plenty of misconceptions when it comes to wearing cowboy boots, leading many to believe that they can only be worn a certain way. These notions limit your possibilities and hinder individuals from fully embracing the charm of this ruggedly American shoe. We're here to dispel these restrictive ideas and offer guidance on how to wear cowboy boots with confidence and finesse.
But why bother learning how to wear cowboy boots properly? The answer lies in the transformative power these boots hold. A well-chosen pair of cowboy boots has the ability to elevate any outfit, adding a touch of tough guy panache or a hint of a rebellious spirit. The important thing to remember is to embrace a balance between rugged masculinity and refined elegance. By understanding the nuances of wearing cowboy boots, you can make a positive lasting impression. Here are a few misconceptions about cowboy boots:
Cowboy boots can only be worn with Western-style outfits
One prevalent misconception is that cowboy boots are limited to Western-themed ensembles. While cowboy boots certainly complement Western attire, they have transcended their traditional roots and can be incorporated into various styles. Pair them with jeans and a T-shirt for a casual, laid-back look, or experiment by combining them with dress pants or a jacket to add a touch of unexpected charm to your outfit. The versatility of cowboy boots allows you to express your individuality and create unique fashion statements.
Cowboy boots should always match the color of your outfit
Contrary to popular belief, cowboy boots don't always need to match the color of your outfit. In fact, embracing contrasting colors can enhance your overall look and help you avoid Halloween costume territory. For example, try pairing a neutral-colored outfit with vibrant red or turquoise boots for a striking pop of color if that's your style. Alternatively, if you're wearing a colorful ensemble, opt for classic brown or black boots to anchor your outfit and create a balanced aesthetic. Embrace the art of contrast and experiment with different combinations to showcase your personal style.
Tucking jeans into cowboy boots is the only way to wear them
While tucking jeans into cowboy boots is classic and practical, it's far from the only way to wear them. Tucking your jeans into your boots is a way to keep them clean if you're out doing manual labor. It's also great for when you want to show off your style, but it's also perfectly acceptable to wear your jeans over the boots. This allows the boots to serve more subtly as a statement piece as they peek from under the hem of your jeans. Remember, fashion is about experimentation, so feel free to explore various ways to wear your cowboy boots and find the style that suits you best.
Cowboy boots are only appropriate for casual occasions
Another misconception is that cowboy boots are exclusively suited for casual events. While they excel in casual settings, cowboy boots can also elevate your formal or business attire. Pair your boots with tailored trousers and a crisp button-down shirt for a sophisticated, Western-inspired look. For the boldest fashion enthusiasts, consider wearing cowboy boots with a suit for a truly standout ensemble that merges classic style with a contemporary edge. To complete the look, trade your traditional tie for a bolo.
You can't clean cowboy boots
Some people mistakenly believe that cowboy boots are difficult to clean and maintain. However, with proper care and attention, cowboy boots can last for years and maintain their pristine appearance. Regularly brush off dirt and dust with a soft brush or cloth, and wipe away any spills or stains immediately using a damp cloth. For leather boots, apply a leather conditioner periodically to keep them moisturized and prevent cracking. Suede boots require special attention and can be cleaned with a suede brush or eraser. By dedicating a little time to care for your cowboy boots, you'll ensure they remain in excellent condition for a long time.
All cowboy boots are the same
Lastly, it's important to dispel the notion that all cowboy boots are identical. Cowboy boots come in various styles, toe shapes, heel heights, and materials, allowing you to find the perfect pair that suits your taste and lifestyle. Whether you prefer a classic pointed toe or a trendy square toe, a stacked heel or a sleek Cuban heel, or even exotic materials like snakeskin or ostrich leather, there is a multitude of options to choose from. If you haven't found ones that you like, don't give up and turn back to your regular dress shoes — keep looking.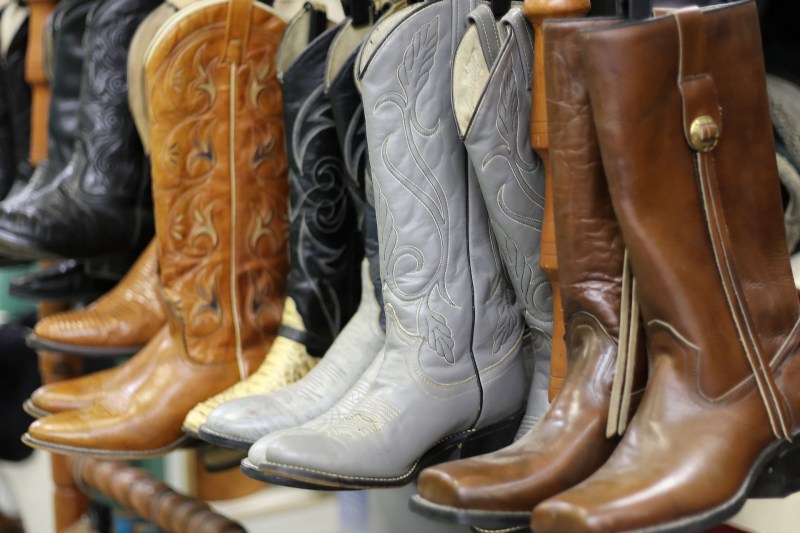 Cowboy boots are a timeless and versatile footwear choice that can effortlessly enhance your style and make a bold fashion statement. By debunking common misconceptions and understanding how to wear cowboy boots properly, you can confidently incorporate cowboy boots into your wardrobe for various occasions, whether casual or formal. Remember, fashion is about self-expression and experimentation, so don't be afraid to dress with cowboy boots and hit the dusty trails.
Editors' Recommendations