Cowboy boots aren't just a fashion statement — they're an investment. How can you make sure they stay beautiful? If you want to make your cowboy boots last for years, proper care is essential, and knowing the right techniques and products can make all the difference.
Caring for your beloved cowboy boots isn't rocket science if you stay on top of the process. With a little bit of consistent TLC, these iconic footwear pieces can elevate your style and become a long-lasting part of your wardrobe.
Read on to learn all about cleaning boots.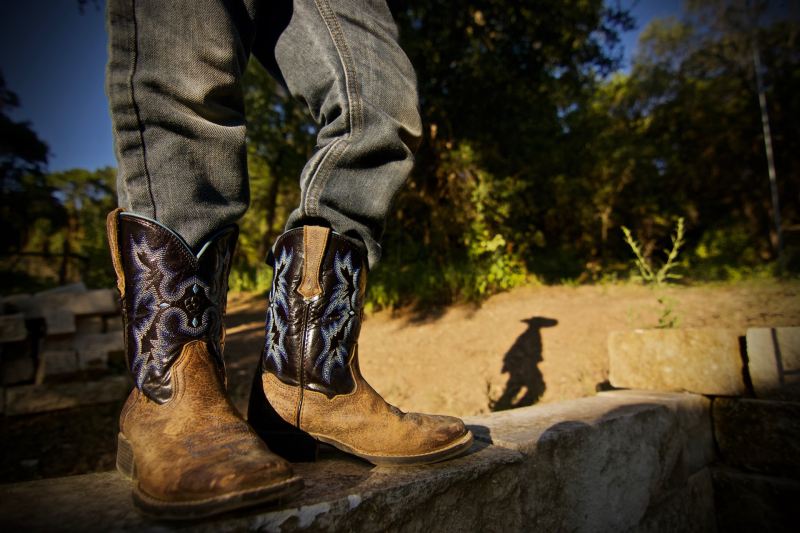 How to clean cowboy boots — your burning questions answered
Whether it's polishing them to a shine, conditioning the leather, or tackling stubborn stains, taking care of cowboy boots requires some know-how. In this comprehensive guide, we'll address some of the most commonly asked questions about cowboy boot care. From basic maintenance to advanced techniques, here's everything you need to keep your boots looking their best for years to come.
How often should you clean and condition your cowboy boots?
Depending on how much you use your cowboy boots, you should clean them every three to six months. Regularly remove dirt and dust from your boots by gently brushing them with a soft-bristle brush or wiping them down with a damp cloth. Avoid using harsh chemicals or abrasive materials that could damage the leather. The last thing you want is to do more harm than good when you're trying to clean them.
What oil should you use to condition your boots?
There are many different kinds of oils you can use to condition your cowboy boots. One of the most common is mink oil. That said, you should be careful when using it because mink oil tends to darken your leather. If you don't want that to happen, consider using neatsfoot oil or a leather balm that contains beeswax. Whichever one you choose, it's always a good idea to test it first.
To condition your boots, apply a high-quality leather conditioner or boot cream to your cowboy boots. This will keep the leather moisturized and prevent it from drying out or cracking. Not just any conditioner will do, though! Choose a conditioner that's the same color as your boots so they don't turn out funky-looking by the end. For the best results, follow the instructions on the product.
Can you get your cowboy boots wet?
Prolonged water exposure can diminish the value of your cowboy boots because it can cause the leather to crack, warp, or stain. If you find yourself in a climate or season in which it rains often, consider purchasing a waterproofing treatment. This can help make your boots more water resistant, which will protect them from excess moisture. Waterproofing technology has come a long way, so these kinds of sprays are great for your favorite jackets, too.
How to store your cowboy boots
When you're not wearing your cowboy boots, store them in a cool, dry place away from direct sunlight. Avoid storing them in plastic bags or airtight containers because this can trap moisture and promote mold or mildew growth. Instead, use a boot tree or stuff them with acid-free tissue paper to help them retain their shape.
How to get rid of stains on your cowboy boots
Your shirts are definitely not the only piece of clothing that can get stained. When removing stains from your cowboy boots, it's important to take care and take your time. First, identify the stain. Mud, dirt, oil, ink, and water stains all have different methods for removal. Whatever stain you have, it's important to act quickly. The longer the stain sits, the harder it can be to remove.
Gently clean the area using a slightly damp cloth or sponge, but avoid rubbing. This can make the stain spread or damage the leather, so be careful. Blotting helps to lift the stain without pushing it into the material.

Next, mix a small amount of mild soap like dish or saddle soap with water.

Apply the mixture with small, circular motions, being careful not to saturate your boot.
For oil and grease stains, sprinkle some cornstarch or talcum powder onto the stain and let it sit for a few hours. Water stains can be blotted out using distilled water, and ink stains can be removed with a little bit of rubbing alcohol on a cotton swab.
If your stain or scuff mark is more stubborn than what you can handle, consider taking your boots to a professional. They have the expertise and tools to handle all kinds of complex cleaning and repair tasks, so let them work their magic.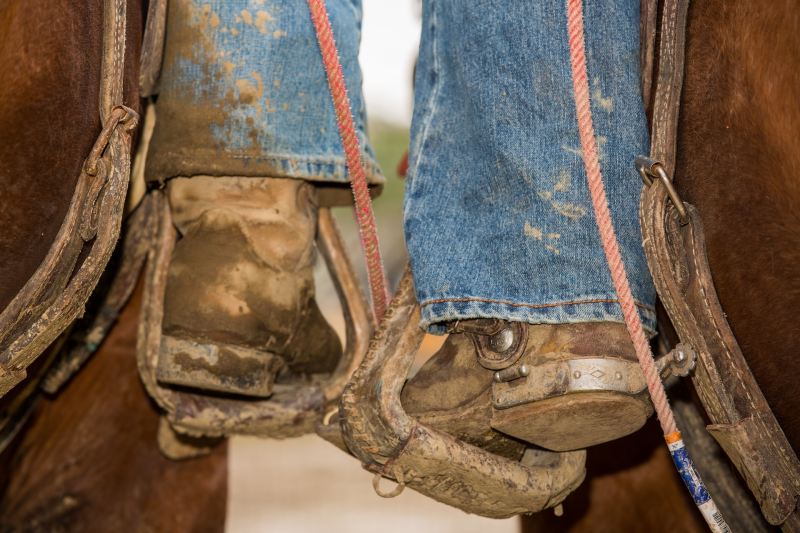 Final thoughts
By following these care tips and incorporating them into your boot maintenance routine, you can extend the lifespan of your cowboy boots and keep them looking as good as new. Regular cleaning and conditioning, along with appropriate stain removal techniques, will preserve the leather's quality and prevent any unsightly marks.
Remember to choose the right products for your boots and test them in inconspicuous areas before applying them extensively. With proper care, your cowboy boots will continue to accompany you on all of your adventures as a stylish statement that will withstand the test of time.
Editors' Recommendations