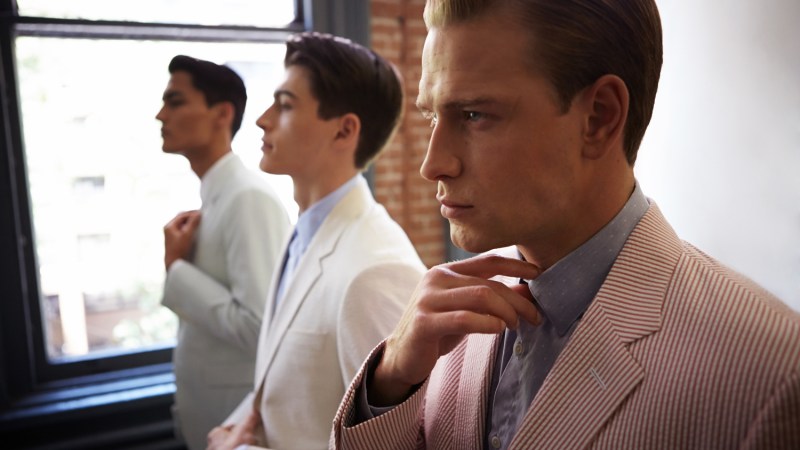 Sweating is not a pre-requisite for wearing dress casual or formal attire in the warmer months. It's plenty possible to have your style game on point while maintaining a comfortable homeostasis. Just ask Southerners, the folks who realized long ago that seersucker — the puckered cotton fabric so underutilized by everyone else — is a great style for suits. 
Seersucker: You can almost feel a cool breeze on your skin just by thinking the word. And you'll need to feel cool June 7th, which happens to be National Seersucker Day.
Though originally from India, the fabric was first made into suits by New Orleans-based Haspel, which has been going strong since 1909. The pioneers have updated their line this year, with some new options to keep you looking cool and feeling, well, cool. To learn more, we asked Laurie Haspel, president and fourth-generation owner of Haspel, to provide some tips on how to wear the South's favorite fabric. But first, an update on Haspel's latest duds.
The New Looks
Among other things, Haspel now has a bolder, wide-striped pattern that comes on blazers and, because men should be able to bear our legs, too, shorts. Alongside those offerings, they've added a couple 100-percent cotton short-sleeved shirts that are sure to pop. The ocean stripe saenger seersucker sports a breezy look, while the saenger raspberry seersucker plaid shirt updates a classic plaid look.
It's All About the Fit
Laurie Haspel gives us the rundown on form and fit: "A seersucker suit must fit right. Even more than most suits. Those famous stripes are like runway lights for a bad fit. If your jacket is too bulky or your pants are too long, people will surely notice. First, invest in a suit that suits your body type. At Haspel, our suits are trim but not skinny so it fits lots of different guys well. We're proud of that. Each brand's suit has its own personality. Ours has a shorter jacket and higher armhole and is a bit tapered through the chest. Basically, that means it's got shape. Then, invest in a tailor. Actually, make friends with a tailor, someone who knows how to perfect clothes on your body. They will make an already good suit look great."
What to Wear with Seersucker?
"I love tradition, but I'm equally as fond of a twist. I see guys rockin' a seersucker suit with a crisp white or pink shirt, bucks, a boater and bow tie. That is the full look. It's participating in a legacy that I love and my family helped create. If you dress your seersucker in that way I promise you will always be as cool as the underside of the pillow."
"But a seersucker suit is really a great canvas. You can wear it with lots of things. It looks relaxed and sharp with a great navy blue polo and loafers. I also love it with a perfect white T-shirt and trainers or even Chuck Taylors if you are young enough or young at heart. An open shirt and white pocket square is fresh too. I like having no break on the pants so you show a little ankle. Beyond bucks, a chukka boot or Chelsea boot can work, too. Just look for a lighter color in suede or leather."

Beyond the Suit
"Think separates! Seersucker doesn't need to be worn as a suit. Break up the jacket and pants for more versatility. I love a seersucker coat with white pants or jeans; a beat-up denim jacket, crisp white shirt, and seersucker pants also looks killer. You don't need to wear seersucker head to toe. Repeat, you don't need to wear seersucker head to toe.
"We all know the seersucker suit. It's classic and everyone should own one (at least one!). But seersucker, like cotton or wool, is really just a fabric that can be used in lots of different types of clothing. It's great for lots of things because it is lightweight, breathable and has that iconic pucker. We make seersucker into great button-down shirts — we even use it on details on our tees."
Article originally published by Chase Scheinbaum on May 06, 2017. Last update by Chase McPeak on June 5, 2018.
Editors' Recommendations