There has been an uproar raging in the menswear world since January.
Our dear friends over at Brooks Brothers have reintroduced their iconic Original Polo Button-Down Oxford, which they debuted 120 years ago.
Launched in 1896 when the grandson of Brooks Brothers founder, John E. Brooks, attended a polo match in England and noticed that the polo players' collars were pinned down to prevent their flapping in the wind. Realizing this could be a revolution in menswear retail, he brought his discovery back to the States and the Button-Down shirt was born. Since then it has become a classic and some have called it, "the most imitated item in fashion history." Who knew?
The classic shirt is back with some details from its ancestors as well as additional refinements. Most notably, the trademarked collar was adjusted by removing the interlining for a softer, natural shape and a rolled collar effect returning to the original design of the shirt. Adjustments were also made to the placket and cuffs, which have been also been softened for added comfort. Further elevating the shirt is the reintroduction of the mother-of-pearl buttons accenting the cuff, collar and placket. Side gussets as well as a longer swoop of the shirttail were added to help prevent the shirt from becoming accidentally untucked (and we repeat, Tuck In Your Shirts Gents!).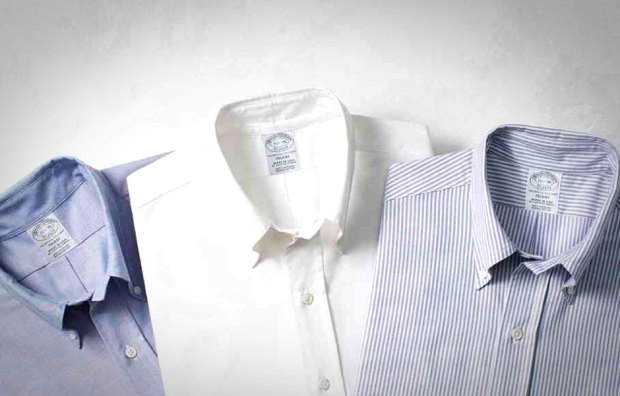 But here is the most sensational part of the story. The part that has sent blogs buzzing: The front shirt pocket, which has been a feature of the shirt since 1968, has been removed to more closely mirror the style of earlier versions. We know, you need to sit down…
And anyway, the biggest use for the pocket was to hold your pack of cigarettes. With that habit virtually Gone with the Wind, who needs a pocket? (it's not for phones either)
The Original Polo Button-Down comes in three fits: Madison, Regent and Milano; and four colors in candy stripes and solids including white, pink, blue and purple.
Finally, the updated Original Polo Button-Down Oxford shirt is made in the USA at the Brooks Brothers shirt factory in Garland, North Carolina from pure American Supima cotton.
If you can dare walk the streets without a pocket sewn onto your shirt, the polo retails for $140 and can be found here. Let us know your thoughts on this sartorial subject. Tweet us on @TheManualGuide.
Editors' Recommendations