Winter officially came and left in the third episode of the last season of Game of Thrones, and that can only mean one thing: summer is a' comin'. Like all men (who also must die), you'll be needing some footwear to accompany the rising heat level.
In partnership with HBO, cult-favorite sandal makers Havaianas released three Game of Thrones sandals that offer the breathability you need and the fandom-flex you desire whether you're at home on a Sunday watching the newest episode, attending a backyard cookout with your GoT buds, lounging by the pool, or building sand castles with your kids.
The first pair of Havaianas were worn in 1962, designed after the traditional Japanese sandal known as the Zori, whose soles are made of rice straw. Although Brazilian-based Havaianas constructs its soles from rubber, the sandals feature a cushioned footbed on that wears a textured rice pattern reminiscent of the typical Zori flip flop. The Game of Thrones sandals follow the trend.
Each pair, offered in sizes 8-13 in U.S. men's sizing, features mismatched patterns with a Game of Thrones-themed print, the signature rice pattern, and a durable y-shaped strap. The Havaianas Game of Thrones sandals are now available online for just $26, which is nothing to non-kneelers like us.
Havaianas Men's Top Game of Thrones Flip Flops Black
The first style in the Games of Thrones sandals collection features a black rubber sole base with the most obvious mismatched print where one shoe donning "Fire and Blood" with the Targaryen three-headed dragon sigil contrasts with the other "Winter is Coming" with the Stark direwolf version. Now you can pick your side (or foot) and wear these flip flops while awaiting the ultimate victor in the game of thrones. 
Havaianas Men's Top Game of Thrones Flip Flops Sand Gray
The Sand Gray version also sports a mismatched print, but this one is even more intriguing. These flip flops feature a full map of the Seven Kingdoms, detailing everything from The Wall and Winterfell up North to the Southern Westeros cities of King's Landing and Dragonstone to and across the sea to Essos, among other notable locations in the series.
Havaianas Men's Top Game of Thrones Flip Flops Steel Gray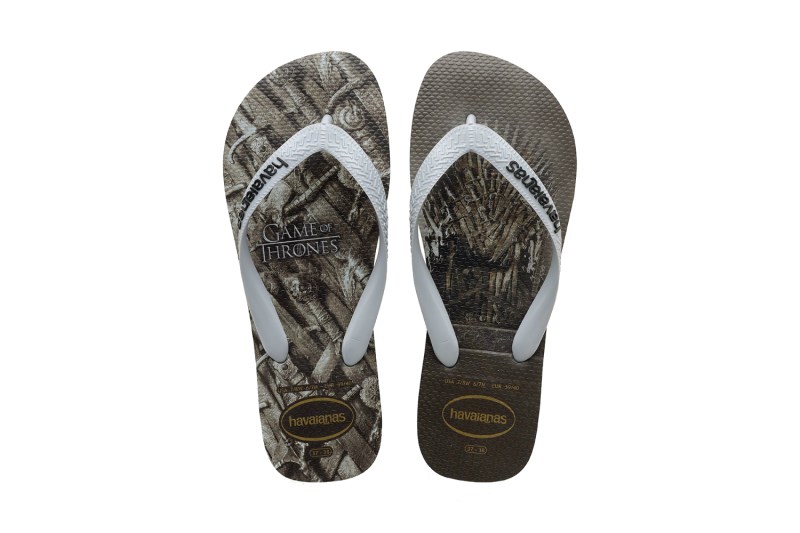 Lastly, a gray pair of Game of Thrones flip flops features the Iron Throne and the show's widely-known logo juxtaposed with a white Y-shaped strap. Classic.
Considering there are only three episodes left in the series and, at this rate, it seems we'll never receive the last two novels from George R.R. Martin, if you want to jump on the hype train … now is the time.
For sandals with considerably less fanboy flair, check out the best sandals to wear in 2019.
Editors' Recommendations