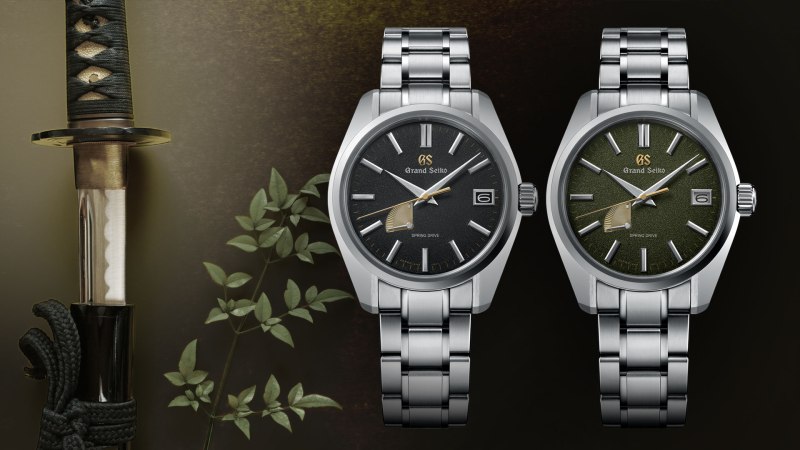 If you've taken an interest in watches, you're more than likely aware of Seiko. The Japanese watchmaker produces good quality timepieces and makes them available at entry-level prices. Some of the quartz models it offers, including those in the excellent Seiko Solar line, are available for as little as $150. Even cheaper is the Seiko 5, which is an outstanding choice if you're just getting into the world of watches, have a somewhat limited budget, and want to get your first automatic.
At the high end, some models go for close to four figures, but if you're parting with that much cash, you'll probably get a bunch of top-end (for a non-luxury watch) features bundled in. These features can include the ability to communicate with an atomic clock via radio and subsequently set the time to eye-watering degrees of accuracy. The watches may also use this feature to adjust themselves to local time when you enter a different time zone. Beyond that, higher price points usually come with a higher-quality finish.
While most Seiko watches for men may be on the lower end of the pricing scale, the timepieces themselves have an awful lot going for them. There's a diverse range of bands, bezels, and faces — even with the cheaper models. Given the price, it's possible to buy a small range of Seikos that you can match to your different styles. Maybe a steel band and deep blue face go with your business attire, and something a little more outlandish, like an orange face on a tan leather strap, will fit in with beachwear.
If you travel a lot, and those travels take you to less savory places, a Seiko is a great way to look good without risking a lot. If you do end up being relieved of your watch, you're only a couple of hundred dollars down. You haven't lost something that costs the same as a mid-range vehicle.
But what about Grand Seiko?
Those of you who know at least a little about luxury watches may also be aware of Grand Seiko. Unlike a regular Seiko (and even its "King Seiko" line), a Grand Seiko will set you back a significant amount of money. We're talking upwards of five figures, with some special editions breaking into six and at least one example coming close to half a million dollars. In short, Grand Seiko watches inhabit the same price bracket as Rolex and Patek Philippe.
Both Seiko and Grand Seiko are part of the same company, the Seiko Watch Corporation, but they are different brands. It's a bit like Rolex and Tudor, but with a far more noticeable price difference. For the money, you get everything you would expect from a luxury watch, and arguably a little more in one respect.
So expect the finish on a Grand Seiko to be absolutely perfect. Precious metals are often part of the construction of the case and bracelet, edges will be smoothed, and the dials will be beautiful.
Then there's the mechanism. Obviously, at the price point Grand Seikos sit at, you're usually not getting a basic quartz watch. The Quartz movement was first seen in Seikos, and when it made its debut back in 1969 it caused a crisis in the watchmaking industry. These days, the "basic" Quarz Grand Seikos use the hand-crafted Caliber 9F movement — which contains a few unique touches including an "aging" process for the crystals. There's also something that's both unique and in between — a combination of the accuracy of quartz with the intricacy of mechanical timepieces.
While you can work your way down the luxury watch checklist with a Grand Seiko and tick every box, you can also look to its mechanism when asking what truly sets it apart from the competition.
The 'Spring Drive' is a selling point
Grand Seikos are powered by a unique movement known as the "Spring Drive." It's accurate to within a second per day, has an abnormally generous power reserve, and ensures the hands have a perfectly smooth sweeping motion as opposed to the minute steps forward mechanical watches make.
As the company itself explains, the Spring Drive is "the only watch movement in the world that is powered by a mainspring and has a regulator without an escapement; it is a watch that combines the beauty of the mechanical watch with the precision of electronic timekeeping."
How it actually works is as follows. A somewhat traditional automatic watch movement winds a mainspring. The movement is slightly different thanks to Grand Seiko's "Magic Lever," which allows it to wind more efficiently, but the same principles apply to it as they do any other mechanical watch. Where things differ is in the mainspring's output. Some of the energy from the long, coiled spring is used to generate electricity, which is then sent through a quartz crystal as it would be in a quartz watch. This vibration is what allows the Spring Drive mechanism to keep time accurately.
The electricity generated by the mainspring also regulates the watch's glide wheel, which moves the seconds hand. The end result is a startlingly accurate and smooth mechanism that is unique and complex enough to appeal to high-end clientele. It's also why said clientele vigorously opposes its use in other watches. It does appear in some of Seiko's other lines, namely Credor, Presage, and Prospex. But if it ever made its way into a regular old sub $500 Seiko, we'll probably see rioting on the streets of Martha's Vineyard, West Hampton Dunes, and Palo Alto.
Editors' Recommendations