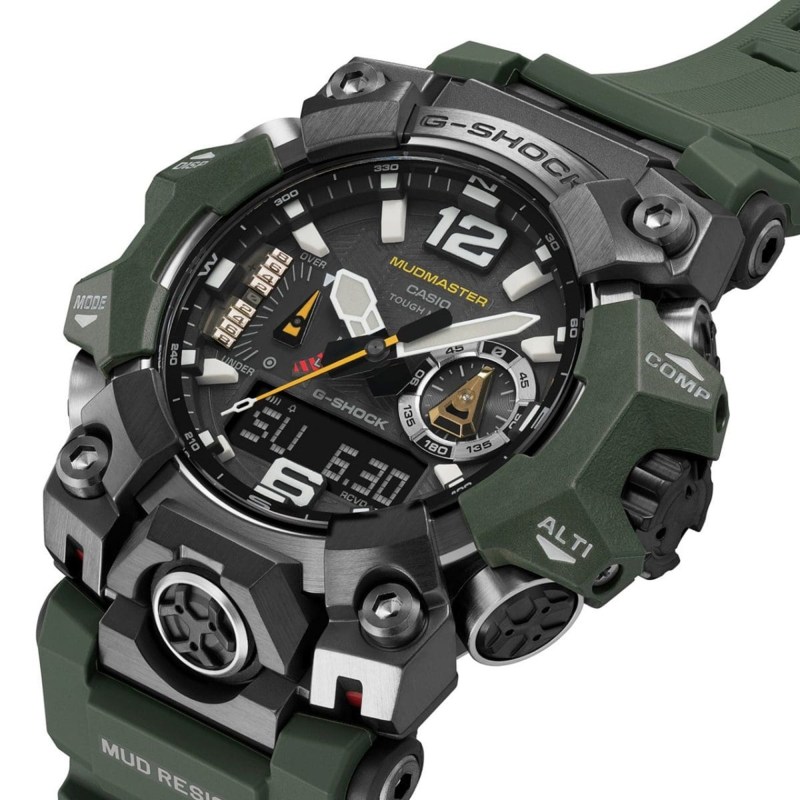 In the world of watches, where style often takes precedence over substance, the G-SHOCK Mudmaster stands as a beacon of ruggedness, a true embodiment of indestructibility. The GWG-B1000-3A, the newest member of the G-SHOCK family, strives to be the toughest watch ever manufactured by pushing the limits of resilience. In this article, we'll take a closer look at this formidable timepiece, diving into its impressive features and what makes it a must-have for wanderers and watch enthusiasts alike.
The case for the G-SHOCK Mudmaster
The case of the G-SHOCK Mudmaster measures 58.7 by 52.1 by 16.2 mm, which is substantial enough to withstand the harshest conditions without weighing you down. With a weight of 114 grams, it's surprisingly lightweight given its rugged appearance, making it comfortable for all-day wear. The case and bezel are crafted from a combination of bio-based resin and stainless steel, reinforcing its durability while maintaining an eco-conscious edge.
This G-SHOCK watch isn't just another pretty timepiece; it's a rugged beast designed to conquer the elements. Its construction is nothing short of remarkable, boasting shock resistance, vibration resistance, and mud resistance. Whether you're hiking through rough terrain or managing the chaotic terrain that is parenthood, this watch can handle it all.
The Carbon Core Guard structure provides an extra layer of protection, ensuring that the watch's internals remain intact, even in the face of adversity. With 200-meter water resistance, it's not afraid of a dip either, making it suitable for divers and fans of aquatic activities.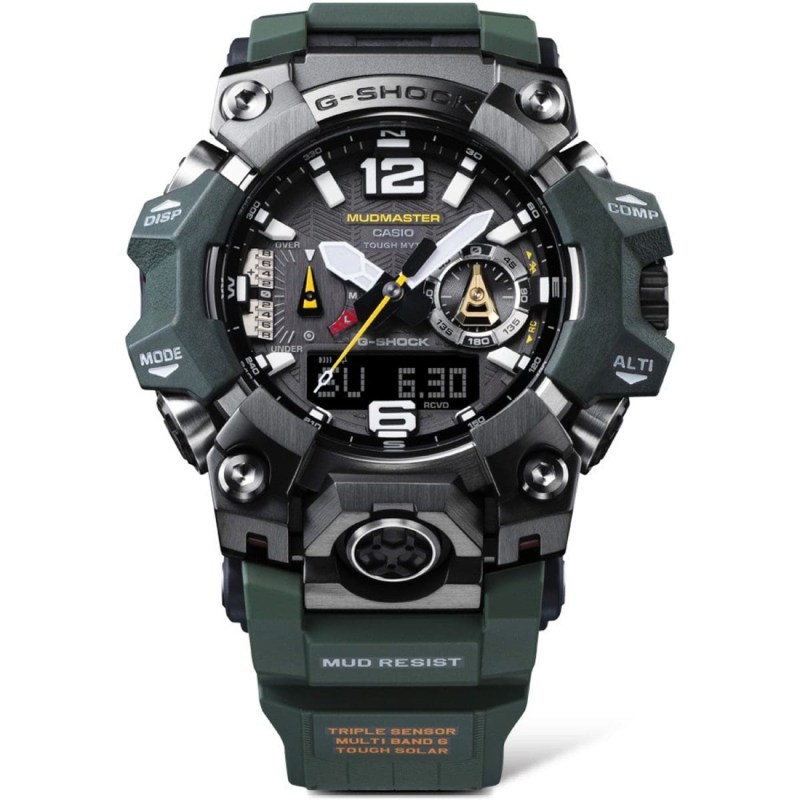 Keeping you informed
The G-SHOCK Mudmaster doesn't just tell time; it keeps you informed about your environment. It comes equipped with a barometric pressure measurement that functions along with a trend graph that keeps you updated on atmospheric changes, while the alarm function notifies you when significant pressure shifts occur.
As with many other G-SHOCK watches, for those who love heights, the altitude measurement function is a game changer. It can measure altitudes ranging from -700 to 10,000 meters, making it an excellent companion for those who are thinking about conquering Everest. The altitude trend graph and memory functions provide a comprehensive overview of your journey.
Smartphone link feature
The G-SHOCK Mudmaster is not just a stand-alone device; it's part of your tech-savvy lifestyle. The smartphone link feature allows for wireless linking using Bluetooth, making it even more accessible. The CASIO WATCHES app connectivity offers auto time adjustment, easy watch settings, and access to approximately 300 world-time cities, keeping you connected no matter where life takes you. This is also a solar-powered watch that harnesses the energy of the sun to keep it ticking. Say goodbye to the hassle of frequent battery changes.
This G-SHOCK watch doesn't just tell time; it keeps you on schedule with a 1/100-second stopwatch, countdown timer, and five daily alarms. The double LED light ensures you can check the time in low-light conditions. The full auto LED light, super illuminator, and selectable illumination duration are practical for nighttime adventures.
A watch that saves energy
The G-SHOCK Mudmaster doesn't just keep you going; it's conscious of energy usage. The power-saving feature ensures that the display goes blank and the hands stop when the watch is left in the dark, conserving energy. The battery level indicator keeps you informed, and the watch can run for approximately 6 months on a rechargeable battery with normal use or up to 24 months when stored in total darkness with the power save function on.
The G-SHOCK Mudmaster GWG-B1000-3A is a blend of ruggedness and style, precision and innovation. Whether you're an outdoor enthusiast, a tech lover, or someone who simply appreciates a watch that can withstand the test of time, the Mudmaster has something to offer. It aims to be the toughest watch ever made, and it's well on its way to achieving that goal. Priced at $800, this watch boasts an array of invaluable features that undeniably justify its worth.
Editors' Recommendations