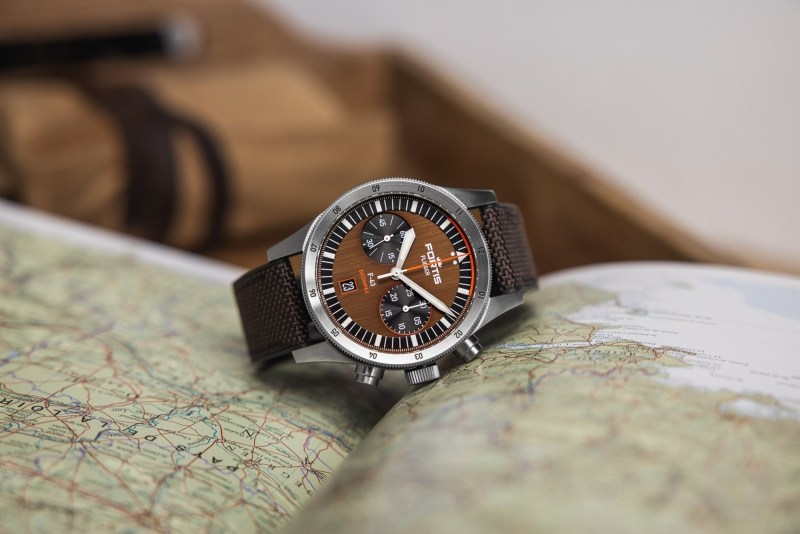 The world is split into two groups when it comes to watches: those who admire the intricate dance of gears, springs, and parts, and those who believe it's just a method of telling time. Nevertheless, the Flieger F-43 Bicompax Chronograph, a product of the partnership between Fratello and Fortis, might just persuade the latter to rethink their feelings.
Let's dive right into it — this chronograph is a stunner. But what sets it apart? One, it's a chronograph, which isn't your typical watch. It's possible that you're thinking, "Oh, just a fancy word for a stopwatch," but you're going to be surprised. The Flieger F-43 Bicompax raises the bar for timing. Think of it as a precision instrument for measuring elapsed time.
Before we dig into the nitty-gritty details, let's talk about the unique collaboration that birthed this timepiece. Fratello and Fortis are not your usual watchmaking partners. One hails from the Netherlands, while the other has its roots in Switzerland. Talk about an international love affair. Fratello, a respected name in the watch world, brought its design prowess to the table, while Fortis, with its Swiss precision, contributed its watchmaking excellence. The result? The Flieger F-43 Bicompax Chronograph — a true cross-continental masterpiece.
Breaking it down
Now, let's dissect this chronograph into its key components. In terms of watches for men, this chronograph makes a statement in addition to keeping time. Its bold and untamed appearance is ideal for a man who likes to control his time rather than just follow it. Fortis and Fratello watches have brought their A-game to this Flieger watch. The design and craftsmanship showcase the best of both worlds.
The Flieger F-43 Bicompax Chronograph is not only functionally impressive; it is also a sight to behold. Without being unduly large, the 43 mm stainless steel case is strong and manly. It strikes the ideal harmony between wearability and presence.
A dive into design
The dial is where the magic happens. The bold, easy-to-read numerals harken back to classic Flieger designs, and the sword-shaped hands make sure you're always on point — pun intended. The brown hue features a vertically brushed finish, adding a touch of sophistication. The black sub-dials, minute track, and date disc contrast beautifully against the warm background. Orange accents on the dial provide a subtle pop of color, while the white three-dimensional luminous indices ensure excellent legibility even in low-light conditions.
The case back is solid stainless steel, providing a robust and secure enclosure for the watch's intricate mechanisms. It is screw-in and elegantly engraved with the Fratello logo, adding a touch of refinement to the watch's design.
Under the hood
Under the hood, the watch is powered by the Fortis UW-51 movement, which has a Sellita SW510 base. This automatic and hand-winding movement operates at a frequency of 28,800 vibrations per hour, offering precise timekeeping. It boasts a 48-hour power reserve, ensuring that the watch remains accurate even when not worn. The watch is no stranger to aquatic adventures, with a water resistance rating of 20 ATM (200 meters or 660 feet).
Completing the ensemble, the watch features a brown/black hybrid textile and FKM strap with a 21 mm width. The strap not only offers a comfortable and secure fit but also adds a touch of style to the watch. It is complemented by a stainless steel pin buckle, ensuring ease of use and durability. In terms of functionality, the watch is a versatile timekeeping instrument. It provides essential timekeeping features, including hours, minutes, and small seconds.
But what truly elevates this watch to the next level is the watch's front, which is protected by a sapphire crystal with an anti-reflective coating. This isn't your regular glass; it's nearly as hard as a diamond. This chronograph is for the man who doesn't just follow trends; he sets them. It's for the connoisseur who appreciates the craftsmanship and story behind a watch.
The verdict
The textured wooden dial imparts a unique character, making it clear that this timepiece doesn't merely mimic vintage aesthetics; it genuinely pays homage to a bygone era. However, a minor concern arises from its substantial diameter, as one might have anticipated a more slender profile. Nevertheless, this watch is captivating, making it an enjoyable addition to Fratello's collection.
Editors' Recommendations