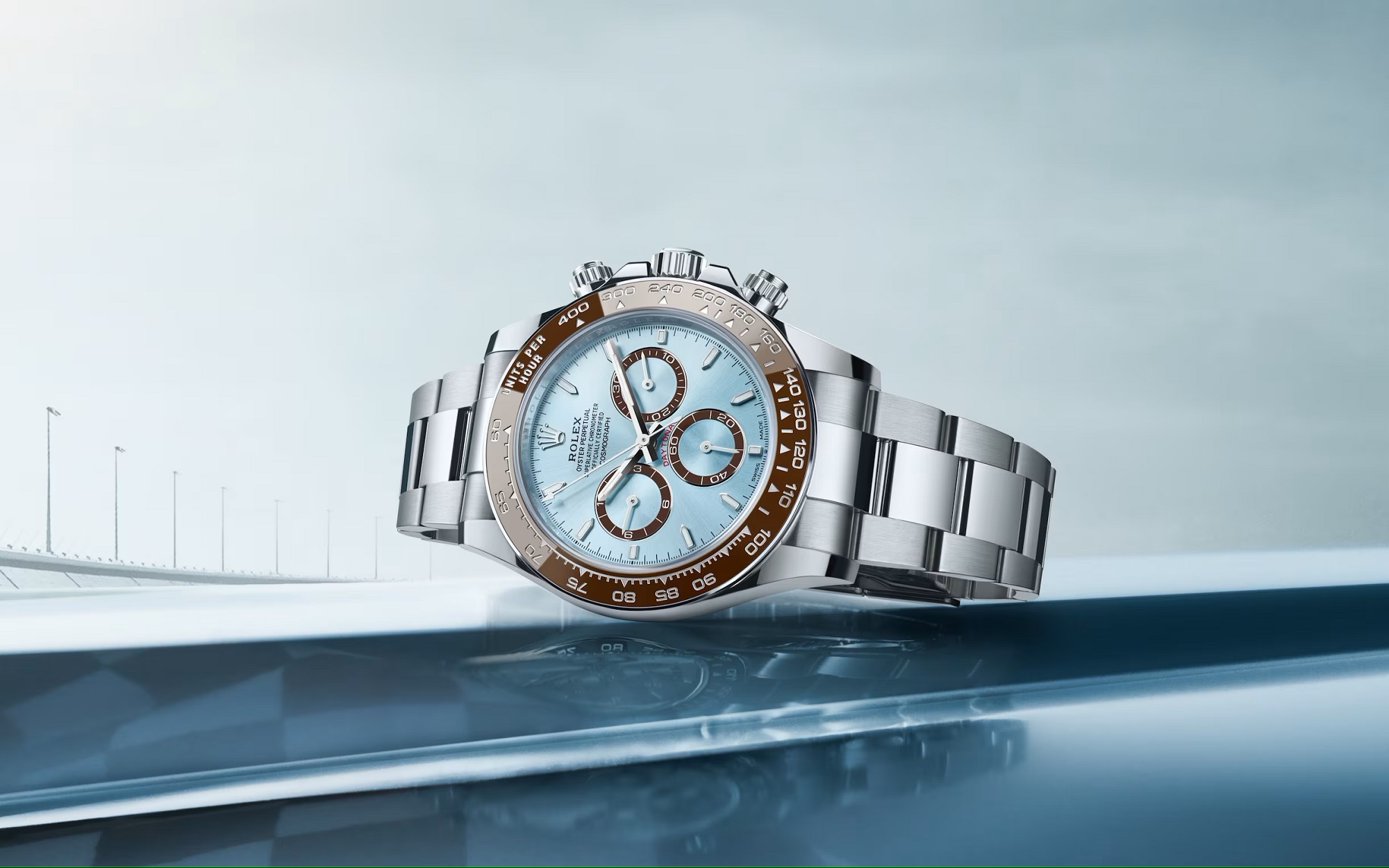 Netflix viewers have the opportunity to gaze deeper into Inter-Miami owner and former professional soccer player David Beckham's life than ever before, thanks to a . Despite his sporting background, popstar wife, and celebrity status, one of the more interesting things about Beckham may be his over half-million-dollar watch collection.
David Beckham initially made his name on the soccer pitch, breaking through in a 1990s Manchester United side that dominated the domestic division and won a Champions League trophy. He moved on to Real Madrid before eventually enjoying spells at L.A. Galaxy, A.C. Milan, and PSG. But his success wasn't just confined to the world of sports. During his career and beyond, he built up a reputation as a style icon — so it's no surprise that Beckham's taste in watches is on point.
The former England winger's collection includes timepieces from brands like Rolex, Breitling, Tudor, and Patek Philippe. However, it is pretty diverse in terms of value. The Rolex watch style may be Beckham's favorite, as he has eight pieces from the Swiss watchmaker, and eleven from its subsidiary Tudor.
Over half of the collection's value is tied up in one piece: A Patek Philippe Sky Moon Celestial 6102P valued at more than $345,000. The unique watch features a "celestial display," which functions as a rotating chart of the stars above us. Patek Philippe watches are amongst the most expensive and prestigious you can buy, so it's no surprise that one is the centerpiece of Beckham's collection.
Beckham's love of Swiss wristwear continues with a Breitling. Breitling watches aren't exactly cheap; their pricing can be on par with other Swiss luxury watches, but the TransOcean Unitime Chronograph in the sportsman's collection is one of his "cheaper" pieces — retailing at $4,500. He does have a more expensive TransOcean Chronograph, the AB0510U4, which retails for $2,000 more than the Unitime.
However, not everything in the retired sports star's collection is Swiss. He does have a piece from New York-based watchmaker Jacob & Co. Beckham has been spotted rocking the brand's Global 3 wristwatch — a unique piece featuring five small dials instead of one large one. It's hard to put a price tag on the piece, but given that Jacob & Co. has been known to produce some of the world's most expensive timepieces — we're guessing it wasn't what many would consider affordable.
Rolexes feature heavily in Beckham's collection
With regard to Rolexes, Beckham's collection features a lot of the brand's most iconic pieces, including a Rolex Daytona, Rolex GMT-Master, Rolex Submariner, and Deepsea Sea-Dweller. However, his Rolex Day Date 40 is the most expensive of the bunch, coming in at just shy of $60,000. Other standout pieces include a Rolex Yachtmaster — which many people argue is one of the most affordable luxury watches the company makes.
Beckham's cheapest watch, a Tudor Royal, is still $2,450's worth of chronography. Beckham may not have actually paid that, as he's an ambassador for Tudor watches. But it's easily the most accessible watch on his nightstand and might be a good option if you want a small slice of the man's style. Other notable Tudors in Beckham's collection include the Tudor Black Bay and the Tudor Pelagos. The Pelagos in question is a custom model, with its design paying tribute to "Inter Miami" — the Florida-based soccer franchise Beckham founded and subsequently lured World Cup winner Lionel Messi to.
Although there are some notable differences, the Black Bay has long been seen as a cheaper alternative to the Rolex Submariners. They're both 40mm-ish dive watches with similar styling and a high-quality ceramic bezel.

The collection is actually a shrewd investment
While David Beckham is one of the few people who can afford to drop hundreds of thousands of dollars on a watch collection, his passion has actually been a shrewd financial move. Many of Beckham's timepieces have appreciated greatly in the time the former soccer superstar has owned them.
Speaking for Watch Pilot, watch expert Paul Maxwell described Beckham's collection as "exemplary" before highlighting how much money the former Manchester United player may have made. Maxwell says: "While they won't have been cheap to buy in the first place, most of his pieces will have appreciated substantially, especially the Patek Philippe Sky Moon Celestial 6102P. Given its significant original price point and potential appreciation, this would probably be the best investment in his collection."
It's also worth noting that the estimated values are based on the watch standing alone as a collectible timepiece. The fact Beckham himself owns and has worn those watches will increase their value by a considerable amount. Just as a bowtie once worn by Frank Sinatra might fetch a handsome premium when compared to a regular vintage piece from the same era, a watch worn by David Beckham would undoubtedly have sports fans throwing money at whatever outlet had it up for sale.
Editors' Recommendations