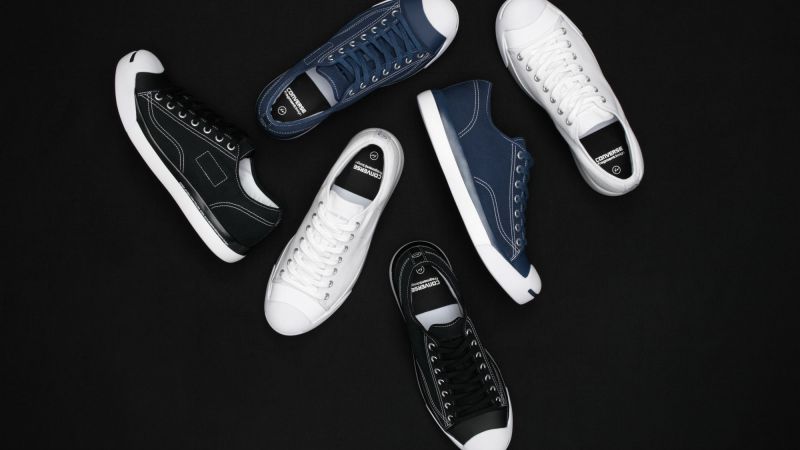 Earning the title "Godfather of Streetwear" is no easy feat, but Hiroshi Fujiawara did just that. One story even refers to him as a "cultural carnivore".
The lauded musician and designer, who largely keeps to himself, has been involved in projects with seemingly every big brand that has a shred of cultural relevance, from Nike to Starbucks. The Japan native spent time absorbing knowledge and experience in 1980s New York City and London before returning to Tokyo and launching an early company (GOODENOUGH) that essentially ushered in the streetwear movement and Harajuku fashion.
Fujiawara is back at it again with a new shoe collaboration through his company, Fragment Design, this time with the iconic Converse Jack Purcell sneaker. (Nike happens to own Converse too.)
The Converse x Fragment Design Jack Purcell Modern collection features a 12 oz. canvas upper, color-blocked side walls with tool references (noted in white text) and a lightweight Phylon mid and outsole. The shoes come in three colorways: white, navy blue, and black. All three have white stitching; the darker colors provide contrast, while the white boasts more of a seamless, clean look. It's a subtle, muted style perfect as a casual option for work or an evening at the bar.
Also on tap with the Fragment Design collection is a set of hoodies and tees made from built from French Terry and Supima cotton, respectively. They reflect the same style, offered in the same colorways as their footwear brothers.
The Jack Purcell lineup follows the tease of another remix of an iconic Converse look: the Chuck Taylor All Star, which was re-designed with Fragment Design and louder streetwear designer Sacai. That shoe has a very similar, technical look to this Fujiawara collection, but in the noted higher cut.
The Fragment Design shoes are $130, The hoodies are going for $95 and tees for $45. The collection, which launched in mid-November, is available at select retail stores and online here.
Editors' Recommendations