When you're a guy expecting a new baby, it's easy to leave all the baby gear decisions to your partner. After all, she's the one doing the heavy lifting (literally) and probably has the stronger opinions between the two of you when it comes to things like baby clothes, nursery decor, and stroller make and model.
While we definitely recommend giving her the final say — pregnancy hormones ain't nothing to f*ck with — it's worth offering your ideas and opinions as the two of you build your baby registry. Not only does it demonstrate to your partner that you're excited and invested, but it also has real impact on your life. After all, you're going to be pushing that stroller, dressing that baby, and more than likely spending long hours in that nursery.
One great place to begin is with the diaper bag. Take it from someone who's been there: nothing can make or break a day out with baby like a badly designed diaper bag. From cumbersome appendages to weak or poorly placed straps, a sub-par diaper bag will make you long for the days when all your necessities could fit in the back pocket of your pants. As for aesthetics, let's be real: no dude wants to be seen schlepping a floral quilted number, no matter how efficient or ergonomic it might be.
That's why we've compiled the best diaper bags fit for a modern dad. These men's diaper bags are physically comfortable, high functioning, and sport a neutral to masculine aesthetic. From high end to affordable, these are diaper bags built to boost your paternal pride.
JuJuBe Helix Multi-Functional Crossbody Messenger/Diaper Dad Bag

This bag is built to keep up with the hardy dad who insists that baby can go anywhere he goes. The memory foam shoulder pads make it a comfortable carry, while the Agion-treated interior and Teflon-coated exterior protect against bacteria, mold, and all manner of messy mishaps. Speaking of messes, our favorite feature is the crumb drain located in the lower back pocket. The bag even includes a memory foam changing pad, which your little bub will appreciate.
MUBYTREE Diaper Bag Backpack Baby Chair Harness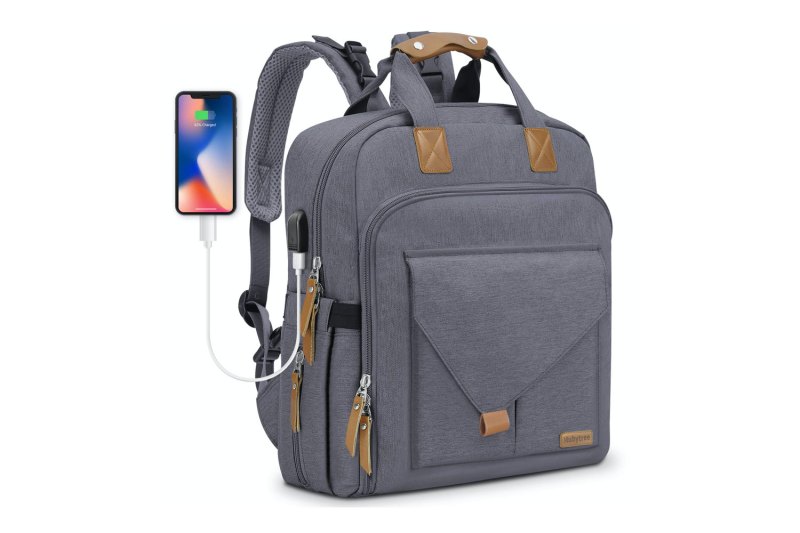 Meet the one-man-band of diaper bags. Its ten pockets include two insulated bottle pockets, a waterproof pocket for soaked or soiled clothing, a tissue pocket made for easy dispensing of wet wipes, and a dual-use pocket that doubles as a safety seat where you can strap baby when you need a minute with both your hands free. But wait, there's more: a USB port, spoon caddies, and strap options for backpack, stroller, and luggage transport. This one's on the big side, but if you want to leave the house feeling fully equipped for any emergency, we think the extra weight is worth it.
Baby Boom XLR8 Connect and Go Backpack Diaper Bag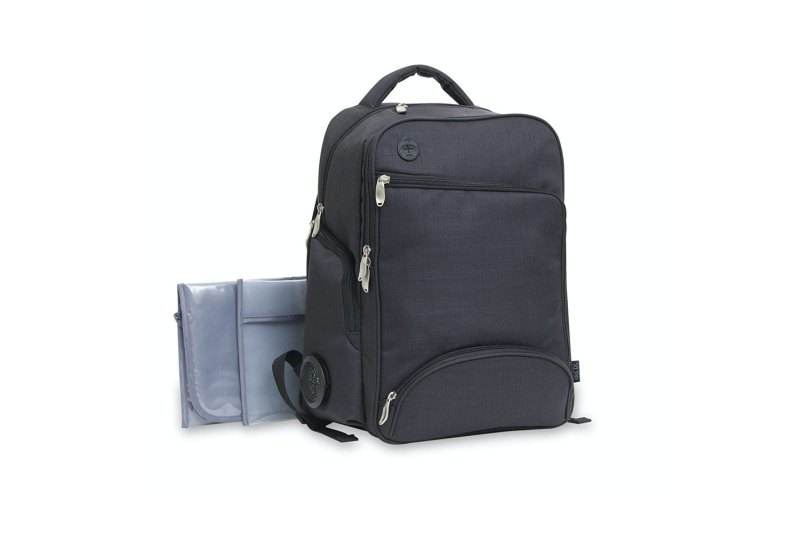 Hold onto your VR glasses, techie dads. This diaper bag features a smartphone charger, an interior light for easy searching, and even a Bluetooth speaker perfect for playing white noise while your bub naps in the car seat. If your family were the Jetsons, this diaper bag would be your Rosie the Robot.
Herschel Supply Co. Nova Backpack
Fatherhood has given lesser men than you an occasion for an identity crisis. If shopping for a diaper bag is giving you tunnel vision, make it easy on yourself and buy one from a company that makes some of your favorite gear. From the outside, Herschel Supply Co.'s Nova looks like a regular backpack — inside, though, you'll find a folding easy-wipe changing mat with an optional hook-and-loop fastened storage divider as well as a side access zipper. With plenty of integrated storage, a mesh bottle pocket, and an array of masculine colorways, there's nothing better to help smooth your transition into this daunting new role.
Patagonia Ultralight Black Hole Tote Pack
In general, we advise against repurposing an old backpack or day pack into a diaper bag. Sorry, but there's no real crossover functionality between the two. The one exception we've discovered is the Patagonia Ultralight Black Hole Tote. With its dual water bottle pockets, interior and exterior zip compartments, optional backpack straps, and moisture-resistant nylon construction, we have to wonder if the folks at Patagonia knew they were designing a hybrid bag for outdoorsy dads. Bonus: the whole thing stuffs into an interior pocket for easy stashing when not in use.
Editors' Recommendations