Apple has unveiled its next generation of Apple Watch and Apple Watch Ultra. The Apple Watch 9 is powered by a new chip, which makes a whole host of new features possible. Between the new silicon, improved voice capability, and added gestures — the new Apple Watch 9, and premium Apple Watch Ultra 2, could arguably be described as two of the company's bigger generational leaps.
At the core of both watches is a piece of Apple's own silicon. The S9 SiP chip has 5.6 billion transistors packed into it — 60% more than its predecessor. This means Apple's new wearable is capable of outperforming the Apple Watch S8 by 30%.
The chip's "four-core neural engine" makes more complex machine learning tasks possible and doubles their speed. Machine learning powers everything from Siri, to the watch's gestures — so this upgrade alone has broad-reaching applications. The new chip is powerful enough to run a version of Siri "on device" which makes the smart assistant "faster and more secure." Speech recognition is also around 25% more accurate, Apple claims.
Siri also has access to your health data now. Maybe because Apple believes the increased security is enough to get the personal assistant involved, while keeping information about your weight, heart rate, and how often you snooze, perfectly safe. This upgrade will allow you to log information directly through Siri, instead of forcing you to navigate apps and type out the details you want to track.
The Apple Watch 9 is a step up
In addition to the significant boost in processing power, the Apple Watch 9 features a brighter retina display than ever. The screen boasts 2000 nits of brightness at its max setting, and just a single nit at its lowest. So users can both see the display in brightly lit areas, and conserve power when not in use.
The beefier neural engine has allowed extra gestures to be added. One of these is the double tap feature. Apple don't mean "double tap" in the Hitman sense, though you could in theory use the watch to ensure a target is dead. Instead it involves bouncing your thumb off your index finger. The watch can detect this, and users can use the technique to navigate the watch's menu one-handed.
Despite the advances, battery life remains the same as it was in the previous generation. However, while it's great that Apple has ramped up the performance while still providing 18 hours of juice — a discussion needs to be held about whether 18-hours can really be considered "all day" battery life.
An ultra-wideband chip has also been added to the phone, allowing it to better track your other devices — provided they have the same chip. Users can see how far away their phone is from the watch, and gauge the direction based on a radar-like interface. Haptic feedback also lets you know when you're getting closer.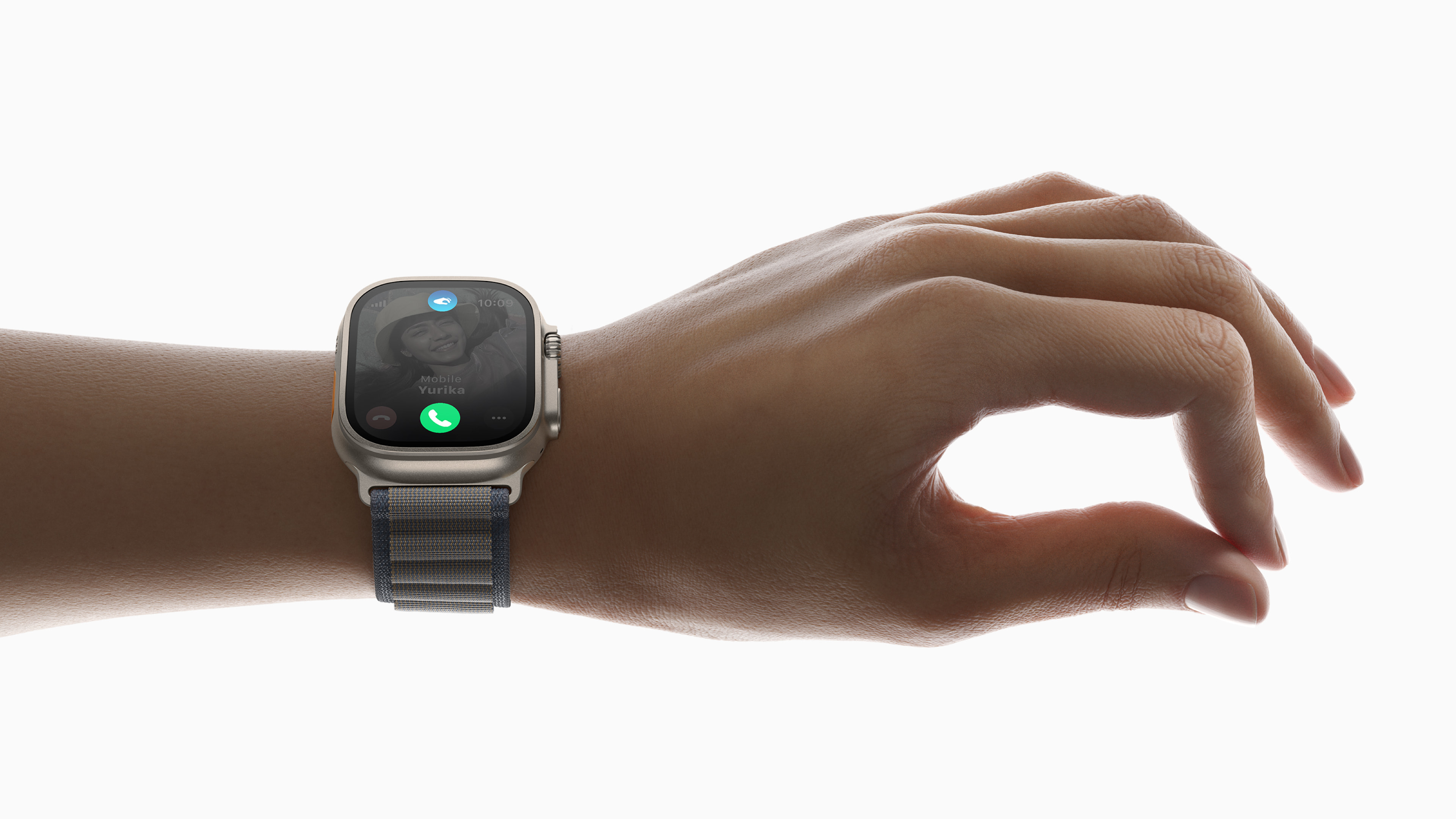 The Apple Watch Ultra 2 takes things even further
While the Apple Watch 9 is an impressive piece of hardware, the premium Apple Watch Ultra 2 takes things even further. Aesthetically, display is bigger and the case is made from titanium instead of steel — offering a more premium feel, a lower-weight case, and improved corrosion resistance. The screen itself is also brighter, pumping out up to 3000 nits of illumination as opposed to the 2000 an Apple Watch 9 can produce.
This is ideal if you're trying to use the watch in bright sunlight. Apple also makes the most of the larger display, pushing modules right to the edge for the first time. When the sun is busy bothering the other side of the world, night mode will kick in — making the watch perfect for nighttime use.
If the watch is more than just a fashion accessory, and you do actually head out on adventures with it — things like dives will now be logged alongside hikes and runs. In terms of altitude range, it's enough for "most people." By that we mean it's capable of functioning around 170 meters below the deepest depth a human has ever ventured while not contained in a pressure vessel, and Apple claim it can handle Mount Everest plus around 150 meters in terms of altitude. If you find yourself outside of the Apple Watch Ultra 2's limits, and you aren't in either a plane or a submersible, you're probably going to have beggar issues than a busted smartwatch when all is said and done.
The Apple watch Ultra features list was geared towards exploration, and the Ultra 2 continues that theme. Thanks to the S9 SiP, it contains an offline version of Siri — which is pretty handy if you're out in the woods with no signal.
As with the original Apple Watch Ultra, the company's new premium timepiece really stands out in the battery department. Unlike the basic model, this will actually go all day and beyond. Apple claim it can handle up to 36 hours of "normal use" before a charger is required. The low power mode has received a little upgrade, with Apple now claiming up to 72 hours of battery life instead of 60 — a 20% improvement. While you may not have the kind of extreme lifestyle that could make use of some of the Ultra 2's more outlandish features, better battery life benefits everyone. That said, if charging a watch twice per week is still too much for you, you may want to stick to a dumb watch instead.
Editors' Recommendations