December is a magical time of the year. Whether you're religious or not, the holiday spirit in any context is a feel-good vibe for all involved. Mariah Carey's voice permeates the airwaves like it's the mid-90s again, and department stores start getting just a bit more crowded as loving parents shop for the perfect gift for their (hopefully) deserving children.
But this year, hearing Bing Crosby's wish for a White Christmas presents an opportunity for a dream come true for a few wealthy boys and girls. In an incredible follow-up to another fantasy car auction not long ago, RM Sotheby's has announced that an unbelievable collection of Porsche cars will be headed to auction in December.
Known as The White Collection, this warehouse full of incredible cars is headlined by 56 pristine Porsches, all painted in shades of angelic white (not an official Porsche color). While so many of these sports cars are spectacular machines, we have chosen the two most breathtaking (and rare) examples of this celestial group.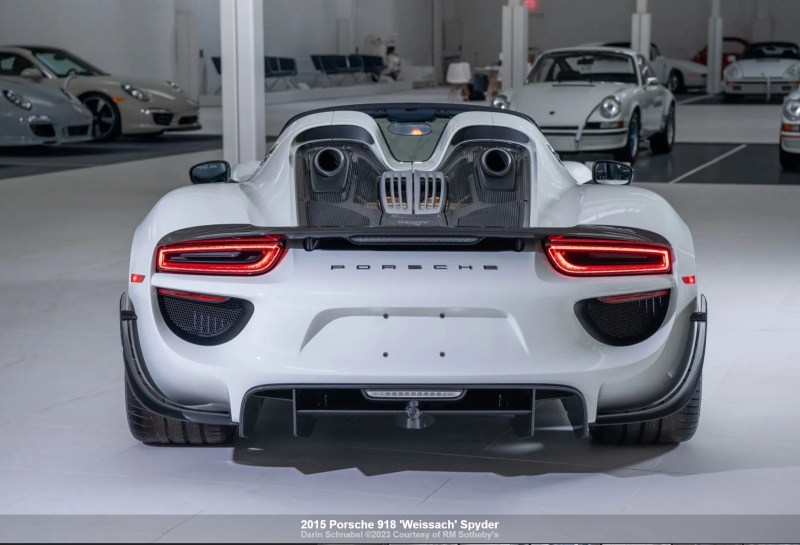 2015 Porsche 918 "Weissach" Spyder
Dubbed "the crown jewel of the White Collection," this 2015 Porsche 918 "Weissach" Spyder is an automotive religious experience. As if being a 918 Spyder wasn't enough, the added Weissach package offered a combination of added aerodynamics as well as weight savings that dropped the already svelte 918 to a trim 3,602 pounds. While that weight may seem heavier than expected, we'd like to remind you the 918 is a hybrid sports car.
Power comes from a 4.6-liter naturally aspirated V-8 that produces 608 horsepower and 398 pound-feet of torque … before the electric motors kick in their contribution. The front electric motor chips in 127 horsepower, while the rear motor tacks on another 154 ponies for a total power output of 887 horsepower and 944 pound-feet of torque. Strap in and blast off as the 918 Spyder rockets from 0 to 60 mph in a ridiculous 2.2 seconds on its way to a top speed of 217 mph, making it faster than even the fastest Ferraris to that point.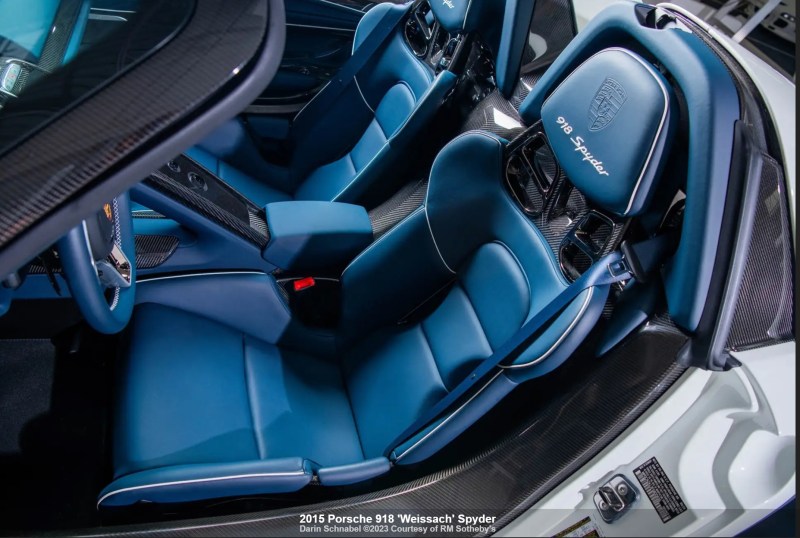 Aside from the $84,000 Weissach option, this particular 918 also boasts over $96,000 of bespoke tailoring from the factory. Painted in Grand Prix White with color-matched magnesium wheels over full leather Yachting Blue upholstery with Biano Leda piping, this car is not only just one of the 918 units produced, but it also happens to be the only one of the of those cars to have that specific combination of features. The original MSRP of this 918 Spyder was a staggering $1,028,200. Having racked up exactly 12 miles on its odometer (yes, 12), that MSRP might prove to be a bargain once the bidding starts.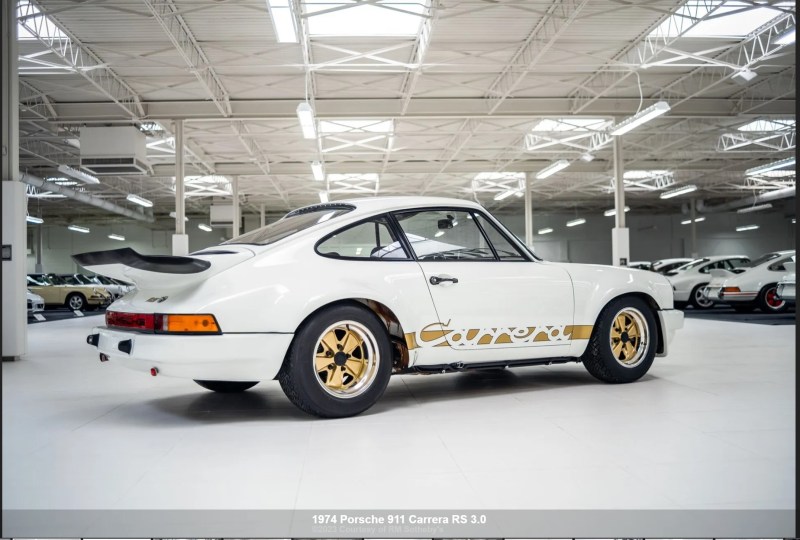 1974 Porsche 911 Carrera RS 3.0
While not as visually stunning as its great-great-grandchild, this 1974 911 Carrera RS 3.0 is just one of 55 examples ever built. This car was built with the expressed purpose of allowing Porsche to comply with SCCA racing regulations. In order for a car to be able to participate in SCCA-sanctioned races, manufacturers had to use a car that was based on a production model. Companies used a loophole and would build the bare minimum number of production cars to allow them to be homologated (allowed to participate) in races, resulting in extremely rare, limited-edition road cars like this 911 Carrera RS 3.0.
This classic racer is powered by a 3.0-liter naturally aspirated, air-cooled flat-6 cylinder engine that featured mechanical fuel injection and made 230 horsepower and 203 pound-feet of torque (the race car version made about 100 more horsepower). That power gets routed through a 5-speed manual. With a sub-2,000-pound dry weight, the Carrera RS 3.0 could run from 0 to 60 mph in just 5.2 seconds and on to a top speed of 152 mph.
This amazingly well-kept 911 has just 18,301 miles on it. Despite being such a raw racer, fitted with a numbers-matching engine and gearbox, its Grand Prix White exterior paint over a Midnight leatherette interior looks factory-correct and hints that it could be civilized if asked nicely. Although it could be an ideal museum piece, this car could undoubtedly become the perfect centerpiece for any private collection.
Those are just two of the 56 Porsches up for sale in this incredible collection going up for auction on December 1-2 of this year. So, while some kids will wish for a PS5 or Nintendo Switch, a few very lucky, bigger, older people will be catering to their inner child by opening up their checkbooks a bit wider than those video game systems will cost. So the next time you hear Bing Crosby crooning, think about what it might be like to see one of these angelically white Porsches sitting in the driveway with a bow on it. That image brings a whole new meaning to the term "halo car."
Editors' Recommendations