Most of the time, automakers showcase futuristic, high-tech features on concepts in the hopes of strumming up some interest. When BMW showcased the i Vision Dee, one of the cooler features of the electric concept was a heads-up display that spanned the entire width of the windscreen. Now, BMW is bringing the heads-up display, which is called Panoramic Vision, to real-life cars.
BMW CEO Oliver Zipse confirmed the introduction of Panoramic Vision on production vehicles starting in 2025 at the 2023 Annual Conference. The advanced head-up display system will be available on Neue Klasse (New Class) models, which refers to the automaker's platform for its next-gen EVs.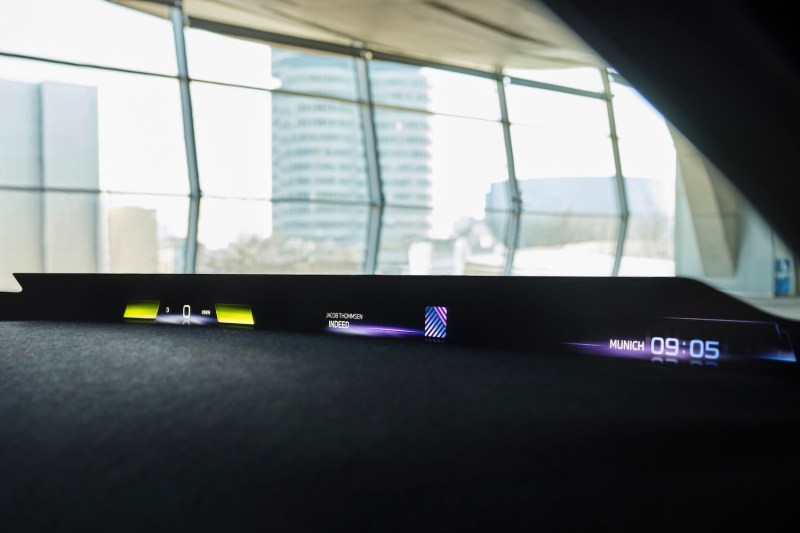 Unlike a traditional heads-up display that's usually a small square or rectangle located immediately in front of the driver on the lower portion of the windshield, Panoramic Vision spans the full width of the touchscreen. Drivers will be able to choose what information is displayed on the head-up display, including information on the vehicle's speed, the song that's currently playing, and the time.
If there's one thing that's a little off about BMW's new Panoramic Vision feature, it's that it's not a real heads-up display. You see, most heads-up displays are displayed on the windshield. Panoramic Vision includes a raised lip trim piece at the top of the dashboard – just underneath the windshield – where the information is displayed. Based on BMW's video, it does look like the feature will display some images on the windshield, but it looks more akin to augmented reality.
Panoramic Vision looks useful and more intuitive than other heads-up displays. We're not sure how BMW will incorporate the feature in future vehicles. In the i Vision Dee, the car had a true heads-up display with graphics on the windshield because it didn't have any gauges or traditional screens. We don't know if any of the i Vision Dee's features will carry into future models, either.
BMW claims that Panoramic Vision "demonstrates the fusion of reality and the virtual world" as it turns the windshield into a makeshift projector. We're sure not if we agree with that description of the feature, as it's more of a glorified screen, but it's still really cool. With the feature being a few years away from making its way into production, we're sure we'll be getting more details on Panoramic Vision in the near future.
Editors' Recommendations